If you are looking to level up your knowledge of astrology (or for an excuse to buy more books), this article is for you. This list contains a few advanced astrology books for when you are already familiar with the basics. In my opinion, all of them are valuable additions to an astrology library.
Advanced Astrology Books
Keep in mind that these are advanced astrology books for more serious students. They require you to already have a solid knowledge of astrology. You need to be familiar with how the planets operate, how houses and signs work, and it helps if you are somewhat familiar with chart interpretation. If you are a beginner, you might find these book recommendations more useful.
The list of fascinating advanced astrology books is very long. It is not easy to pick only a few. In this article, I compiled a list of my (actual) favorites. Just keep in mind that people have different ways of learning, so ultimately finding your favorite astrology books is a work only you can do.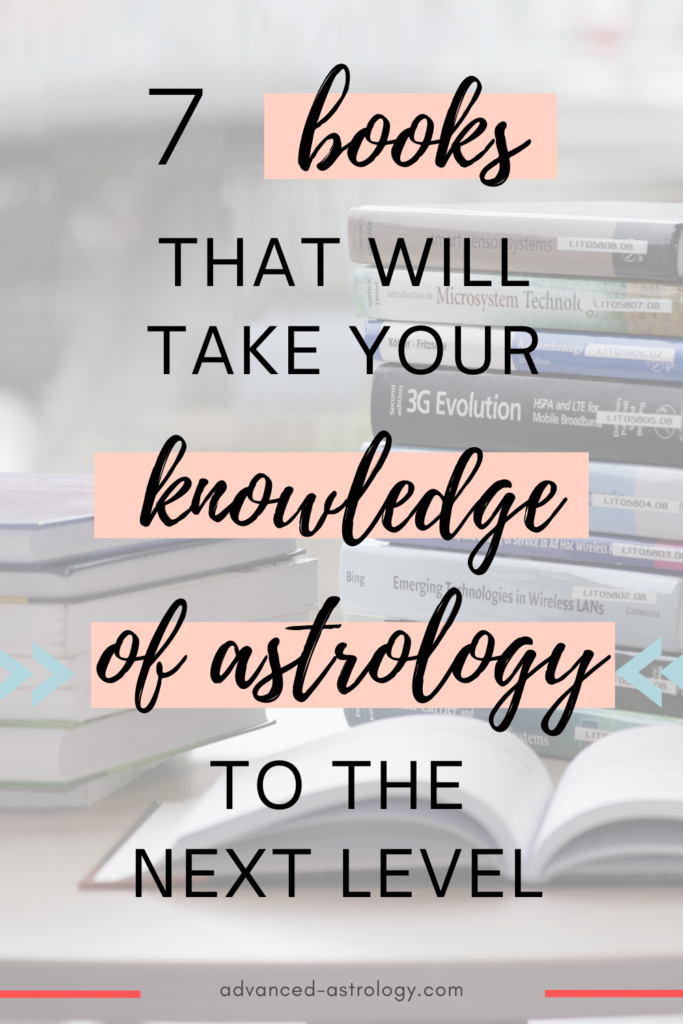 Disclaimer: this post contains affiliate links. We are affiliates for Bookshop.org, a website that supports independent bookstores throughout the US, and we will earn a small commission (at no cost to you) if you decide to visit the website and make a purchase.
The Rulership Book by Rex. E. Bill
Let's start with a super interesting one. One of my favorite astrology handbooks, the Rulership Book by Rex E. Bill is really useful to have within your arm's reach. This book enlists the planetary rulers of various things. If you sometimes catch yourself wondering which planet might rule ice, oil, or salt, this is the book you want to open. It lists the terms both in alphabetical order in by ruling planets.
This book helps you to see the planets in new light based on the things they govern, and you can get an idea about the essence of a planet.
The rulership book also comes in handy when you want to work very specific details. If you need more ideas for brainstorming the meaning of a planet in a specific setting. You have to know that it is not a textbook though, it is literally an astrological dictionary. It is one of my must-have advanced astrology books.
Aspects in Astrology by Sue Tompkins
This is another great resource on astrology. Once you know how the houses, signs, planets work, it is time to go to the next level, bringing the pieces of the horoscope together. Aspects are the gravy of a birth chart. This book will help you understand them better. If you begin to understand how aspects work, the chart starts to make much more sense. Aspects in Astrology by Sue Tompkins is an essential read if you are committed to learning astrology.
Predictive Astrology: The Eagle and the Lark
Bernadette Brady's Predictive Astrology is must-read for everyone seriously interested in studying astrology. This is a beautiful book if you want to understand how predictions work. It provides easy-to-follow information on predictive astrology, and what is perhaps the most important, it is written in a way that makes it easy to apply the knowledge. Personally, I love this book.
Astrology and the Authentic Self: Integrating Traditional and Modern Astrology to Uncover the Essence of the Birth Chart by Demetra George
Many people get stuck at some point as their astrology knowledge grows. The basics are relatively easy to learn, but when it comes to analyzing the chart as a whole, it can suddenly get really confusing.
At this point, I found the book by Demetra George super useful. It gives practical tips for noticing major life themes in the horoscope, plus it can be a great introduction if you want to learn traditional astrology.
Horoscope Symbols by Robert Hand
If you want to go beyond cookbook interpretations, Horoscope Symbols by Robert Hand is a book that can guide you. It is an ideal book for learning the ropes of chart synthesis.
This book also contains information about more advanced topics like midpoints.
Hellenistic Astrology by Chris Brennan
Many astrology students become drawn to traditional astrology on their journey, and for them, this book can be a good choice. However, this is definitely an advanced astrology book. If you are still a beginner, the information in this book might be hard to absorb.
---
If you found this article helpful, maybe you want to save it for later. Make sure to share it with others who enjoy learning astrology!