When you realize there is more to astrology than daily horoscopes and Sun sign compatibility, it can be intimidating at first. Studying astrology is hard. And it takes a lot of time. Even though there are many great websites online *cough* for example the one you are reading *cough*, sometimes it can be great to grab an actual book.
There is a lot of information available for especially on a beginner level (even too much information! it can be overwhelming to decide where to start). However, books can accelerate your learning process. Books allow the author to go in depth and explain things better. If you want to learn astrology, you should definitely grab a few books and read them thoroughly.
Note: if you want recommendations for more advanced students, read this article.
There are many astrology books out there. If you can't get enough of astrology, it can be hard to choose the right one, especially if you want something more than commercial Sun sign astrology. In this article, we compiled a list of 5 best astrology books for beginners that discuss real astrology.
It is important that no one can tell you which is perfect book for you. We all learn in different ways (Mercury signs! The third house!), and you have to find your path on your own. Unfortunately reading an astrology book or two will not make you a pro at an instance.
But in case you need some recommendations, here are some of the best astrology books for beginners!
The Best Astrology Books for Beginners
Disclaimer: this post contains affiliate links. We are affiliates for Bookshop.org, a website that supports independent bookstores throughout the US, and we will earn a small commission (at no cost to you) if you decide to visit the website and make a purchase.
Here are our recommendations for the most useful beginner astrology books.
You can also check out our curated lists here.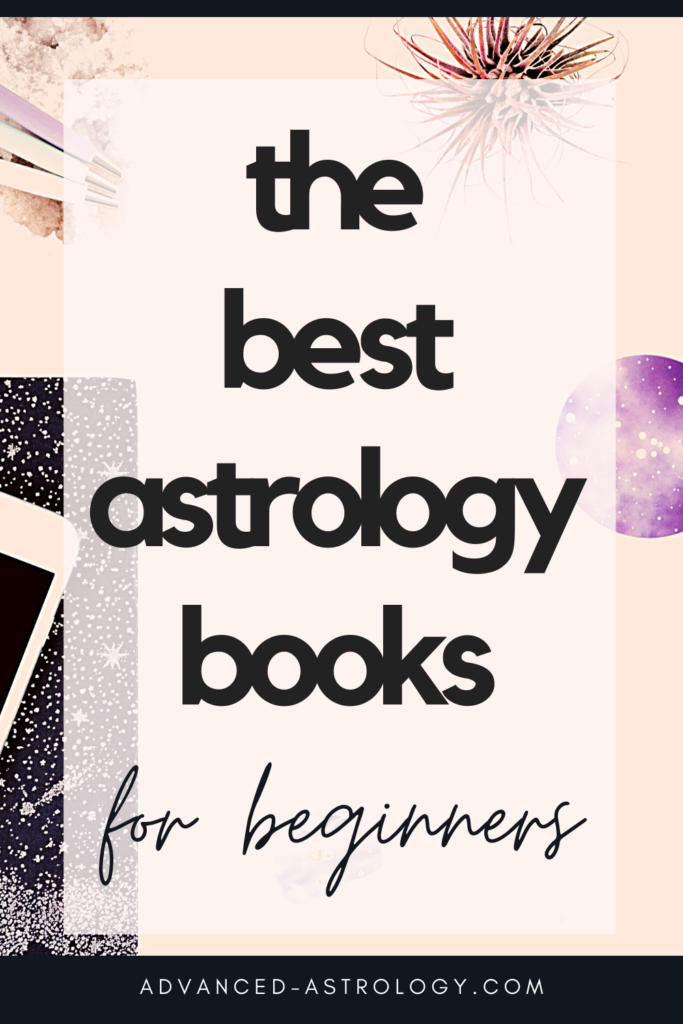 The Inner Sky by Steven Forrest
This book is perfect for beginners. The author of several astrology books, Steven Forrest describes the fundamentals of astrology in a clear, vivid, easy-to-understand way, focusing on the essence of the planets, signs, houses, rather than on the strict definition. All in all, the Inner Sky is a fun book to read one of the best astrology books for beginners.
Astrology for the Soul by Jan Spiller
This is one of my personal favorites. It is a beautiful book that goes into the depths of astrology, yet it is not too complex and doesn't require a lot of technical knowledge to read. Its focus is on the lunar nodes and the lessons they indicate in the birth chart.
Astrology for the Soul is absolutely one of the best astrology books for beginners. It is a perfect introduction, no wonder it is a bestseller in the world of astrology.
The Only Way to Learn Astrology Series by Marion D. March and Joan McEvers
The Only Way to Learn Astrology series is perfect for beginners. The later parts of the series actually take you well beyond beginner level. If you want to read no fluff astrology books, this is for you. Some information in it is available in various forms and on the internet, but it summarizes the basics of astrology in a concise, easy to remember way. If you want to keep an astrological handbook next to you, these books can be a good choice.
Vol 2 | Math and Interpretation Techniques
Vol 6 | Horary and Electional Astrology
Chart Interpretation Handbook by Stephen Arroyo
Once you learn the basics of astrology and have a good grasp of the building blocks of the astrological language, it can be tricky to get to the next level. The birth chart is way, way more than just the collections of placements by houses and signs. The Chart Interpretation Handbook: Guidelines for Understanding the Essentials of the Birth Chart by Stephen Arroyo is for astrology students who want to go beyond the basic concepts of astrology.
The Essential Guide to Practical Astrology by April Elliot Kent
The Essential Guide to Practical Astrology: Everything from zodiac signs to prediction, made easy and entertaining by April Elliot Kent is definitely one of the best astrology books for beginners. It is thorough yet easy to understand.
This book covers the zodiac signs grouped by elements, the meaning of the houses, rulership, the planets, fictional points such as the lunar nodes. It also discusses lunar phases, planetary cycles, eclipses, and has a short overview of prognostic methods. The Essential Guide to Practical Astrology is one of the most often recommended astrology books for beginners.
---
If you found this article helpful, maybe you want to save it for later. Make sure to share it with your friends who enjoy learning astrology!