Let's talk about the Chiron conjunct Chiron synastry aspect.
Chiron is the Wounded Healer. This archetype is linked with pain, unhealable wounds, and trauma. It's a rather heartbreaking point in the horoscope. However, Chiron is not equally important in all charts. Sometimes it stands out by being on an angle or because it is conjunct an important personal planet (e.g. Sun, Moon, etc). Otherwise, it can be treated as a generational influence (like the outer planets—Uranus, Neptune, Pluto).
If you have your Chiron conjunct Chiron in synastry with someone, this aspect can seem like a big deal. However, unless there are some personal planets or angles involved, it's not as meaningful as it seems. Keep reading to find out why!
Chiron Conjunct Chiron Synastry: Wounds Joined
The minor planet Chiron moves relatively slowly through the sky. Taking place between Saturn and Uranus, its orbital period equals approximately 50 years. Its orbit is pretty eccentric. Chiron spends quite a long time in every sign, at least one. In some signs, it stays up to eight years (e.g. Pisces). People born during this period, if their Chirons are not conjunct, have them in the same sign.
This leads to many Chiron conjunct Chiron synastry aspects with your peers. In the chart, this conjunction means that either you were born within a few months or there's a big age difference between you.
Because of this, this is in 99% of the cases, Chiron conjunct Chiron is not an outstanding aspect. Connections between personal planets are angles are way more meaningful. The themes of Chiron synastry aspects involve healing, wounding, and everything in between. The relationship pushes you to reflect on your deep wounds.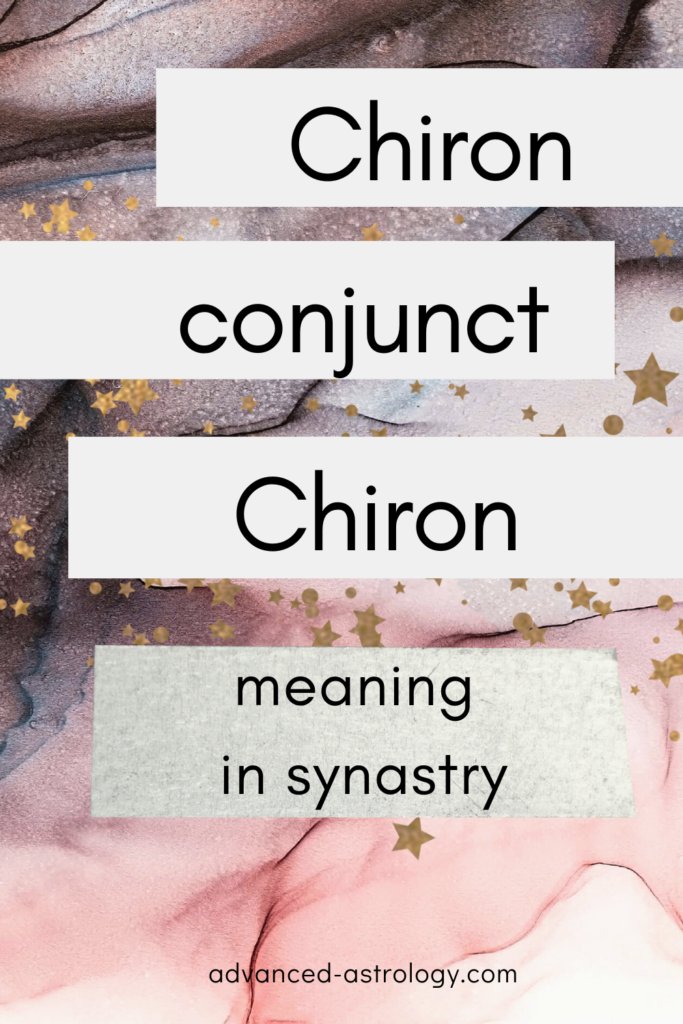 Although it may work as enhancing each other's wounds, Chiron conjunct Chiron in synastry can be treated as a generational aspect. The issue with this aspect can be that you lack an outer perspective on your wound, so it's hard to be impartial when it starts to ache.
What's more important on a personal level, however, is the Chiron conjunct Chiron transit. This happens around the age of 50, and it's a time for deep reflection.
Chiron in Astrology
Chiron was identified in 1977. It's a minor planet and a comet.
Since it's a relative newcomer to the world of astrology (as opposed to the inner planets that have been studied for thousands of years!), its mechanisms in the chart are not fully mapped yet. Some astrologers think that Chiron is the real ruler of Virgo, the sign of service and perfection.
Chiron was named after the centaur Chiron in Greek mythology.
If you want to find out more about Chiron, check out this article: Chiron in the Natal Chart
---
If you liked this article, maybe you want to save our site for later. Share it with others who enjoy reading about astrology!