People with their descendant in Aquarius are warm, charismatic individuals who are attracted to people who are unique and interesting. They need a lot of freedom. If you want to maintain a relationship with them, you have to respect their need for self-expression and individuality.
If your descendant sign in Aquarius, relationships can be tricky for you. You want to experience freedom and excitement. The descendant in Aquarius suggests that your ideal partner is someone who inspires you to think in a different way. You enjoy being around smart, original people who are in some way different than others.
This position in the natal chart means that you are a Leo rising. The ascendant and the descendant are two angles that compose the horizontal axis of the chart. The descendant shows which part of the sky was setting at the minute of your birth.
This point is in shadow, and it is not easy to see it clearly. Until you learn to deal with your descendant sign,you tend to project it onto other people. The natal chart contains all twelve signs, and we have all of them in ourselves too. If you want to change the kind of people you tend to be attracted to, integrating your descendant sign can be helpful.
Find out what the descendant in Aquarius reveals about your partnerships!
Descendant in Aquarius Meaning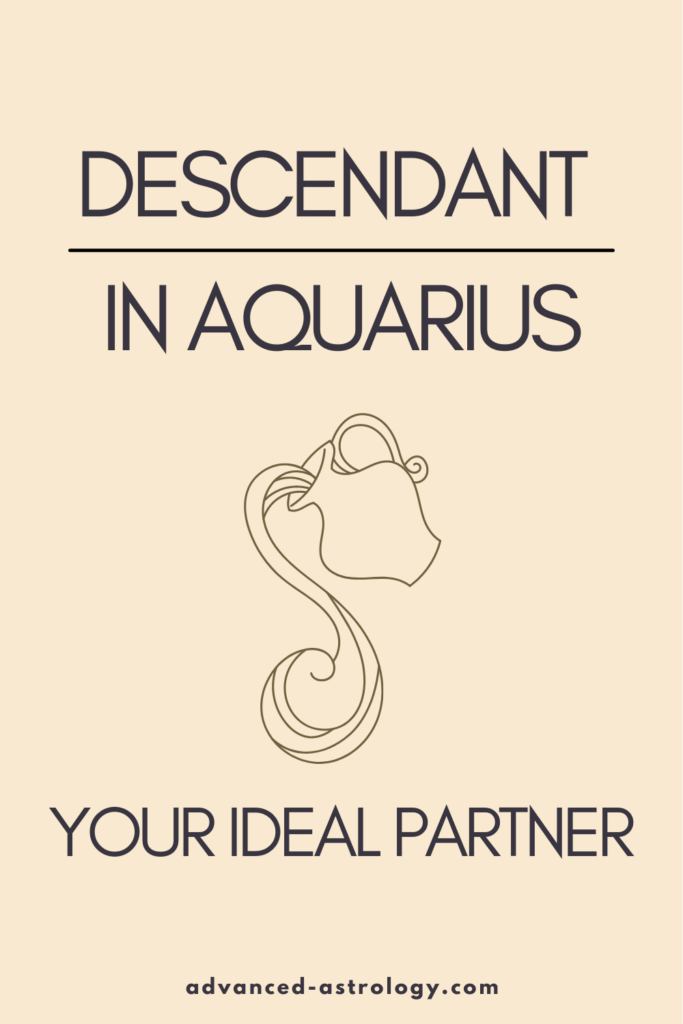 As the ascendant and the descendant are directly opposite each other, if your descendant is in Aquarius, your ascendant falls in Leo. Leo risings are used to being adored, they demand attention and they need a lot of space for self-expression and creativity. You are joyful, optimistic person. People with this placement tend to radiate with warm energy that attracts other to them.
The negative manifestation of this placement is being arrogant, bossy, vain, proud. If you don't own the traits of the Leo, these can cause problems in your relationships. Make sure to appreciate others too and let them know about how much they mean to you. One of the greatest challenges of this placement is being too focused on yourself. If you don't have a healthy self-esteem and self-confidence, this can seriously affect your relationships.
With the descendant in Aquarius in the natal chart, you like to be in a relationship with someone whose views are similar. You prefer smart, entertaining, interesting partners. They have to surprise you and show you things from a fresh perspective.
The descendant in Aquarius suggests that your best relationships are based on friendship. You tend to see your partner as your friend rather have very romantic feelings for them. You need an intellectual connection. Aquarius is an air sign, and it doesn't like to deal with emotions, intimacy, it prefers a mental bond to deep emotional connection.
Aquarius is the sign of rebellion and finding better ways to do things. This sign is oriented on the future. It wants to break free from things that are not actual or beneficial anymore. With the descendant in Aquarius, this need for innovation is present in your relationships, either through you or it is your partner who needs changes every now and then.
The descendant in Aquarius suggests that freedom is important in the relationship.
The descendant sign Aquarius can indicate marriage with someone who is divorced.
With the descendant in Aquarius, the positions of Saturn and Uranus are significant as well for understanding your seventh house. In this case, your chart ruler is the Sun, and make sure to pay attention to this luminary as well. The 7th house in Aquarius is somewhat similar to Uranus in the 7th house.
Meaning of Aquarius in Astrology
Aquarius is the eleventh sign of the Zodiac. It follows Capricorn, the sign of structure and rules, and the main theme of Aquarius is finding what doesn't work in the existing reality and coming up with a better solution. To do this, Aquarius needs freedom, creativity, open-mindedness—the most important keywords of this zodiac sign.
The planetary ruler of Aquarius is Uranus in modern astrology. Before Uranus was discovered, the Water Bearer was ruled by Saturn, and in traditional astrology, this is still the case.
Aquarius is described as unique, innovative, brilliant, creative, unusual, eccentric, futuristic. It is the sign of science, technology, the internet, psychology, astrology. Aquarius is an air sign by element, what means that it is objective, intellectual, detached.
By quadruplicity, Aquarius is one of the fixed signs. These signs stick to their point of view once they make up their mind, they are persistent, and they dislike changes unless initiated by them. Aquarius is a masculine sign by polarity.
In the natural chart, Aquarius is assigned to the eleventh house of hopes and dreams. This house governs large groups of people as well.
The Descendant in Astrology
The angles are essential in the birth chart. There are four of them, the Midheaven, the IC, the ascendant, and the descendant. The descendant falls in the 7th house or it is the cusp of the 7th house, depending on the house system. This angle marks the part of the sky setting at a certain moment. It corresponds to the western horizon.
Because of this, the descendant is hard to see clearly. The sign here can be analyzed as your shadow self—it is a part of you, but you are unaware of it.
The 7th house and the descendant have to do with your attitude to other people. The sign here tells what you seek in a relationship, how you perceive other people, and what kind of partner you want. If you have planets in the seventh house or conjunct the descendant, the situation becomes more complex, as they further modify how your 7th house manifests.
The descendant changes a degree approximately every four minutes. This means that you have to know your time of birth to calculate it.
---
If you found this article helpful, maybe you want to save it for later. Share it with others who enjoy astrology!