Without the fire archetype, life would be pretty dull. This element is associated with the spirit that encourages us to reach for more.
If you want to understand astrology better, elements are fundamental of everything. There are four elements: fire, air, earth and water. Each of them represents a unique blend of strengths and talents. This article sums up what you need to know about the fire signs in astrology. Understanding the elements on a deeper level helps understand how the planets operate in signs and decipher planetary configurations in a chart.
There are three fire signs: Aries, Leo, and Sagittarius. While they are different in some ways, they have a shared enthusiasm, faith in life and a desire to create and grow.
Learning about elements is an excellent starting point in astrology. You can learn a lot about a person just by knowing in which elements their planets are placed. Just keep in mind that pure types are extremely rare, the majority of charts are a mixture of elements. House placements can also tone down the expression of an element. Let's say, if your chart is fire dominant yet you have many planets in your 12th house, you are less likely to be the crazy fire archetype one associates with this element. But taking a look at the distribution of planets by fire/air/earth/water is a really handy tool.
Fire Element Meaning in Astrology
One of the four classical elements, the fire element corresponds to life. According to the ancients, all matter on Earth is made up of fire, air, water, and earth (it's interesting that Aristotle considered celestial bodies to be made of ether).
Fire is hot and dry.
By polarity, fire is linked with the masculine/yang. It is extroverted and active. The symbol of fire in alchemy is an upward-pointing triangle. The planets associated with the element fire are Sun and Mars.
Fire is best received by air—these elements are both lively, gregarious, intellectual, quick, spontaneous. For the fire element, it's the most difficult to hit it off with water. (But this is just superficial compatibility, actual compatibility is way more nuanced!)
Fire element likes: action-packed days, sports, competition, strength
Fire element dislikes: stagnancy, boredom, routines, discipline
Fire Strengths and Weaknesses
Fire is the force of life. This element represents vitality and creativity. It is about moving on and rushing into new ventures. In astrology, fire is associated with optimism and faith. If you have fire strong in your chart, you see why something would work out instead of obstacles. (Excess fire can take too much risk, though)
Fire doesn't wallow in pity. No matter what life throws at you, you come back stronger. When faced with a problem, you don't despair. Fire burns down the hurdles. People who have this element strong act spontaneously and without much hesitation. (At the same time, this can be harmful in some situations. The impulsiveness of fire can get you in trouble if you don't think first.) When under pressure, you can be pretty dangerous if you lose self-control. Your have quick emotional reactions.
Fire has an extreme amount of energy. If fire is strong in your chart, sometimes you might not know what to do with it. But in general, you are always excited to get something done.
The fire element is often emphasized in the charts of people with leadership skills. Fire is inspiring, able to come up with a solution for every issue, and it trusts people that they will do a good job so it is good at delegating as well. Your ability to tell apart the essential from the nice to have but not vital is an excellent asset.
Fire Dominant Personality
A fire dominant personality is gifted with enthusiasm, spontaneity, and fun-spiritedness. Here's an easy way to find out if fire is strong in your chart. The inner planets carry the most weight here (the Sun, Moon, Mercury, Venus, Mars, Jupiter, Saturn, in particular, the first five).
Natal placements that contribute to the dominance of fire in a chart:
ascendant in Aries, Leo, or Sagittarius
planets in Aries
planets in Leo
planets in Sagittarius
the Sun on an angle
Mars on an angle
Mars heavily aspected
the Sun heavily aspected
the majority of planets located in fire houses (the 1st, the 5th, the 9th)
the Midheaven in Aries, Leo, or Sagittarius
The more your natal chart has of these, the stronger fire dominant personality you are.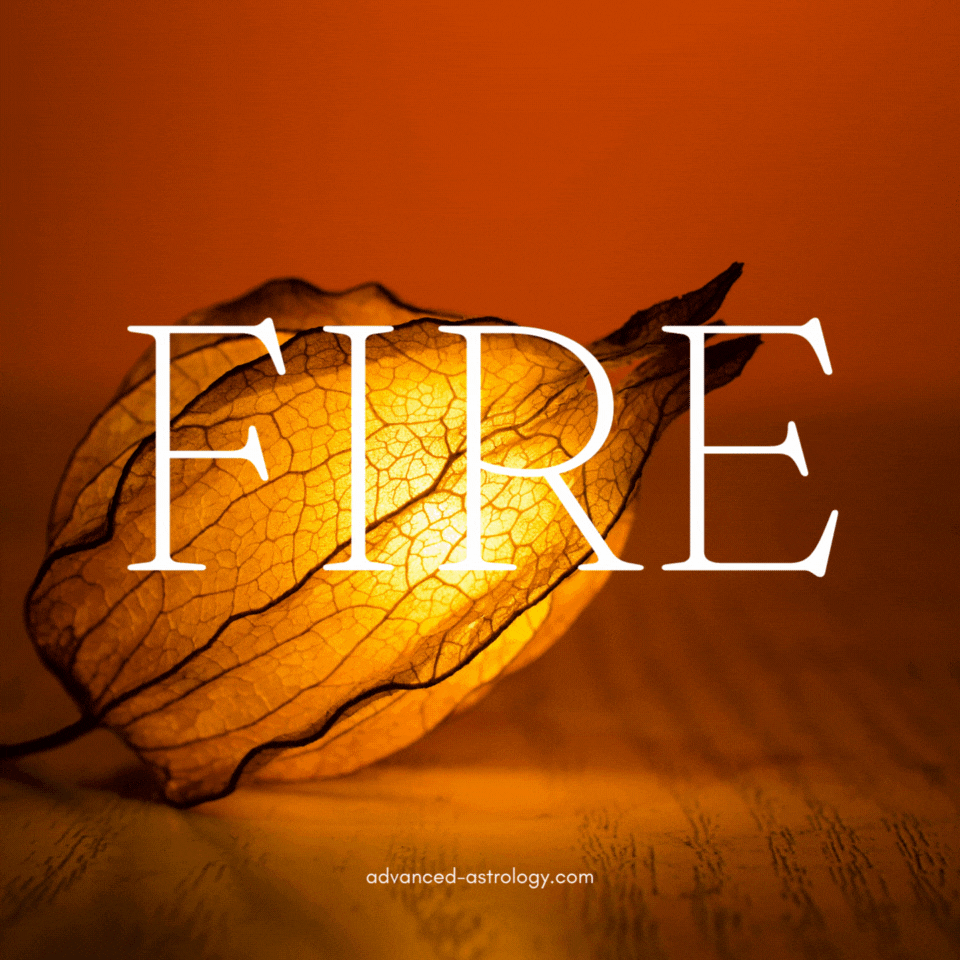 However, heavy emphasize on fire indicates that the person lacks other elements. This usually comes with a different set of challenges. Each element is important in astrology. If you lack one or more, it might indicate hardships in the life areas linked with the elements.
For example, if your chart has a lot of fire and earth but no water or air, you might not hear what the other person has to say and you might struggle with experiencing close, fulfilling, long-term relationships. People often overcompensate the missing elements. Usually a balanced chart is the best (as in the easiest to live with).
Fire Element Zodiac
What are the fire signs of the Zodiac?
Three zodiac signs belong to each element. In astrology, the fire signs are Aries, Leo, and Sagittarius.
Aries
Aries is cardinal fire. The most expressed traits of fire in Aries are courage, thrill-seeking, initiative and innovative. When out of control, Aries is extremely competitive and aggressive.
Read more: Aries in the Zodiac
Leo
Leo is the second fire sign, by modality, a fixed sign. Leo reflects the fire element in its warmth, creativity, bravery, exuberance, and also in its ambitious and proud (and vain) nature.
Read more: Leo in the Zodiac
Sagittarius
The last fire sign, Sagittarius, is mutable by element. It is enthusiastic, hungry for adventure, and has an innate faith in life. It is fun-loving and spontaneous. It focuses on the big picture, with less noticeable yet important points not getting registered on Sag's radar.
Read more: Sagittarius in the Zodiac
---
If you liked this article, maybe you want to save it for later. Share it with others who enjoy reading about astrology!