In this article, you can learn about the meaning Jupiter in Aries in the natal chart. Jupiter is the planet of growth on every level: spiritual, intellectual, material. In astrology, Jupiter is linked with many good things. It is one of the best planets to interpret in a chart reading, because it shows where and how opportunities and luck awaits the chart owner.
Jupiter in Aries indicates that you have a strong willpower and your courage is extraordinary. You are not afraid to take risks, open to new ways of doing something, and you like to experiment. As the first sign of the Zodiac, Aries is all about beginnings and new ventures.
Where you find Jupiter in the horoscope shows where you can expand your consciousness, but also where you can attract abundance (not just financially). The sign of Jupiter tells how you can find the blessings of Jupiter.
Jupiter stays in the same sign for approximately 12 months. This means that people born during this period have the same Jupiter sign. Jupiter will be in Aries from May 10, 2022 until May 16, 2023, but it will. The aspects and house of Jupiter should be considered too when interpreting it.
Keep reading to learn more about the meaning of Jupiter in Aries in the horoscope!
Jupiter in Aries in the Natal Chart
When Jupiter is in Aries this planetary energy takes up the fierceness and energy of Aries. Its dispositor is Mars, the planet of action and drive.
People with this placement tend to find their luck when they take responsibility for themselves and take initiative. Aries is all about starting something. Jupiter in Aries strives for being the first. It is aspirational, ambitious, energetic, brave, motivated to leave something great behind. It faces challenges with great determination.
People with this placement have an innate faith in their ability to succeed (if this is for some reason weakened, they have to learn to believe in themselves). This allows them to take risks and put themselves out there.
Fortune favours the bold. With a natal Jupiter in Aries, opportunities don't come to you, you go after them. This placement suggests an initiative personality trait.
You like to be independent, and you tend to do a better job when you have autonomy. People who have their natal Jupiter in Aries tend to succeed on their own terms. They like to either do things their way or be in a role that allows them to make the rules.
If Jupiterian energy in your chart receives some support from earth or fixed placements that help you persist on your path, you might expand above what you thought is possible for you. You are strongly connected to your desires, instinctively know what you would benefit from. People with this placement tend to be the most fulfilled when they can do their own thing instead of following imposed rules.
Learning delayed gratification can help you a lot. The negative traits of Aries is the want-it-now mentality. Although Jupiter in Aries might indicate that success indeed comes relatively quickly to you, it doesn't guarantee that it will be a long-term thing. Jupiter is the lottery ticket, not the slow but steady goal achievement (which is Saturn).
This placement suggests that you find luck when you actively pursue it. You like action, even if you don't, as you grow older, you become more and more initiative. Sooner or later you find yourself to grow into a leader. This placement might indicate that you are good at decision-making.
Another good thing about Jupiter in Aries is its resilience. You care little about the blockages, they don't dissuade or stop you, they just slow you down. Aries placements go through the wall if necessary.
Jupiter in Aries might indicate that you do well in anything related to engineering, entrepreneurship, the military, sports, fire, metals, weapons, as a surgeon. The ability to see the big picture (what Jupiter is all about) and innovate allows you to be a breath of fresh air in these industries. A managerial role might suit you as well.
Along with the ninth house in the horoscope, Jupiter speaks about your philosophy, sense of right or wrong, and belief system too. The Aries Jupiter believes that you should invest a lot of energy and take action. You are passionate about your ideas. Perhaps this contagious enthusiasm is one of the reason Jupiter in Aries men and women are so amazing leaders. One of the negative things about this placement is that you might push your views onto others and be preachy.
The evolved Jupiter in Aries personality likes supporting humanitarian causes and standing up for the underdog.
Although Jupiter is generally considered a beneficial planet, it might manifest in less pleasant ways too. One of the potential pitfalls of Jupiter in Aries is being overly confident in yourself. You might expect things to go more smoothly than it is possible, or you might try to solve everything with brute force.
Another negative thing about this placement is egoism. You might react arrogantly, especially when feeling disrespected or in some other way threatened. Jupiter in Aries can magnify impulsiveness if you are prone to it.
Jupiter in Aries Woman and Husband
In the chart of a woman, Jupiter in Aries also describes the husband (the committed, longer-term partner, the lover would be Mars). This planet has another layer of meaning in female charts. Jupiter signs also speak about the kind of partner you are likely to marry.
Jupiter in Aries in a woman's chart suggests that the husband is extroverted, ambitious, energetic, bold. He might be into sports, might have an engineering or military background, might be a surgeon or work with metals. An extreme manifestation of this placement on the negative end might be a husband who is aggressive, selfish, immature.
Make sure to consider the house position of Jupiter too. Relationships are a complex topic in astrology.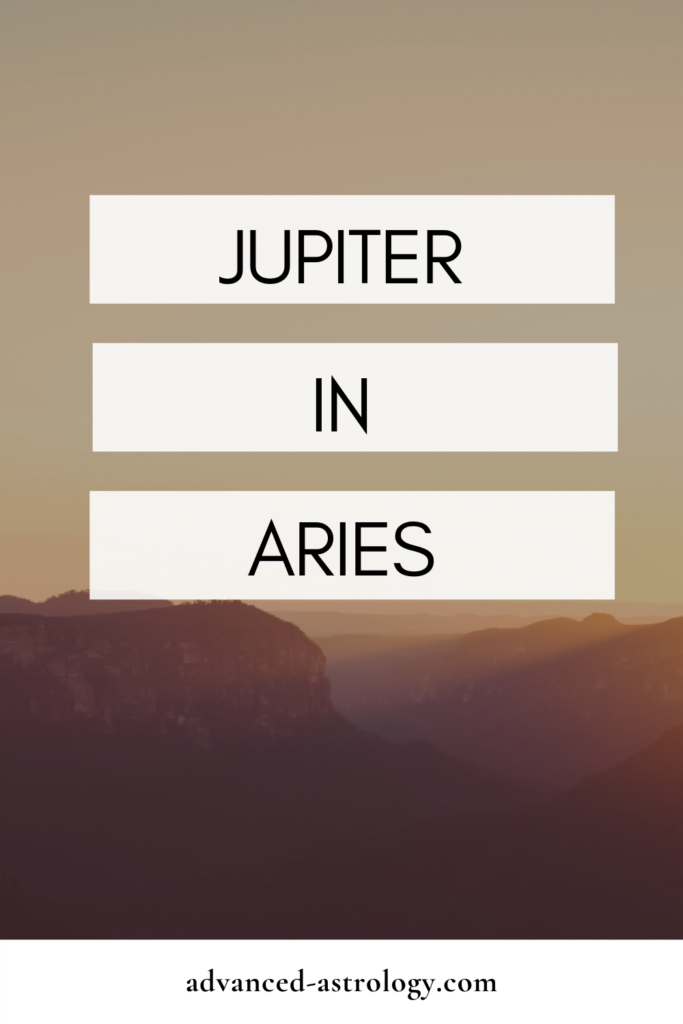 Read more: Jupiter in the houses
Meaning of Jupiter in Astrology
Jupiter is the largest planet of the Solar System. This gas giant has many positive connotations in astrology: expansion, knowledge, wisdom, spirituality, luck, abundance. Jupiter was called the greater benefic. It is associated with an easy flow of energy, luck, if you want it. It is also connected with philosophy,
Where you see Jupiter in the birth chart is where you can tap into your luck more easily. It also shows where you can expect many of something, for example, Jupiter in the seventh house might imply that the chart owner has many relationships throughout their life. Jupiter has to do with the search for meaning and the higher mind too.
Jupiter's energy is optimistic, upbeat, enthusiastic, expansive, philosophical. In the Zodiac, Jupiter is the ruler of Sagittarius. It is the co-ruler of Pisces, which is ruled by Neptune in modern astrology. Jupiter is exalted in Cancer.
It takes about 12 years for Jupiter to finish a full circle through the Zodiac. This means that every 12 years, it comes back to sign of your natal Jupiter. Jupiter returns are meaningful transits providing new opportunities. They tend to be beneficial times, when more things are possible than usually.
Aries in Astrology
Bold and active, Aries is not to be taken lightly. This zodiac sign is the first, and it loves it this way. Aries is the cardinal fire sign. Fire signs (Aries, Leo, Sagittarius) are full of energy, expansive, aspire to be great. It is dynamic, brave, competitive, aggressive, quick-tempered, eager, initiative, a go-getter. It is straightforward, blunt, impatient. The key phrase of this zodiac sign is I am.
The planetary ruler of Aries is Mars. It is associated with the first house in the natural chart (in a specific chart, however, any house can begin in Aries). The Sun transits Aries at the beginning of spring, approximately between March 20 and April 21. It begins with the spring equinox.
Planets in Aries indicate a person who is driven, domineering, has good leadership skills, not afraid to fight or fight back, innovative, fun to be around. A lot of Aries energy suggests assertiveness, passion, ambition, but also impatience and lack of tact and refined thinking.
Jupiter in Aries Celebrities
The life path of Jupiter in Aries celebrities is great for studying how this placement plays out. Some famous people in whose chart you can find this Jupiter sign:
Angelina Jolie
Johnny Depp
Al Pacino
Jeff Bezos
Michelle Obama
Chester Bennington
David Beckham
Salvador Dali
Che Guevara
Novak Djokovic
---
If you liked this article, maybe you want to save our site for later. Make sure to share it with others who enjoy learning astrology!