Jupiter in Cancer is a beautiful placement. The planet of luck can express all its beneficial influence here. Cancer is the sign of Jupiter's exaltation. In the natal chart, Jupiter in Cancer tells a tale of love, protection, nurturing.
If you have this placement, you are open-minded, compassionate, benevolent, kind, supportive, conscientious. You love to help others and in return, you receive a lot of help, too. You have a strong faith that things will work out and you trust life.
Jupiter changes signs approximately every 12 months, it makes a full circle around the Sun in about 12 years. This makes it somewhat of a generational influence in astrology—people born during these 12-month periods have the same natal Jupiter sign.
Jupiter was transiting Cancer between June 25, 2013 and July 16, 2014. The next transit happens between June 9, 2025 and Jun 30, 2026. If you have your natal Jupiter in Cancer, this is likely to be a good period for you.
Keep reading to learn more about Jupiter in Cancer!
Jupiter in Cancer Meaning in the Natal Chart
Jupiter is exalted in Cancer (its degree of exaltation is the 15th degree, which is the degree of the fixed star Sirius). This planet is particularly strong in Cancer. In the birth chart, this is a great placement for the matters linked with Jupiter and Cancer. If this planet is strengthened by the house placement, you can more easily tap into the energy of Jupiter than most.
People with this placement have an innate understanding of the Jupiterian principles such as generosity, search for meaning, ethics. Good morals, spirituality, knowledge are important to them. They are confident in their abilities and have faith in their ideas.
This placement suggests that you see things not just as they are, but as they could be. Jupiter in Cancer detects potential and opportunities with ease. This placement suggests a powerful intuition. You feel it what works and what doesn't. You are sensitive to the undercurrents, and you read between the lines well.
Depending on the rest of the chart, Jupiter in Cancer might amplify your emotions. If you are excited about something, it is all you can think about, but if you are worried or anxious, it might feel overwhelming. It is important to handle your emotions constructively if you have this placement.
This placement indicates the potential for high emotional intelligence. At a young age you might struggle with processing negative emotions, but this placement often indicates and interest in psychology and self-reflection that helps you overcome adversities. Painful experiences in the past can be transformed into wisdom and strength.
However, if you don't integrate Jupiter in Cancer properly, your emotions might be in charge of you, not the other way around. You can be overly sensitive and react childishly as an adult.
Jupiter here suggests a compassionate nature. You are kind, gentle, romantic, might be prone to idealizing people. Suffering around you bothers you deeply. It makes you happy if you can contribute in any way. You might find that the more you give, the more you receive in other forms. Cancer is a feminine sign. Depending on the distribution of the other planets in your chart, you tend to be more successful when you incorporate yin qualities. This means operating from a place of creativity and desire to contribute rather than a place of competition and desire to conquer.
In the horoscope, this position of Jupiter suggests that communities you are a part of are important to you. A supportive inner circle might help you throughout your life. If Jupiter receives harmonious aspects, this is a great placement for popularity. Your morals draw people to you. Jupiter here implies a natural savvy for supportive relationships. You like to encourage people to be who they are.
Jupiter in Cancer people are very attached to their roots. They are proud of their family, country, culture. They are often heavily influenced by the energy of the place where they grew up, and they might more attached to it than most people.This doesn't always manifest as homesickness when far away, it can play out as taking the habits and mentality with you wherever you go. It can happen that people with this Jupiter sign idealize their childhood or origin, especially if Jupiter is afflicted. They are definitely nostalgic about their childhood.
If Jupiter is well-aspected, the family of origin is often very supportive and they help you develop your talents. Besides emotional you might receive financial support from them too (from the mother or female relatives in particular).
In the natal chart, this Jupiter sign suggests that you are more attached to your family than most. When you grow up, you stick to the principles you were taught at home. Sometimes this placement suggests a religious background or a parent of foreign origin. This is a lucky placement for family matters.
Many Jupiter in Cancer people fall in love with learning early in childhood. Their teachers might make a very deep impression on them. They are often supportive of you, especially if Jupiter is placed in the third or ninth house. With these placements, you are usually a good teacher as well.
Depending on the rest of the chart, you love kids and you get along with them very well. You might be a parental figure to many. This is a great placement for working with children.In your own family, you strive to create a harmonious, peaceful space. Jupiter in Cancer suggests a talent for parenting. Some people with this placement want a big family. In general, raising a family and a peaceful home make them very happy.
The cardinal modality of Cancer helps Jupiter pursue its vision. (Cardinal signs are all about getting started with new ventures and they are dedicated to overcoming all the obstacles). People with this placement are adamant when it comes to reaching their goals. They nurture their ideas with great care until they turn into reality.
Jupiter in Cancer suggests an innate talent for counseling, teaching, nurturing. You intuitively know what other people need and you love to help them. This is also a good placement for anything related to real estate, land, food, helping professions.
The negative side of this placement is that Jupiter's lazy, containted side can also come to expression. You might rest on your laurels when there is no instant need to work and make efforts.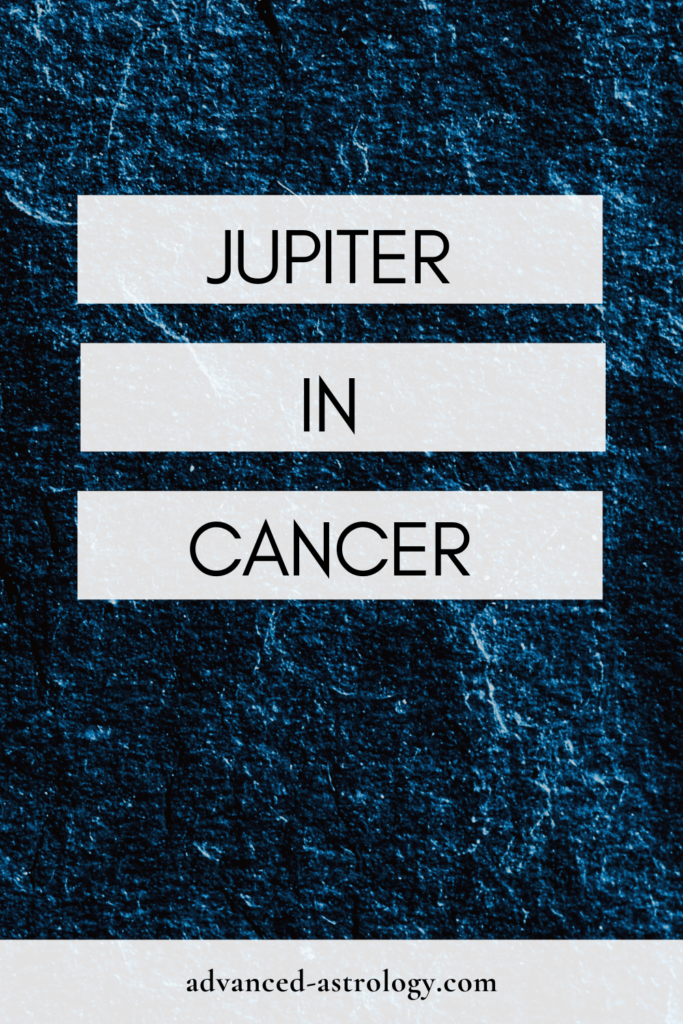 How Jupiter exactly affects the chart depends on how it interacts with the rest of the planets and points. The house position shows the life areas where Jupiter's energy comes to expression more intensely. It is a great idea to take a look at the position of your natal Moon too. If Jupiter is placed on an angle or if it is involved in several aspects, it has a more important role in the birth chart.
Read more: Jupiter in Houses
Jupiter, the King of Gods
Jupiter shows how you can expand your consciousness and how you can find abundance. In the natal chart, Jupiter's house is a place of harmonious energy (unless there is some other planet like Saturn which holds Jupiter back, but even then, it might take a bit longer, but it will express its good qualities).
Jupiter is named after the king of gods in Roman mythology. This is the largest planet in the Solar System. It has an expansive energy in astrology, amplifying and expanding any planet, house, sign it comes into contact with. Jupiter is noble, generous, lawful. Jupiter was referred to as the greater benefic. It is the planet of ethics, growth, the higher mind.
In the natal chart, this planet signifies opportunities for growth and expansion. The life areas linked with its house usually function well in the chart owner's life.
Jupiter is domicile in Sagittarius, exalted in Cancer, in fall in Capricorn, and in detriment in Gemini. It is in accidental dignity in the ninth house, the house of Sagittarius in the natural chart.
Cancer in the Zodiac
Cancer is represented by the Crab, its glyph looks like this: ♋︎. The crab is a squishy, vulnerable being under the hard, protective shell. The same can be said about those with a strong Cancer in their natal chart: they are extremely sensitive and in order to meet the external world safely, they need to develop a protective exoskeleton too.
Cancer is a cardinal sign by modality and a water sign by element. The cardinal quadruplicity is about initiation and action. The water triplicity is associated with the unconscious, emotions, intuition.
Cancer is the fourth sign of the Zodiac. In the natural chart, it is found on the cusp of the fourth house of home, family, roots (however, in a specific chart, it can be located anywhere, it doesn't have to be in the fourth house). Cancer's planetary ruler is the Moon. Jupiter is exalted in this zodiac sign.
The Cancer archetype is oriented on the matters of the home and family.
Cancer is nurturing, protective, reserved, shy, sensitive. People with important placements in Cancer are receptive to their environment, have very deep feelings, and they have to learn to nurture themselves to find their inner peace. Safety is essential for them, if they sense instability, they easily become overwhelmed. If they live the higher octave of this sign, they are kind, gentle, artistic, protective.
Jupiter in Cancer Celebrities
Celebrity examples are a great way to study the different ways a placement can manifest. Some Jupiter in Cancer famous people:
Kurt Cobain
Avicii
Frida Kahlo
Emma Watson
Taylor Swift
Janis Joplin
Jennifer Lawrence
Helena Bonham Carter
Benjamin Franklin
Warren Buffett
Steve Jobs
Nelson Mandela
Joe Biden
Coco Chanel
---
If you liked this article, maybe you want to save our site for later. Make sure to share it with others who enjoy learning astrology!