Jupiter in Sagittarius is domicile. If you are not sure what this means, a planet is domicile when it is in the sign it rules. Jupiter is very strong here, and it loves staying in Sagittarius. In this article, you can read about what happens if you have this natal placement.
Jupiter in Sagittarius tells of an open-minded, curious, adventure-loving person. If Sagittarius is your Jupiter sign, you want to discover both the world around you and the world within you. You are an eternal student of life. You trust divine guidance and believe that things will always work out in the end. In love with life, you have the spirit of an adventurer. You crave an extraordinary life.
Jupiter is the most positive planet in astrology. Jupiter signs narrate how you can get lucky, grow, attract prosperity into your life. The touch of Jupiter expands everything, so it is worth paying attention to what it emphasizes in your birth chart.
It takes about one year for Jupiter to move through one zodiac sign. People born during these 12 months have their natal Jupiter in the same sign of the Zodiac. Jupiter signs are not as much descriptive of your personality as of your life path.
The last time Jupiter was in Sagittarius happened relatively recently, between the 8th November, 2018 and 2nd December, 2019. The next transit will be between the 22nd October, 2030 and 15th November, 2031. For people with their natal Jupiter in Sagittarius, this will be their Jupiter return (which happens every 12 years).
Jupiter in Sagittarius Meaning in the Natal Chart
Jupiter rules the zodiac sign Sagittarius. It feels very good in this sign, and it functions splendidly here. It wants to go higher and higher. Jupiter blesses you with a desire to strive to improve and touch the sky. The only thing to watch out for is overstretching-Jupiter doesn't know when to stop and the quality may not always catch up with the quantity.
This is an exuberant, joyful, optimistic placement. It suggests high energy levels if in aspect with the Sun, Mars, or the ascendant. Jupiter here indicates that you make a good leader. Your enthusiasm is contagious and you can grow into a very inspiring person.
Jupiter in Sagittarius suggests that you have extremely strong faith (not necessarily in a religious context.) Trusting life is as natural for you as breathing. You know it deep down that things will work out in your favor.
You look on the bright side no matter what. Jupiter in Sagittarius people can find the silver lining in any situation. You are always ready to tackle new challenges. Although this is generally a good trait, you might be sometimes so sure that things will work out that you take careless decisions.
Jupiter in Sagittarius people are life-long learners. They are usually very interested in topics like spirituality, philosophy, religion. This placement implies a strong drive to figure out the meaning of life, to get to know yourself, how you interact with the world and your role as a human in the greater scheme of things.
Spirituality plays a big role in your life. Many people who have their natal Jupiter in Sagittarius keep searching for answers to metaphysical questions. However, they are usually not committed to one religion. They love learning from multiple sources and believe that every religion offers great wisdom. Jupiter in this sign suggest that you are extremely open-minded. To you, people are human beings in the first place. Social injustice and inequality in the world upset you.
You love sharing your knowledge. Similar to ninth house placements, Jupiter here indicates a talent for teaching. You have many interests, although your knowledge on a topic might be superficial. You are usually a rather interesting person to talk to. If there are other important planets or points in Sagittarius, the chart owner is likely to be very well-educated.
One of the best things about this Jupiter sign is that you are not afraid to change your mind. When something doesn't work for you anymore, you learn the lessons it holds for you and move on. This is true of your belief system and personal philosophy as well. If Jupiter is afflicted, you might push your views onto other people (Sagittarius is a rather opinionated sign!).
Generally speaking, you are open to various styles of living, working, thinking. You love to discover what life is like on the other side of the planet. Many people with this placement are avid travelers. You are keen on spending time in nature, but you like cities with rich history and soulful inhabitants as well.
How can you find your luck if you have your Jupiter in Sagittarius?
This is an excellent placement for teaching, higher education, spirituality, languages, tourism, anything that requires a lot of travel or contact with foreign cultures (for example, a pilot or cabin crew, but it is just as favorable for diplomats, to name a few options). It is also great for business. These are some typical Jupiter in Sagittarius careers, but they are just a few. There are many other options you can use this placement for.
On a more abstract level, the more grateful you are and the more excited about the opportunities you have, the more luck you tend to draw upon yourself.
What are the negative traits of Jupiter here? Although not necessary negative, Jupiter and the Archer are linked with idealism and a high level of abstraction. If the rest of the birth chart doesn't balance this out, realization of ideas and paying attention to details may not be your greatest forte.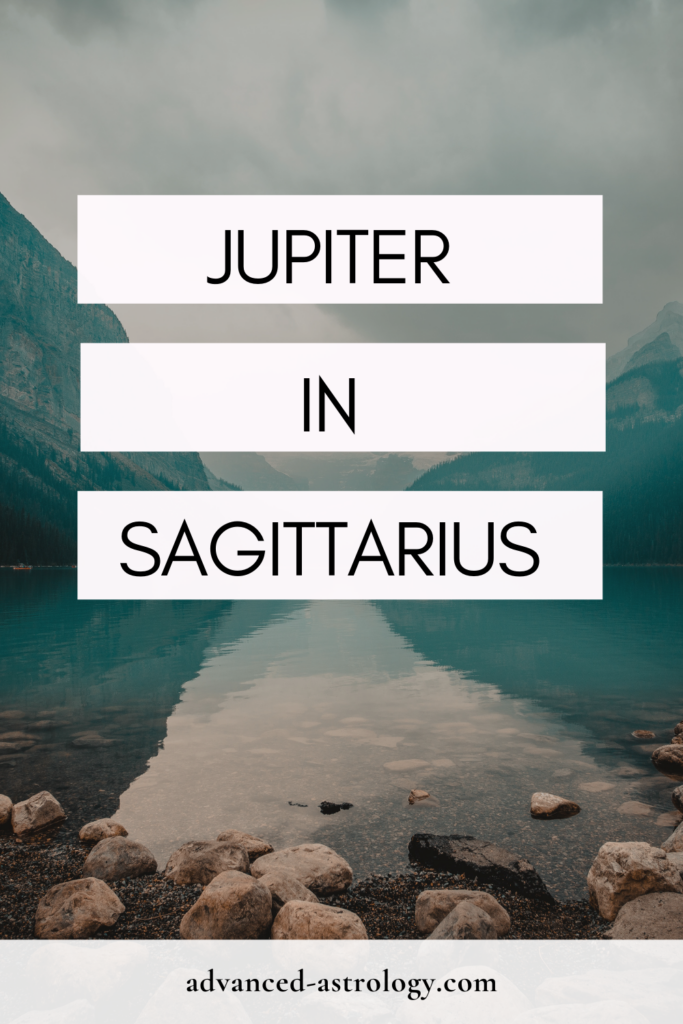 Keep in mind that although necessary to know, the sign of Jupiter doesn't paint the full picture. The aspects Jupiter forms to the rest of the planets are just as important. For example, Jupiter in Sagittarius square Mercury in Virgo indicates a blunt person who sometimes might come across as straightforward rude (although that is probably rarely your intention). At the same time, it suggests an extremely optimistic person who always spots great opportunities, and a great storyteller.
The house of Jupiter tells which life area is the most infused by this planetary energy. Find your house placement here.
Jupiter in Sagittarius Woman and Husband
Although not often mentioned (this concept is present in Vedic astrology), Jupiter shows the husband too in a woman's chart. Just don't mistake Mars for the husband, as it only shows the suitors and lovers, but not the actual legal spouse.
What kind of husband is the Jupiter in Sagittarius woman likely to settle down with?
This placement suggests that there is a possibility of marrying someone of foreign origin or of different nationality, relocating after marriage, meeting your spouse abroad. The Jupiter in Sagittarius woman's husband might be well-educated, a citizen of the world, someone who enjoys philosophy and spirituality.
Sagittarius in Astrology
The ninth zodiac sign, Sagittarius is all about the search for meaning. It is a fire sign by element, which is associated with energy, expansion, activity. It is dynamic, open, hungry for new input. As the opposite sign of Gemini, Sagittarius has to do with learning as well, but on an abstract level, wanting to see the bigger picture.
The planetary ruler of Sagittarius is Jupiter (read below what this planet represents in astrology). It is connected with the ninth house, the house of higher learning, philosophy, broadening the horizon. But in your own chart, it doesn't have to be in this house, Sagittarius can be found on the cusp of any house, depending on your ascendant.
Sagittarius is one of the mutable signs (Gemini, Virgo, Sagittarius, Pisces). This quadruplicity is associated with frequent changes, intellectual processes, flexibility.
The Archer is the sign of wanderlust, philosophy, faith, foreign countries, optimism.
What Your Jupiter Sign Says About You
Why should you pay attention to Jupiter?
Because this planet represents the good things that come into your life. It governs luck, expansion, prosperity, wealth-things most people want more of. This planet expands whatever it encounters. Where you see Jupiter in the horoscope is where you have better than average chances for success.
In the natal chart, Jupiter describes how one can expand, grow, and prosper. This planet speaks about your ethics and belief system. This planet is all about traveling wide and far, both in the physical world and in your mind. If you want to invite more Jupiterian energy into your life, strive to be like this planet: generous, optimistic, giving.
Jupiter rules Sagittarius, it is the co-ruler of Pisces, exalted in Cancer, in fall in Capricorn and in detriment in Gemini. The ninth house, the natural house of Sagittarius is the house where Jupiter is in accidental dignity.
Jupiter in Sagittarius Celebrities
Studying the life path of celebrities can be great for seeing a placement in action. Jupiter in Sagittarius celebrities:
Simon Cowell
Edward Snowden
Antoine de Saint-Exupery
Dua Lipa
Kendall Jenner
Miranda Kerr
Eckhart Tolle
Vincent van Gogh
Nigella Lawson
Justin Trudeau
Hillary Clinton
---
If you liked this article, maybe you want to save our site for late. Make sure to share it with others who enjoy learning astrology!