In this article, we will dissect the characteristics of Jupiter in Scorpio. In the natal chart, Jupiter signs describe how you grow as a person, but they also speak about your personal philosophy and suggest how you can tap into your luck. It is a rather benevolent planet. What does Jupiter in Scorpio in the natal chart say about your personality?
This placement implies an inquiring, resilient, passionate person. You want to learn the secrets of the universe and find out how you can use them to your advantage. When something sparks your interest, you put a lot of effort into fully understanding the topic. The worst case scenario is holding extremist views and being a fanatic. Ideally, you are able to transform your pain into wisdom and teach others the alchemy of the soul.
Albeit powerful, this placement of Jupiter is somewhat ambiguous. It can be a positive influence, but if you don't integrate it properly, it can also be damaging and chaotic. Jupiter in Scorpio indicates growing through intense, profound experiences and it is a dynamic placement. The direction of the growth depends on the level of consciousness of the chart owner.
Jupiter returns to the same sign every twelve years. The last time Jupiter was visiting Scorpio occurred between 10th October, 2017 and 8th November, 2018. It will return into this sign on 24th September, 2029 and leaves it on 22th October, 2030, when it will continue its journey through Sagittarius.
If you have your natal Jupiter in Scorpio, this should be a time full of great opportunities related to the matters of the house where this planet is placed in your chart, as it marks your Jupiter return.
Keep reading to learn more about the meaning of Jupiter in Scorpio!
Jupiter in Scorpio in the Natal Chart
When in Scorpio, Jupiter's dispositors are Mars and Pluto. Where these planets are in the birth chart influence how Jupiter works. Scorpio is the sign of extremes. Jupiter here can be either extremely moral, good-natured, compassionate, or it is not reluctant to use darker tactics in life.
Jupiter in this zodiac sign absorbs the powerful energy of Scorpio. This placement suggests great ambition and a desire to succeed. You spare no effort to get what you want. Let's not forget that Scorpio is a fixed sign-this means it has great determination and it is extremely persistent. Obsession is one of the first things that come to mind when you hear Scorpio.
Jupiter in Scorpio suggests that when you set your mind on something, you are like a dog with a bone. Your ability to grow is linked with the need for security. Because of this, you are extremely driven to achieve financial success (in the first place). Your ambition is paired with a desire to be in control. Jupiter in Scorpio indicates that you perform well under pressure. You have high levels of self-confidence.
Jupiter in Scorpio suggests a magnetic, charismatic presence, especially if it stands out in the chart, for example, if it is conjunct the Sun or an angle. There is something intimidating about these people that commands respect. It is hard to say 'no' to you (and you probably dislike hearing it anyways).
People with this placement have a strong desire to put all the pieces of the puzzle together. If Mercury points in direction of wit too, Jupiter here suggests a powerful intellect. You are fascinated by things that are in some way hidden, or hard to grasp.
This placement can indicate that your teachers, mentors, advisors are either extremely helpful and supportive, or they are a negative force in your life.
The best case scenario is influential, powerful mentors who help you learn new things and expand your network. However, the house placement and aspects of Jupiter are also important when answering this question. Alternatively, this position might indicate jealousy or power struggles. If well-aspected, Jupiter in Scorpio can be a favorable placement for cooperation and partnerships.
Sometimes Jupiter in Scorpio gets away with more than the average person in terms of luck. You are enduring and when within an ace of getting into trouble, somehow you still make it out safe and sound (don't test your luck though! You can never know when the support of Jupiter becomes unreliable). You are able to turn things around after suffering great losses, and rise up stronger than ever.
As mentioned before, Scorpio is the sign of extremes. Its negative side can be really destructive. If you live the unevolved side of Jupiter in Scorpio, you might abuse your power, be manipulative or overly controlling. Given that there are other indicators in the birth chart, you have a talent for influencing and persuading other people. You are often very good at finding their weak spots. Ideally, you use this talent for good, and you help others overcome their traumas and heal themselves.
Learning about spirituality can speed up your transformation process and your growth as a person. You might take solace in spirituality. Jupiter here is usually interested in all things supernatural and mysterious. It can also be drawn to the occult, witchcraft, astrology, and the like.
People with this Jupiter sign tend to be rather intuitive. You can easily tap into the wisdom of the unconscious. Ideally, you have great healing power. Jupiter in Scorpio asks you to work through the unconscious blockages and painful experiences.
In the birth chart, this Jupiter sign suggests that your luck lies on the bottom of a lake, accessible through self-reflection and the willingness to face your shadow self on the journey. The more you let go of the debilitating, traumatic experiences, the more abundance and prosperity you are blessed with. This is a placement of redemption.
On a more physical level, Jupiter in this sign might indicate a harmonious flow of energy in the fields of psychology, medicine, finance, business. It is also splendid for any field where you need persuasion skills and psychology, such as sales or investigation.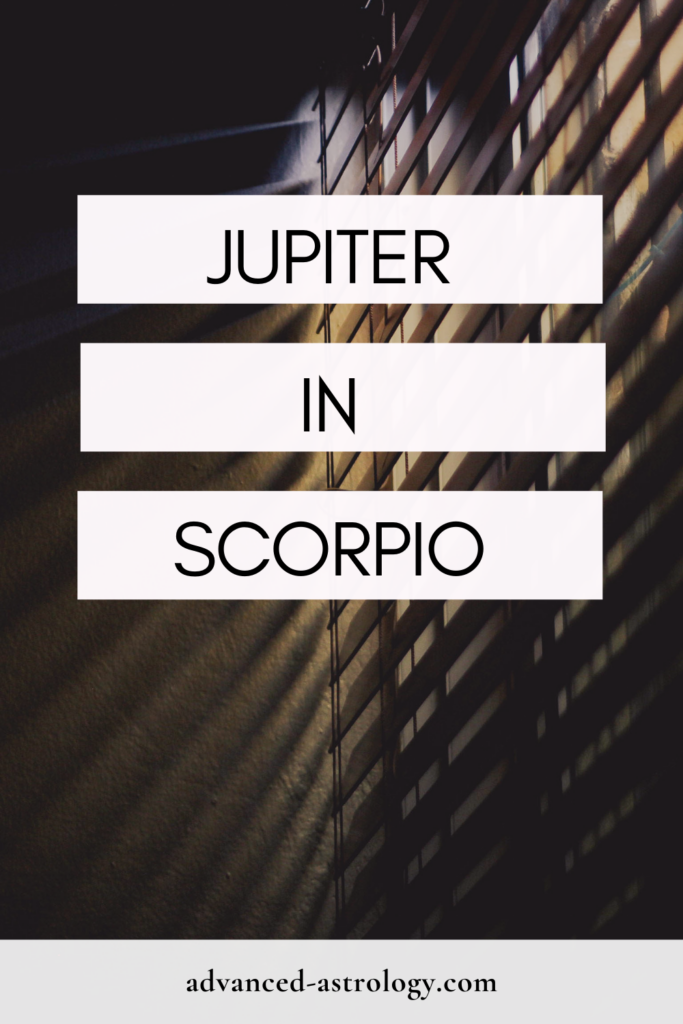 To get to the bottom of your Jupiter in Scorpio, its aspects and house placements are also essential to understand. For example, if it is conjunct Mars in your horoscope, it enhances its ambition and drive.
Read more: Jupiter in Houses
Jupiter in Scorpio Woman and Husband
Besides the usual meanings of Jupiter, in a woman's chart, Jupiter is associated with the husband too, especially in Vedic astrology.
Jupiter in Scorpio women often go though a transformational process during their marriage. The relationship is often very intense, you want to devour each other and merge on different levels. Honesty is key for a Jupiter in Scorpio woman. Ideally, you can share everything with each other and make each other feel safe.
Jupiter in Scorpio in a woman's chart indicates a intense, passionate partner, who encourages you with his emotional stability to let go of past trauma.
However, unfortunately this placement can also imply a controlling, jealous husband (but for this to be the case, there are other indicators in the chart, too! And nothing is set in stone, we have free will)
. Power struggles might occur in the relationship.
For the life partner, there are many factors you should take into account, as it is a rather complex topic.
Jupiter in Astrology Meaning
Jupiter, the largest planet, is located between Mars and Saturn. It completes one orbit around the Sun in approximately 12 years. This also means that is stays for one year in each zodiac sign. Because of this, it Jupiter signs are the same for people during a 12-month period. When analyzing this planet, its aspects to personal planets and its house should always be considered.
Jupiter is one of the most positive planets in astrology. It is the planet of ethics, spirituality, faith, philosophy, the higher mind. It also rules abundance, prosperity, optimism, hope, joviality, wealth. Jupiter is the planet of luck, being in the right spot at the right time. Jupiter governs higher education, foreigners, people of religion.
Jupiter is the ruling planet of Sagittarius and Pisces (in modern astrology, the latter is ruled by Neptune). It is in accidental dignity in the ninth house.
A strong Jupiter in the natal chart is generally favorable, but it can make you lazy if there is little resistance from life to overcome. If this planet is prominent, it suggests a well-educated, optimistic, worldly person.
Scorpio in the Zodiac
To understand how planets function in a sign, you have to know how each sign of the Zodiac operates. Understanding Scorpio helps you decipher Jupiter in Scorpio.
Scorpio is the eighth zodiac sign. It is the sign of depth, transformation, merging on a very deep level. This sign is found in the eighth house of the natural chart, which is the house of secrets and death.
It is a fixed sign by modality and a water sign by element. Scorpio is a feminine or passive sign. Fixed signs are connected with permanence and stability. The element water is the element of emotions, introversion, gentleness, intuition. Scorpio is silent on the surface, but raving below it. This sign is linked with intensity, obsession, passion.
The Scorpion is guarded, penetrative, mysterious.
Scorpio is one of the three zodiac signs that have both a traditional and a modern ruler: Scorpio's modern ruler is Pluto, the traditional is Mars.
The Sun enters Scorpio on 23rd October, and it stays there until 23rd November approximately.
Jupiter in Scorpio Celebrities
Some examples of Jupiter in Scorpio celebrities:
David Bowie
Elon Musk
Priyanka Chopra
Hugh Laurie
Britney Spears
Tupac Shakur
Elvis Presley
Elton John
Steven Spielberg
Ernest Hemingway
Stephen King
Al Capone
Charles Manson
Ted Bundy
---
If you found this article helpful, maybe you want to save our site for later. Share it with others who like reading about astrology!