In this article, we will break down the meaning of a natal Jupiter in Virgo. This is perhaps not the best sign for Jupiter, but as always, nothing is only good or bad. While Jupiter is in fall here, it gifts you with an analytical mind and a desire for improvement. Virgo traits are emphasized with this placement if you have other personal planets in this sign.
Jupiter in Virgo indicates that you are reliable, responsible, like being of service to others.
Jupiter shows how you can expand your consciousness and how you can make your luck. In the natal chart, it implies an easy flow of energy in the affected areas.
Jupiter signs are shared by people born during a 12-month period. It takes approximately 12 years for this gas giant to make a full circle around the Sun. The last time Jupiter was transiting Virgo was between August 11, 2016 and September 9, 2016. It will be in this sign between July 16, 2027 and August 24. 2028.
What Does Jupiter in Virgo Mean in the Natal Chart?
Jupiter in Virgo is in the sign ruled by Mercury. Mercury and Jupiter both have to do with the intellect and learning, but on different levels. Jupiter is the planet of the higher mind, and it is not very compatible with the detail-oriented and earth-bound nature of Mercury. To get the full picture of Jupiter in Virgo, you should look to Mercury's condition in the chart too.
Jupiter is in detriment in Virgo (which is a weak dignity). If Mercury too happens to be in Virgo with Jupiter, it improves the condition of the latter; in this case, the qualities of Virgo become even more emphasized in the natal chart.
That being said, every placement has its strengths along with its weaknesses, nothing is black or white.
Jupiter in Virgo people tend to be smart and gifted. The expansive nature of this planet manifests on an intellectual plane here. This is a great placement for mathematics, science, engineering, languages, medicine, but also for law. It indicates an analytical mind but also great technical skills. You have great growth potential.
Many people with this placement love learning. There can be an insatiable hunger both for formal and informal education. Jupiter in Virgo tends to have many interests. This placement often suggests a talent for teaching.
Jupiter in Virgo suggests that you attract good fortune when you are methodical and practical in your thinking. You might have to work for luck a bit more then other people. In the long run, however, Jupiter here teaches resilience and self-discipline.
Jupiter is supposed to deal with ideals and vision, and in Virgo it has to deal with the reality. People with this Jupiter sign often have great expectations from themselves. The talent for organization Jupiter in Virgo suggests increases your chances of getting where you want to be in life. You are probably excellent at management.
A natal Jupiter in Virgo suggests that you are prone to limiting your hopes to what you see tangible evidence for. Jupiter is all about faith in life, but people with their natal Jupiter in Virgo tend to not trust life. They might experience enhanced anxiety or overthink and worry about everyday minor events most people don't even give a second thought to. Make sure to take care of your mental health as this placement might indicate a tendency for pessimism or defeatism.
When a new idea enters your mind, you approach it with a realistic filter and think about how to apply it in the most optimal way. It is important for you that ideas have practical use. You might not like abstract theories.
Jupiter in Virgo enhances the perfectionism of this sign. If this planet receives challenging aspects, people tend to get lost in the details. The ability to look for the bigger picture might fail when you are under pressure.
Virgo is not the most spiritual sign. Jupiter here indicates a tendency for scepticism or rejection of anything supernatural (unless there are some other explicit indicators of an interest in these subjects, such as planets in the eighth house or water placements).
People with this placement don't really like taking risks. They prefer safety and like it when things go according to their plan.
Virgo is about healthy habits, too; Jupiter here implies that taking good care of your body is important. As an earth sign, Virgo affects the physical level of existence. Jupiter in Virgo might indicate a tendency for being too much in your head and losing contact with your body. Routines that serve you go a long way here.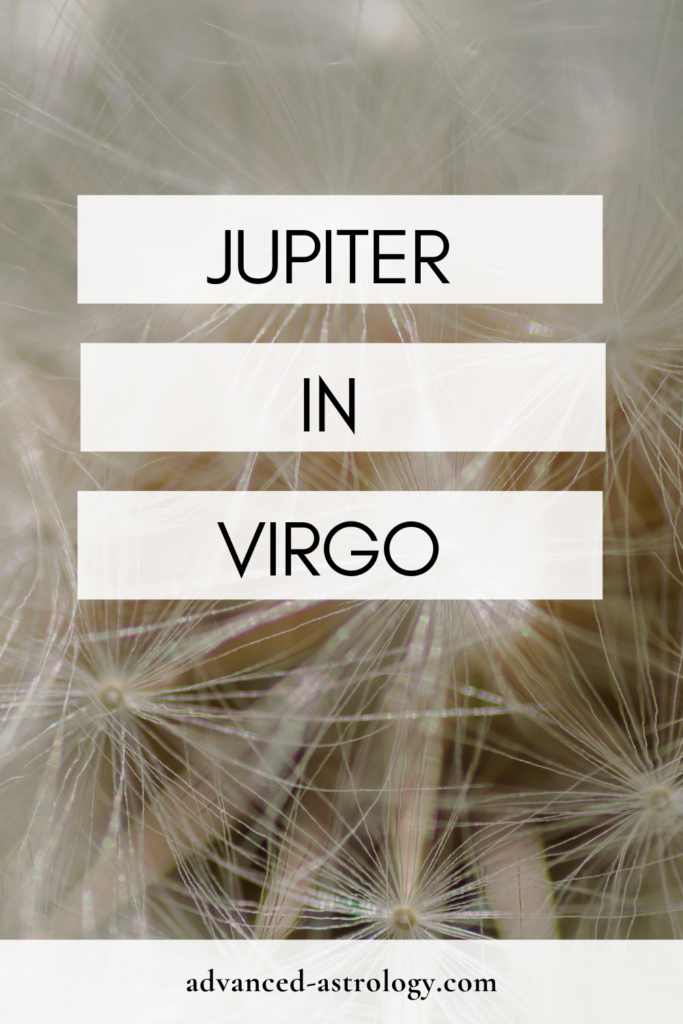 The sign of Jupiter is necessary but not sufficient to interpret this planet in the natal chart. Besides the sign, the aspects also determine the condition of your Jupiter. The house placement is important to take into account too.
Read more: Jupiter in Houses
Jupiter in Virgo Woman and Husband
According to Vedic astrology, Jupiter is a significator of the husband (spouse) in a woman's chart. If you are a Jupiter in Virgo woman, this placement suggests that you might get married to someone who is meticulous, practical, realistic. They usually prefer safety in the everyday life to an extravagant lifestyle. Intellectual compatibility is important in the relationship.
What Does Jupiter Mean in Astrology?
Jupiter is the planet of good fortune. This gas giant is the largest planet, taking place between Mars and Saturn. It is not as quick-moving as the inner planets, but it is not a very slow planet either. Jupiter's orbital period is approximately 12 years.
Jupiter has many meanings in astrology, mostly very positive ones. It governs expansion, growth, wisdom, faith, wealth, higher education, foreign lands. Jupiter is the planet of philosophy and ethics. It is generous, benevolent, likes to say yes.
Jupiter inspires us to search for a higher meaning behind things. It is the planet of broadening your horizons and meeting the opportunities in life with a positive attitude.
In the natal chart, Jupiter describes your views and personal philosophy, but it also hints where you can find your luck and where you can meet your goals with the least resistance. The house of this planet tends to be a life area where you have fortuitous circumstances. Jupiter expands and multiplies everything it comes into contact with.
Jupiter rules the signs Sagittarius and Pisces (it is ruled by Neptune in modern astrology). It is in accidental dignity in the ninth house.
Virgo in the Zodiac
Virgo is the sixth zodiac sign. It is the sign of duties and responsibilities. In the natural chart, it is found on the cusp of the sixth house of work and health. Its ruling planet is Mercury.
As a mutable sign, Virgo is open to changes and going in different directions. Virgo is one of the earth signs by element (Taurus, Virgo, Capricorn). This element is associated with the physical realm.
Virgo is meticulous, analytical, practical, grounded, reliable. Its weaknesses are its shyness, worrisome and critical nature, fear of not being (and doing) enough. This sign is about the strive for perfection.
---
If you liked his article, maybe you want to save it for later. Share it with others who like reading about astrology!