If you want to read about the meaning of Lilith in 11th house, you have come to the right place.
The life area where Lilith here expresses herself is your relationship with peer groups.
People with their Black Moon Lilith in 11th house don't feel safe to connect with others and it is very hard for them to fit in. They might have been bullied. This placement suggests a strong but unusual personality. People who have this placement often find that their peers are jealous of them, try to undermine them, or stab them in the back. Black Moon Lilith in 11th house can be a black sheep placement. It is a very painful position of Lilith in the natal chart. 
As the house of hopes and dreams, the eleventh house is a quite important one in the natal chart. Hard placements here can slow down your progress in life and make it harder to achieve your goals.
The eleventh house shows how the universe supports you, and problematic placements here have trouble accepting this support and letting the energy flow in a healthy way. 
The house where your Lilith is located in your birth chart tends to be quite problematic. Lilith is rebellious, wounded, traumatized, and she expresses herself in a destructive way. Keep in mind that the Moon governs the domain of the unconscious, and Black Moon Lilith manifests on this level too. This makes it even harder to understand these problems and integrate them in a constructive way.
Keep reading to learn more about this position of Lilith!
Black Moon Lilith in 11th House Meaning
What does Lilith in 11th house reveal about your shadow self?
Needless to say, you are a loner with this placement. You are in many ways different than most people around you. You can have different views, different hobbies, even look differently than others. However, this doesn't make fitting in easy. Lilith in 11th house is often an outcast.
People with this placement are loners, but at the same time, they crave to belong to a community. Lilith in 11th house is attracted to unusual, mysterious people. Your friends are strong-willed, independent, they can be outcasts and weirdos. The negative manifestation of this placement can be friends who are not good for you, or who don't have your best interest at heart.
The destructive nature of Lilith in 11 house can cause a lot of trouble in your friendships. You likely experienced betrayal, jealousy, rejection from someone you considered your friend.
Lilith in 11th house suggests that it is hard for you to fit in. In a community, you feel that others don't want you to be there, and you often react in a way that others might find repulsive (based on the value system of that specific community). Some people with this placement have the reputation of being a problematic person in their community. You have problems with fitting in from an early age. As a child, you often felt unwanted, and maybe you were even bullied. Because of this, you become reserved and emotionally detached from your friends.
As you grow older, you feel less and less of a need to make friends and be part of a group. The lack of a social network can hinder your success.
You usually don't want to be perceived in a controversial way, but Lilith's mechanisms are subtle and hard to illuminate. As long as it stays in the domain of the unconscious, Lilith can cause a lot of trouble, which in this case, affects your social life. This is not to say that you don't have meaningful relationships. Many people with this placement have romantic relationships or close friendships. It is your role in groups that is the most affected by Lilith here.
Black Moon Lilith in 11th house can even make it challenging to hold a job for longer periods of time. Often, in the beginning, everything is fine, but sooner or later you find that people turn against you.
This placement can also indicate conflict with authority figures.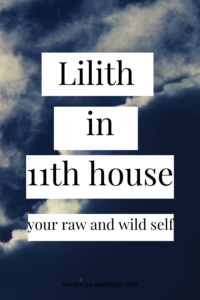 Authenticity is very important to you. You don't want to do things that are not aligned with your values or that don't speak to you. Lilith here wants integrity and independence when it comes to deciding what is important in life.
One of the most important lessons of Black Moon Lilith in 11th house is to learn to accept yourself and be emotionally detached from the opinions of others about you. 
Lilith in 11th house is somewhat similar to Lilith in Aquarius. The actual sign of it in your birth chart describes how it manifests and works together with the rest of the chart.
Black Moon Lilith in Astrology
The name Lilith can refer to several objects in astrology (not every one of them is an celestial body that exists in reality though-only the asteroid Lilith is an existing astronomical object). This article is oriented on Black Moon Lilith. As its name suggests, Black Moon Lilith is related to the Moon. It is calculated as the lunar apogee, or alternatively, as the empty focal point of the elliptical orbit of the Moon. (Because of its elliptical shape, the Moon's orbit has two focal points, one of them is occupied by the Earth, and the other one is empty in reality).
Black Moon Lilith is a mathematical point. Its astrological meaning is still not mapped completely, but it is associated with the shadow side of one's personality. It represents suppressed parts of you that can come to expression in subtle but destructive ways, causing problems. Where you experience the energy of Lilith, depends on its house position in your birth chart. The sign of it describes how it comes to expression.
Lilith is named after a mythological female demon. In Jewish folklore, she was the very first woman created. She was Adam's original wife, but she did not want to submit to him and be dominated by him. Because of this, god punished her by expelling her from the Garden of Eden. Lilith has to do with the dark feminine and female sexuality as well, which is punished and frowned upon by patriarchy.
Lilith cannot be controlled. You can only learn to create healthier ways to express it, but you cannot tame it fully.
This point spends 9 months in each zodiac sign, finishing a full circle through the Zodiac in 9 years.
Life Areas of the Eleventh House
In the birth chart, houses tell in which life area a planet expresses its energy. Each of them governs a group of life areas, and the eleventh house is no exception.
This astrological house is linked with large groups of people, organizations, associations. It is most often described as the house of friends, and while this is true to some extent, it is important to emphasize that these are relationships based on a mental connection, not emotional.
In the natural chart, the eleventh house is linked with the eleventh zodiac sign, Aquarius. The Water Bearer is an intellectual air sign always seeking new, better ways to do things. The eleventh house is also about opening your mind to new opportunities. It is the house of hopes and dreams, describing how you can realize them and invite them into your life. This house is said to describe everything that comes to you, and the universe's way of supporting you. 
Read more about the eleventh house in this post.
---
If you enjoyed this article, save it for later. Make sure to share it with others who enjoy learning astrology!