In this article, you can learn about the meaning of Lilith in 4th house. This placement suggests that you felt rejected in your family. This placement can also indicate a challenging relationship with your parents.
People with their Lilith in 4th house often feel that they are not safe in this world. Because of this, Lilith here is one of the hardest house positions to deal with. It can also mean trauma related to ancestors that still influences you and causes you anxiety.
Black Moon Lilith is one of the mathematical points in astrology (there is an asteroid called Lilith too). It is associated with shame, pain, trauma, and finding your strength after facing your demons.
Keep reading to learn more about Lilith in 4th house!
Lilith in 4th House
The most important life areas linked with the fourth house are home and family. If Lilith is close to the IC, its influence becomes more emphasized.
Lilith in 4th house can suggest that you don't feel welcomed in your own home. This can be particularly daunting in childhood. Sometimes people with this placement had to even endure abuse at home. Their parents are often unable to give them the security and protection a child needs.
Later in life, Lilith in 4th house can indicate not being able to find a place in the world where you feel safe. You can feel that your access to nurturing has been denied. Sometimes people with this placement don't settle down, or they do so only later.
It can be hard for these people to start a family. They might find the role of the parent repulsive or they can be afraid that they would not be good enough parents.
This placement suggests that one of your parents embodied the traits of Lilith. They were strong-willed, independent, and they wanted to maintain their autonomy at any price. They might had to face many challenges in life and survived very painful events.
In some cases, they managed to integrate this experience and become wiser and stronger, but this was not necessarily the case. Lilith in 4th house can indicate that they passed on their pain to their children. They might have been manipulative.
In extreme cases, Lilith in 4th house can even indicate the loss of a parent through death, abandonment, divorce.
This placement can also indicate transgenerational traumas in the family. There might had been a painful event in the family that caused the family members a lot of pain. Rejection and shame were also likely. Sometimes people with this placement don't even understand where their anxiety comes from. Lilith in 4th house can indicate karmic baggage.
If there are other indicators in the natal chart, Lilith in 4th house can suggest that the native doesn't recognize their feminine side. Their attitude to women can be destructive.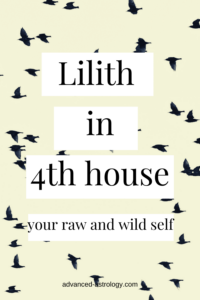 The sign in which this point falls in your birth chart is significant as well. It describes how you experience the themes of Lilith in your life.
Meaning of Lilith in Astrology
Lilith represents the 'dark' feminine (as seen through the lens of patriarchy). She is the archetype of the woman who is not afraid to stand up for herself, prioritizes her well-being, and desires to be autonomous. The mythological background of Lilith has biblical origin.
Lilith was the first woman, created before Eve, and the wife of Adam. However, she refused to submit to her husband, who became furious and told god to send Lilith into exile. She had to leave the Garden of Eden. The archetype of Lilith is complementary with the Moon's meaning, she is a rejected and stifled part of a woman who is required to be as nurturing and obedient as Eve was (who is represented by the Moon, the archetype of the wife and the mother).
Lilith's meaning in astrology is in some way similar to the energy of Pluto. It has to do with the hidden, mysterious side of a person, the shadow self that wants to be integrated into the conscious and help you tap into your power. In the birth chart, the position of Lilith shows where you faced rejection, where you were shamed and denied, and where you have to work through your pain. Lilith is not equally important in every birth chart.
Black Moon Lilith does not represent an existing celestial body. It is calculated as the other focal point of the Moon's orbit, which is of elliptical shape.
The 4th House in the Astrological Chart
The 4th house is one of the water houses, which are mysterious, karmic, hard to understand. The 4th house is the most easily accessible of all of them.IIt is connected with the personal unconscious.
The fourth house in the natal chart is the house of your private life, something known only to your family members and eventually your closest friends.
This is the natural house of Cancer (but in your own chart, of course it can begin in any sign). It governs the life areas of family and home. The 4th house describes your roots, the family you come from, the atmosphere in your home, and the things you bring from home. It speaks about your family heritage. This house represents your motherland too.
The fourth house has karmic associations too. It is linked with family karma, especially from the mother's side. This house is a parental house as well (opinions are divided on which house represents which parent).
Besides beginnings, the fourth house is the house of endings too. In the birth chart, this house speaks about old age and your last years on this planet.
The fourth house is one of the angular houses. The cusp of these houses are the angles of the natal chart (depending on the house system you use). The cusp of the fourth house is the Imum coeli, abbreviated as IC. It represents the part of the sky that was at the lowest at the moment when you were born, as seen from the place where you were born.
---
If you found this article helpful, maybe you want to save it for later. Make sure to share it with your friends who enjoy learning astrology!