If you have your natal Black Moon Lilith in Gemini, this article is for you. When Lilith is in Gemini, it suggests that there were some issues with communication and connecting with others.
People with this placement are afraid from saying the wrong thing at the wrong time. This fear can crippling and preventing them from interacting with others. Alternatively, it can manifest as babbling all the time. This placement is sometimes accompanied by a fear of coming across as stupid.
Black Moon Lilith in Gemini is an avid learner and at the same time, likes to observe people. You are really good at interpreting other people's reactions.
Lilith's position in the natal chart tells where you meet your shadow self. Black Moon Lilith is a mysterious, refined, unconscious energy that can manifest in rejecting something, or alternatively, being extremely fascinated with it.
Keep reading to learn more about the meaning of Lilith in Gemini!
Black Moon Lilith in Gemini Meaning
What does it mean if you have your Black Moon Lilith in Gemini in your natal chart?
Lilith in Gemini is often involved in conflicts. People with this placement can unintentionally say things that others misinterpret, or they find offensive. You enjoy playing the devil's advocate. You voice your opinion openly, and care little about how your message is perceived.
With this placement in the natal chart, the double nature of Lilith is even more expressed. It can manifest as having problems with communication, or alternatively, being so good at it that you can even use it against others at some point.
You have to be careful about what you say if you have this placement in your birth chart. Lilith is an extremely raw, primal energy that is hard to keep under control. When it is placed in Gemini, it affects how you communicate with others.
Its destructive nature can indicate a lack of tact. Many people with this placement express themselves in an aggressive, thoughtless way, often unintentionally. Lilith here has a strong urge to share what's on her mind, whether is it appropriate to do so or not. If you have this placement, you tend to be overly domineering in a conversation. You can have a hard time hearing the other person out.
The negative manifestation of Lilith in Gemini is (perceived or real) rejection. You can feel very lonely and feel that nobody understands you. Sometimes this placement lacks healthy coping mechanisms. You can be detached from your emotions, or try to overly rationalise them.
Lilith here is often afraid of rejection. It hurts you very deeply when others don't pay attention to you or they are not curious about your thoughts.
Lilith in Gemini has many secrets. Sometimes people with this placement almost think that they have two personalities. Maybe at an early age, you were shamed for speaking your mind, expressing your feelings, or standing up for yourself, and there are parts of you that you learned to repress.
You are good at uncovering the real intentions of people. In extreme cases, this placement can even manifest as being involved with fraud.
People with this placement feel that there is more to life than it seems at first glance. They want to discover everything and they are very curious. Lilith here can be obsessed with knowledge. Lilith in Gemini people are well-read, eloquent, have a quick mind, but they don't know how to share it with others―or they are afraid to share.
Obsessive thoughts are typical of Lilith in Gemini. You have a very active mind. Black Moon Lilith here often suggests that you are interested in taboo topics. You can hide your interests from the world.
You have a dark sense of humour. Others may find your jokes insensitive or repulsive.
One of the negative manifestations of Lilith in Gemini is tricking others. Gemini is able to easily fool others, and when Lilith is placed here, you know what to say to get what you want. You can be manipulative, or at least know how to manipulate. You are good at finding tiny clues that allow you to assess the situation properly.
Lilith here can find an outlet in writing, journaling. Activities that involve hand dexterity or movement can also be beneficial. Professions where you do a lot of communication can also be a potential way to sublime your Black Moon Lilith in Gemini.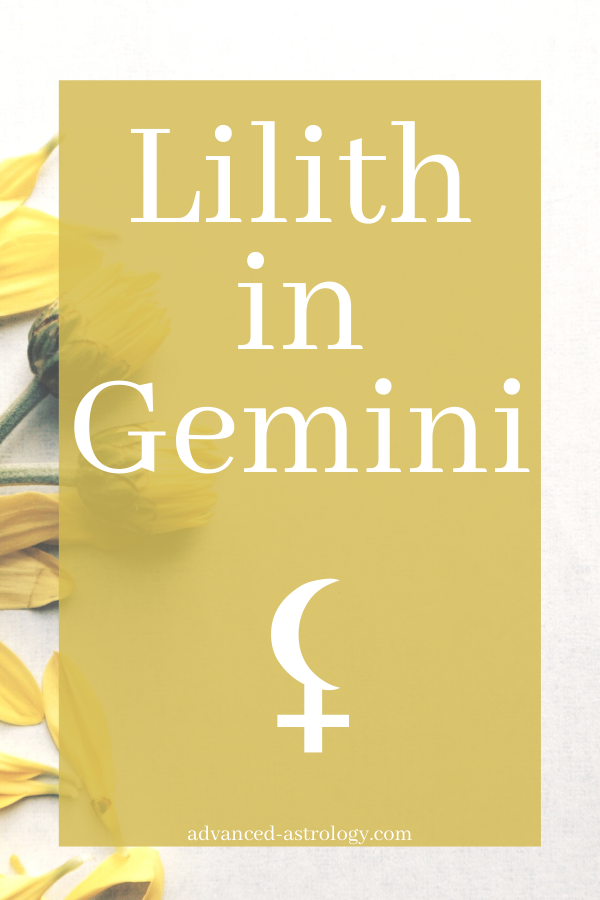 The house of your Lilith is also important. It tells the life area where you meet the effects of Lilith.
Lilith in Astrology
What does Black Moon Lilith mean in astrology?
It is important to know that it is a mathematical point (there is an asteroid too which is called Lilith, but here we focus on Black Moon Lilith). It is defined as the second focal point of the Moon's orbit. There is another way to calculate Lilith, which is based on the Moon's apogee, the point where the Moon's orbit is the furthest away from the Earth.
Lilith is a female demonic figure in mythology. Understanding the mythological story helps understanding her astrological meaning better.
In Jewish mythology, Lilith was the first woman and the wife of Adam. They were equals and it was important to Lilith that she has the same rights as Adam has. However, Adam didn't like this and he was domineering. Lilith refused to submit to him, what enraged both Adam and god. In revenge, god punished Lilith by making her leave the Garden of Eden. Later Eve, the obedient wife was created.
In astrology, Lilith has to do with the independence of women, the desire for power and autonomy, female sexuality. It has a darker meaning as well, including vengeance, domination, chaos. The primary domain of Lilith is the unconscious. When it comes to the surface, Black Moon Lilith can manifest in quite destructive ways, at least until you learn to integrate it.
In the birth chart, Black Moon Lilith's position tells where you have secrets hidden in your soul. The sign of Lilith reveals how you can find your own power and overcome your fears. This point is often repressed and denied, it is your shadow self.
Lilith transits the Zodiac in approximately 9 years.
Gemini in the Zodiac
Gemini is the third sign of the Zodiac. It is Latin for twins, and its symbol represents the Roman numeral II.
This zodiac sign is communicative, open-minded, curious, versatile, hungry for stimuli. It lacks focus and persistence, and it is quite changeable. Gemini is associated with the intellect, humor, the ability to connect with others, all forms of communication, writing, but also with movement, trade, education, youth. Gemini is also connected with trickery, lies, theft.
Gemini is one of the air signs in astrology. Air signs are rational, open, intellectual. They are interested in connecting with people.
By modality, Gemini is one of the mutable signs (Gemini, Virgo, Sagittarius, Pisces). Mutable signs are flexible, versatile, ready for change. It is a masculine, active sign by polarity.
Gemini is ruled by diurnal Mercury. In the natural chart, it is linked with the third house of communication and learning.
---
If you found this article helpful, maybe you want to save it for later. Make sure to share it with others who like astrology!