In this article, you can learn about Mars conjunct ascendant in the birth chart, in synastry, and in transit.
Planets conjunct the ascendant are extremely important in astrology. The ascendant is one of the most personal points of the chart, and any planet that touches it becomes emphasized (both in the birth chart and in synastry). With the Mars conjunct ascendant natal aspect, it can easily happen that Mars is one of your dominant planets.
Mars is a fiery planet full of energy. When it is conjunct the ascendant, you can expect a rise in your energy levels, but this placement can also indicate anger issues. This can be an explosive aspect, and it is important to channelize it properly.
Keep reading to learn more about the Mars conjunct ascendant synastry and natal aspects in astrology!
Mars Conjunct Ascendant Natal: Born to Fight
The Mars conjunct ascendant aspect makes you very similar to an Aries rising, no matter your actual rising sign.
Depending on the rest of the chart, the Mars conjunct ascendant natal aspect suggests a strong body. People with this aspect are often athletic, easily gain muscle and agile. Unless there is something else that contradicts this in the chart, this placement gives strong vitality. Mars conjunct the ascendant is frequent in the birth charts of athletes. You usually enjoy sports with this aspect (both playing them and as a spectator). An interest in the military can also occur.
There is a difference between Mars conjunct the ascendant from the first house and from the twelfth house. In the first case, it manifests in a more direct way that everyone can see about you. Mars conjunct the ascendant in the twelfth house becomes a more subtle influence.
The Mars conjunct ascendant natal aspect suggests an extremely active person. It is hard for you to sit in one place for a long time. You love being on the go. You have a lot of energy and you have to find out the best way to spend it in a constructive way. Mars conjunct ascendant natal indicates a person who loves to be active.
With this conjunction in your birth chart, you are courageous and you want to take initiative. The Mars conjunct ascendant natal aspect suggests that you are extremely competitive. You have a big ambition. Mars here indicates that you don't hesitate to go after what you want. You love to fight and you love to win even more. This placement suggests a dominant personality. You don't like to be bossed around, and you don't like to make compromises either.
Independence is very important for Mars conjunct ascendant people. You prefer to be in charge of your destiny. With this aspect, you are more of a leader than a follower. Mars conjunct ascendant suggests a very strong personality.
The negative side of the Mars conjunct ascendant natal aspect is being impatient and self-willed. It is hard for you if things don't work out in the way you wanted or if they take more time than you initially expected. Unless you have a strong Saturn in your birth chart, you need to work on developing self-control and self-discipline in order to make the most out of this conjunction. Planets in the first house can also make you too focused on yourself, sometimes failing to see other people.
When afflicted, Mars conjunct ascendant in the natal chart can indicate anger issues. You can be very impulsive, sometimes acting from muscle before your brain gets to think about the situation. This conjunction can also suggest an aggressive person if it receives hard aspects from malefics, such as Pluto or Saturn (and if the entire chart points into this direction).
The sign where the Mars conjunct ascendant natal aspect takes place modifies how it will play out. For example, in Aries, you can expect Mars to have a bolder, more explosive influence than in Libra, in the sign where it is in fall. As always, it is crucial to analyze everything in context and read the entire chart.
Mars Conjunct Ascendant Synastry
Planets conjunct the angles stand out in synastry. They are of special importance and usually indicate a strong connection between two people.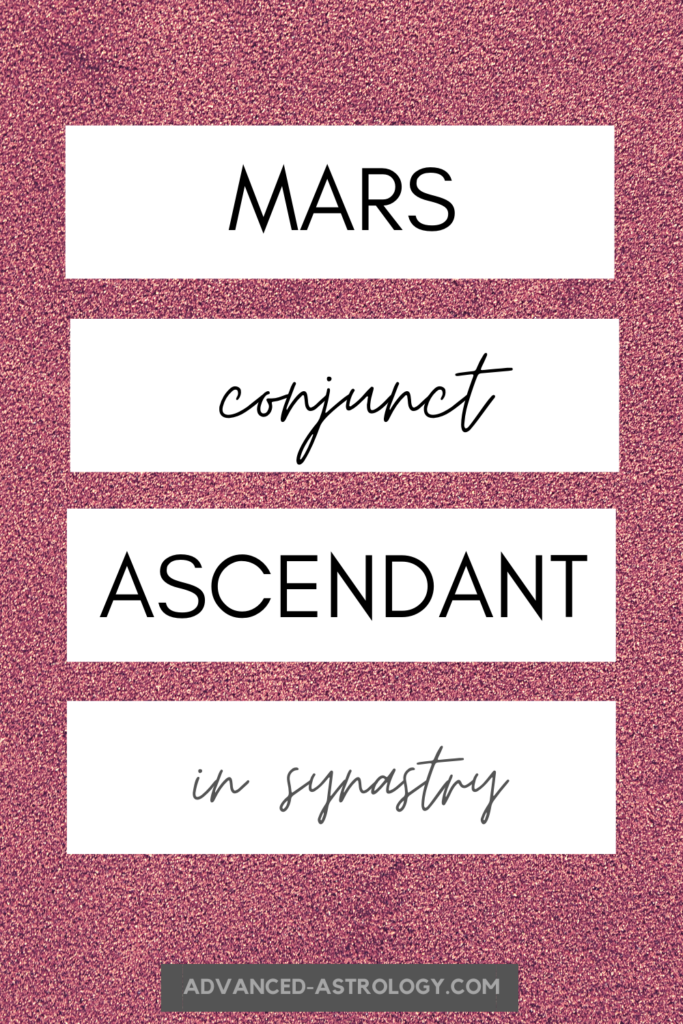 What to expect with the Mars conjunct ascendant synastry aspect in astrology?
When this conjunction occurs, there is a strong attraction between two people. This becomes even more the case if Mars falls into the first house of the ascendant person in house overlay.
Mars is a very important planet in synastry, especially in romantic relationships. Mars is the planet of libido and passion. In the birth chart of a female, Mars describes what kind of lovers she is attracted to.
Prominent Mars aspects in synastry, such as the Mars conjunct ascendant synastry can indicate a steamy relationship where you are sexually very attracted to each other.
When you meet, there is a strong pull between you. You are almost immediately attracted to each other physically.
This relationship is likely to make you feel energized and it motivates you to pursue your goals. The drive of the Mars person inspires the ascendant person to go after what they want. With such a fiery energy, Mars really helps you find the strength in yourself you need to execute on your plans. The ascendant person feels an abundance of energy in the company of the Mars person.
The Mars person is fascinated by the way the ascendant person carries themselves. The ascendant person, on the other hand, embodies what the Mars person finds sexually attractive.
Unless there are other aspects in the chart that balance out the rawness of this aspect, Mars conjunct ascendant synastry relationships tend to be more physical than a connection between two souls. Sex is usually amazing between two people with this conjunction, but you can be impatient with each other and lack a deeper understanding.
The negative manifestation of the Mars conjunct ascendant synastry aspect is being competitive and aggressive. There is a LOT of energy in this relationship, and unless you make something great out of it, it can turn you against each other. You can trigger each other to react in impulsive ways, often acting before thinking. Ego clashes can be frequent with the Mars conjunct ascendant synastry aspect. This relationship can also hurt you if there are other indicators in the chart that reinforce this.
Mars Conjunct Ascendant Transit
What to expect when transiting Mars is conjunct your ascendant?
Mars conjunct ascendant transit happens once in two years. It can last for several weeks, depending when Mars goes retrograde. This is a relatively frequent transit.
During Mars conjunct ascendant transit, you have a strong desire to achieve your goals. Most people experience an abundance of energy, and they have a clear vision of their goals. You feel driven and ambitious.
The excess energy can be channelized into physical exercise and being more active during this period. You can also become more impulsive in your actions. It is the best to add an extra layer of carefulness during the Mars conjunct ascendant transit. It can feel restrictive to stick to your plans, and your self-discipline can be weakened.
If you have not integrated properly the energy of Mars yet, you can become more aggressive, or encounter more aggression in your everyday life during this time. It is important to find an outlet.
Many people become more bold and courageous during a Mars conjunct ascendant transit. While this can be good, you can be too direct in the way you act and talk, what can hurt other people's feelings. There is a tendency during this period to act without thinking about the consequences.
Mars in Astrology
As one of the visible planets, Mars has been known to humans since the earliest days. It got its name after Mars, the Roman god of war, the equivalent of the Greek Ares.
In the Zodiac, Mars is the ruling planet of Aries. It is exalted in Capricorn, in fall in Cancer, and in detriment in Libra.
In the birth chart, the position of Mars shows where you spend the most of your energy. In the life areas that correspond to the house of your Mars, you want to be successful and you go all in in order to win. Without Mars, you couldn't survive and protect yourself. A strong Mars in the birth chart indicates a person who has a lot of energy and a strong power of will. This planet enjoys competition and a strong Mars suggests a person who wants to win very badly. They find independence very important, and they are bold and direct, sometimes even too bold and direct.
Mars helps you get what you want, stand up for yourself, achieve your goals, and survive and protect yourself if you have to. When it gets out of control, Mars can become a dangerous planet. In astrology, it is associated with war, aggression, survival instincts, libido, passion, energy. Mars also governs fire, cuts, wounds, weapons, engineering, surgery.
Mars is the most masculine planet in astrology. It is the polar opposite of Venus, the planet of tact and elegance. Mars doesn't care about manners and feelings, it just gets what it laid its eyes on.
If you want to learn more about Mars in astrology, check out this article.
The Ascendant in Astrology
The ascendant is the sign that came up on the eastern horizon at the moment when you were born, as seen from the place of your birth. It is also called the rising sign. The ascendant is the cusp of the first house in the natal chart, and it changes one degree every four minutes. Because of this, it is very important to know your exact time of birth in order to calculate your ascendant.
The ascendant is the face you show to the world. It has a protective role, and it is a part of you you are very familiar with. In the first decades of your life, it can happen that you identify with your ascendant more than with your Sun sign.
The ascendant is associated with the physical body, looks, personal style, the first impression you make, your attitude to the world and new beginnings. The ascendant is one of the three key features of the birth chart, the other two being the Sun and the Moon.
---
If you found this article helpful, maybe you want to save it for later. Make sure to share it with your friends who enjoy learning astrology!