Mercury and Venus are both considered beneficial in astrology, especially Venus. When these two planets merge, you can expect an easy flow of energy. The Mercury-Venus conjunction is a beautiful one in synastry, and it is also great to have it in the birth chart.
Mercury is associated with the thinking process and communication, while Venus is the planet of love, harmony, beauty in astrology. The conjunction between these planets suggests easy communication, and in the birth chart, it often suggests literary talent.
In synastry, this conjunction suggests that communication works well in the relationship. You appreciate and understand each other well.
Keep reading to learn more about the Mercury conjunct Venus synastry and natal aspects in astrology!
Mercury Conjunct Venus Natal: the Charmer
What are the most important things you have to know about the Mercury conjunct Venus natal aspect?
This conjunction makes it easy for you to express your thoughts in an elegant way. Venus adds grace and ease to your wording and helps you enchant your listener. You are charming and have a way with words. Mercury-Venus harmonious aspects (the conjunction and the sextile) often make you charismatic. You can get your point through easily with thdis conjunction.
People with this aspect are polite and have good manners, what often makes them popular. With Mercury conjunct Venus in your birth chart, chances are you are a great conversationalist. Small talk comes naturally to you, but you often prefer one-on-one conversations to talking to a group (depending on the house where the Mercury conjunct Venus aspect takes place). You pay attention to what others have to say and you are able to hear them out.
This conjunction suggests that you are great at negotiation. Mercury conjunct Venus in your chart suggests that you are agreeable and dislike conflict. It ruins your inner peace. However, this can make you refrain from conflict even in cases when you should stand up for yourself.
The Mercury conjunct Venus natal aspect often suggests a talent for art and refined aesthetic sense. Harmonious Venus aspects are the most frequent indicators of artistic talent in astrology. You are also a lover of art, and you appreciate a good story or a nice painting.
This conjunction indicates a talent for writing and self-expression. People who have it in their chart are eloquent, poetic, appreciate beauty, but they also have the talent to present not so beautiful things in an artistic way.
People with Mercury conjunct Venus are often attracted to smart and kind people, who are like them. Intellectual stimulation is a must for you in a relationship.
The zodiac sign where the Mercury conjunct Venus natal aspect takes place colors how it manifests. For example, Mercury conjunct Venus in Cancer is more emotional and retaining than in Aquarius, where it is unique, innovative, and unconventional.
An example of the Mercury conjunct Venus natal aspect is the chart of Franz Kafka.
Mercury Conjunct Venus Synastry
Aspects to personal planets (the Sun, Moon, Mercury, Venus, Mars) are extremely important in synastry. When you compare the natal charts of two people by putting them on top of each other, you can see how the relationship is likely to play out between them.
What to expect with the Mercury conjunct Venus synastry aspect in astrology?
This is a very good aspect. It brings harmony and understanding into the relationship. This conjunction is often found in the charts of friends, couples, parents and children.
Harmonious Venus aspects in synastry indicate that the people are naturally attracted to each other, and there is an easy flow of energy between them. With Mercury involved, an intellectual connection is emphasized. The Venus person is usually attracted to the intellect of the Mercury person. You have great conversations and have a lot of fun together.
Mercury conjunct Venus synastry suggests that communication functions well in the relationship. You understand each other well and you can easily express your thoughts. The Venus person inspires the Mercury person to share what is on their mind. The Mercury person feels heard and appreciated by the Venus person.
The Mercury person understands the Venus person very well. The Venus person's preferences are encouraged by the Mercury person. There is little irritation in the relationship. Venus conjunct Mercury in synastry often indicates similar interests. You have a lot of things in common, what provides an abundance of topics to talk about.
You easily cooperate, there is little competition or jealousy between you (unless some aspects in the synastry chart say otherwise).
Both Mercury and Venus move quickly through the Zodiac, therefore this aspect is significant even with a wider orb. The sign where the conjunction takes place reveals more details about how this aspect plays out. Out of sign conjunctions (where the planets are placed in different signs) are more challenging, but still, it is manageable.
Mercury-Venus Synastry Aspects
Both Mercury (communication) and Venus (how you give and receive love) are crucial to analyze in synastry.
Besides the conjunction, Mercury and Venus can also form a square, opposition, sextile, trine, quincunx in synastry. You can read about the meaning of these aspects below.
The harmonious aspects, the trine and sextile bring ease into the relationship. They are similar in their nature to the conjunction but weaker.
The square and opposition are challenging, but not unsolvable. If there are other supporting, more favorable aspects, you can overcome the hard Mercury-Venus synastry aspects if both of you want it.
Mercury Trine Venus Synastry
Mercury trine Venus synastry is a very favorable aspect. This aspect suggests intellectual attraction. You enjoy being around each other and find each other lovely. The Venus person appreciates the wit of the Mercury person, who feels free to express themselves. The Mercury person feels admired for their intellect and feels that the Venus person intuitively gets them. With the Mercury trine Venus synastry aspect, you enhance each other's creativity and help each other see the beautiful side of life.
Mercury Sextile Venus Synastry
The Mercury sextile Venus synastry aspect is similar to the conjunction, but not as strong. It brings positivity and harmony into the relationship. Unless the rest of the chart contradicts it, you get along well and enjoy being in each others' company.
Mercury Square Venus Synastry
The Mercury square Venus synastry aspect indicates that communication is not as harmonious as it should be. This aspect can suggest misunderstandings or minor quarrels. Both partners need to be patient and understanding in order to make the relationship work. Mercury square Venus in synastry can indicate that you tend to compete with each other.
Mercury Opposite Venus Synastry
Mercury opposite Venus in synastry brings friction into the relationship. Communication is often at odds. You have a different idea of love, and it can happen that both of you feel that you only give but don't et anything in return. Conscious effort is needed from both partners to make the relationship work.
Mercury Quincunx Venus Synastry
The Mercury quincunx Venus synastry aspect of similar nature as the square and opposition. It makes communication harder and indicates friction between you. You often misunderstand each other when expressing affection.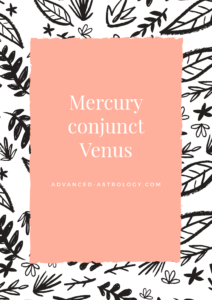 Mercury Conjunct Venus Transit
Mercury conjunct Venus transit happens relatively often, and it lasts for a short time, felt for a few days only. This is a time when the brain meets the heart.
During Mercury conjunct Venus transit, relationships often become more important. You want to express your affection. There can be a stronger than usual desire to get in touch with your loved ones. Mercury conjunct Venus transit can also indicate being more flirtatious during these days. The part of you that wants logic and connection meets the part of you with a desire for pleasure, romance, beauty.
Transiting Venus conjunct natal Mercury is also a short-term transit, happening every year.
During this period, you are more inclined to engage in a conversation with others, meet new people, laugh, have fun.
Venus conjunct Mercury transit can be a great time for being creative, making art, writing.
Mercury in Astrology
Mercury is the planet closest to the Sun in the Solar System. It is visible to the naked eye, and humans have been observing it since the earliest days.
In astrology, Mercury is the planet of the intellect. Its key functions are learning, thinking, and communication. As such, in astrology, it rules the thinking process, the intellect, versatility, writing, reading, newspapers, journals, television, radio, every form of information transmission.
Besides these things, Mercury is also the ruler of transportation, vehicles, short trips, youth, siblings.
Mercury rules two zodiac signs. It is the planetary ruler of both Gemini (ruled by diurnal Mercury) and Virgo (ruled by nocturnal Mercury). Mercury is in accidental dignity in two houses, in the third house and in the sixth house.
If you want to learn more about Mercury, read this article.
Venus in Astrology
Venus is one of the 'best' planets in astrology. No planets are good or bad on their own, it always depends on the context, but Venus is associated with harmony and ease.
In astrology, it rules two zodiac signs, just like Mercury. Venus is the planetary ruler of both Taurus and Libra. It is in accidental dignity in the second house and in the seventh house.
What are the most important things associated with Venus?
Venus is the planet of relationships. Romance and marriage are also connected with Venus. In the birth chart, this planet describes how you give and receive love. But Venus governs all partnerships and unions, not just romantic ones. Venus is the planet of diplomacy, tact, negotiation. Its energy strives to create or restore balance.
Through Taurus, Venus also rules resources. It governs luxuries, art, fashion, but also money. Taurus is an earth sign, focused on the physical world. Venus is the planet of pleasure and enjoying life. In the birth chart, it shows what you enjoy.
Venus is all about ease and harmony. You tap into the energy of Venus when you attract things you want to you in an effortless, graceful way. Venus is the most feminine planet in astrology, it is the polar opposite of combative and masculine Mars.
The house where Venus is located in the birth chart is often a life area of ease. You are usually lucky in matters related to the house of Venus.
---
If you found this article helpful, maybe you want to save it for later. Make sure to share it with your friends who enjoy learning astrology!