If you have your Midheaven in Leo, this post is for you. The most frequent rising sign among people with this Midheaven sign is Scorpio rising, but there are other possibilities as well—Libra is also common.
The Midheaven in Leo is generally a good placement. It's energetic, ambitious, and unapologetic. The role you play in the world is aligned with your desire to shine and express your creativity. You put a lot of energy into your career.
Although you always must consider the whole chart, the Midheaven in Leo indicates that you want people to see how amazing you are. You find the best opportunity for self-expression through your career. People with this placement tend to curate the image they give off carefully.
With the MC in Leo in the natal chart, your talents are seen by others and with good aspects, they are well-received. You need other placements to reinforce this, but the Midheaven in Leo might suggest that your accomplishments are more known than the average person's. Even if you don't want to take center stage in life, this role is often cast upon you at some point. (However, people with this placement frequently appreciate privacy, especially about who they are as a person. They don't like putting everything out there about themselves. Ideally, it's just their attainments that attract attention.)
A Leo MC native has a reputation of a charismatic, elegant, dramatic, ambitious person. No wonder others are attracted to them. Their greatest assets are their creativity, optimism, and courage when it comes to their professional journey.
If someone expresses the good side of Leo, they are extremely generous, warm, and inspiring. These people are charismatic leaders. They are seen as the embodiment of optimism and zeal for life. If the way someone expresses Leo energy is mixed with the shadow side of this sign, however, they might be seen as domineering, vain, egocentric.
Generally, it can be said that people see you as self-confident and as someone who knows what they are doing even when you feel lost on the inside.
Let's dive into the meaning of the Midheaven in Leo!
The MC in the Birth Chart
Before we start, just a quick reminder that the sign of the Midheaven, although vital, is not the only factor that affects how this placement works. Besides the ruler, you also need to find the aspects to your Midheaven, and generally, read it in the context of the whole horoscope.
If you have your MC in Leo, it's ruled by the Sun. The Sun's position in the chart is important too-look for its sign, house, aspects. Someone with, for example, the Sun in the 9th or 10th house will be way more visible to the world than someone with the Sun in the 12th house, regardless of the MC in Leo.
Read more: Sun in Houses
To investigate your MC, you should know your (almost) exact time of birth and the place where you were born—this point is highly time-sensitive. Without accurate birth data, unfortunately, it's hard to get reliable information about your Midheaven. Your MC sign tells what role your soul wants to play in the world. This angle is associated with your career, public persona, reputation, your relationship with authority figures, and your leadership style as an authority figure.
Depending on the house system you use, the MC might be the cusp of the 10th house, or it might represent the top of the sky at the moment of your birth. As such, it is said to describe your greatest achievements in life in astrology.
The qualities of your Midheaven tend to be more pronounced later in life. This point shows what you grow towards in life, so it takes some to develop fully.
The Midheaven is one of the most important points in the horoscope—if you have any planet conjunct your MC, you should pay special attention to it.
What Does Midheaven/10th House in Leo Mean in the Natal Chart?
So, what does the MC in Leo tell about how the world sees you?
If you see the Midheaven in Leo in a birth chart, the chart owner is probably a person of high ambition and big dreams. Leo is a fire sign. Fire is the element of expansion, vision and inspiration.
This placement suggests that the chart owner is extremely motivated to succeed in life. If you have this position, you have an insane drive to make your dreams your reality. You are not frightened by challenges—you see them merely as a bump in the road. If something really matters to you, you are determined to get it, especially if it is something related to your social standing and professional life.
No matter what you do, you want to be the best at it. You take a lot of pride in your work. Ideally, you have a career that you are passionate about.
This position indicates that your career is often the primary way how you attract attention. For some it's on a global, others on a local scale, but you are probably well-known in your community. Even if you do your best to keep your life private, people still know about your work. To illustrate this point, you could think of a small-town teacher who wants to keep his personal life to himself, but everyone recognizes him on the street.
This was an everyday example, but in some cases, people with their Midheaven in Leo end up in a career that takes them into glamorous environments.
Sometimes your career might not be what you are known for, but your hobbies or secret passions. Perhaps your day job takes you in another direction, but very often, people with this placement have hobbies such as music or art that attract attention. Many individuals who have their Midheaven in Leo have a desire in their hearts to become famous and put themselves out there. Applause from the public means a lot to you.
Many people with this placement are talented artists of some sort. It can be what makes them known. Generally, this is a pretty creative placement.
People with Leo strong in their chart (and with emphasized fire signs in general) are natural leaders. With the MC in the sign of the Lion, you are seen as strong, determined, and courageous. People are often eager to follow you. You have the potential to inspire others and spread optimism. You probably have a personality that simply stands out. Often, people with their MC in Leo are very generous and love to share their knowledge with others.
Your role in the world is to teach people to enjoy life with your example. You appreciate beauty and luxury. However, if you overdo it, the negative side of the Midheaven in Leo can manifest as showing off, bragging, and being extremely vain. It might become a way to seek validation from the world.
Leo is the sign of shining and self-expression. You probably crave a life path that reflects your individuality. You might be drawn to glamour, fame, glory—Leo is a royal sign after all. It's natural that your soul grows towards being a king or queen. You feel good when you are in a position of authority and it might become your identity to seek positions of power. Leo as an MC sign is often found in the charts of extremely powerful leaders.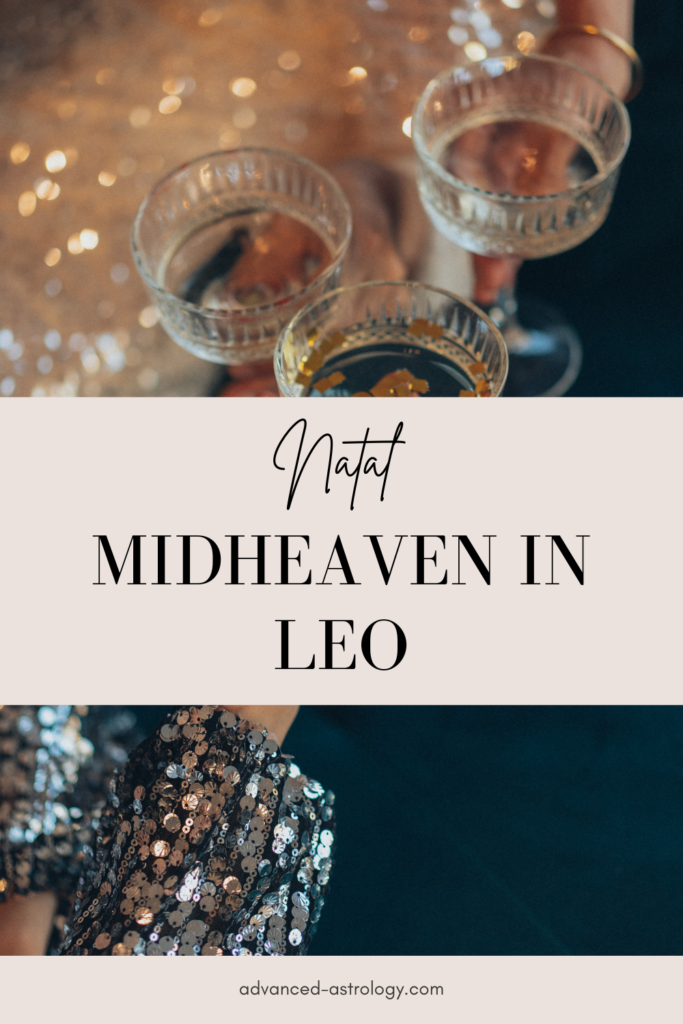 It's also worth pointing out that each sign and placement has both positive and negative potential.
If you live the shadow side of the Midheaven in Leo, you might be vain or arrogant. You might reject even rightful, constructive criticism. You might be domineering and controlling if you are in a position of authority. Sometimes people with this MC sign can turn into tyrants. It might be hard for you to take other people's point of view into account too or to give credit to others. This can be an all-or-nothing placement in the birth chart. It's really important to take everything into account and don't make conclusions based on one placement only.
Imum Coeli in Aquarius
Let's take a look at the other half of the MC axis, the Imum Coeli.
The Imum Coeli (abbreviated as IC) corresponds to the lowest part of the sky at a given moment, observed from a given place. This point is always directly opposite the MC, which is the highest point of the sky. This also means that they are always placed in opposite signs. If you have your Midheaven in Leo, this automatically means that your Imum Coeli is in Aquarius. In some way, the IC represents the foundation of the chart. It is linked with your roots, home, and family.
Many people with this position of the MC-IC axis come from a home that was in some way unusual. Their childhood was frequently characterized by detachment. Sometimes everything was good (at least at first glance), but it was different from what they could see in the homes of other families. You learned to be independent and you probably had to adapt to erratic circumstances. Sometimes this means that you felt less than your peers and you might have been shy as a child.
However, this placement can also mean that your home life was chaotic, inconsistent, a place where you could never know what to expect. Often, you had to grow up way before your peers.
Many people with their IC in Aquarius were not encouraged to embrace their need for recognition, praise, warmth. Even as an adult, you might be harsh on your inner child. In some cases, this placement indicates that you weren't taught how to handle emotions well. This side of life was often neglected in favor of logic and rationality. The Midheaven in Leo asks you to become familiar with your inner child and honor its needs no matter how ridiculous they might seem at first glance.
The IC in Aquarius can manifest as having a unique, unconventional taste in home décor, or having unusual living circumstances. Folks with this natal placement are likely to change their place of living more often than most people. Sometimes this placement can suggest that you don't really feel that you belong anywhere and you have a house but not necessarily a home.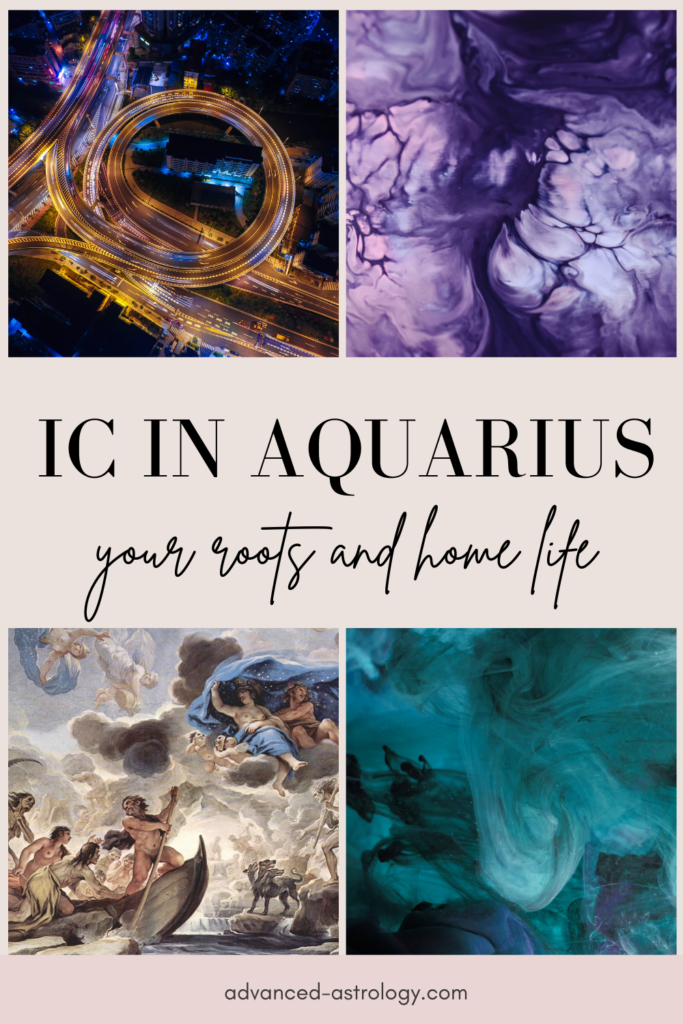 Leo Midheaven Careers
Here's a list of the most typical Midheaven in Leo careers:
management
entertainer
artist, designer
media
marketer
teacher
This placement implies that you might thrive in roles that allow you to make decisions, be in charge, and express your individuality. You are probably more drawn to roles that allow you to be visible than want you to work behind the scenes. The MC in Leo indicates that you have the potential to be a good leader. You might dislike being a subordinate in your professional life. In general, people with this placement often have a prominent role in their community.
You need autonomy in your career and it should allow you to use your creativity.
Once again, it's essential to take into account other factors too. There are lots of career indicators in astrology, it's not a good idea to come to conclusions based on one placement only.
Midheaven in Leo Celebrities
Midheaven in Leo celebrities and famous people:
Lana del Rey
Katy Perry
Grace Kelly
George Eliot
Sigmund Freud
Vladimir Putin
Dua Lipa
---
If you enjoyed this article, maybe you want to save our site for later. Share it with your friends who like astrology!