The progressed Moon is one of the most reliable ways to get insights into your future. Its movement through the chart tends to be a surprisingly accurate indicator of what the future has in store for you. If you are a beginner when it comes to predictive astrology, studying the progressed Moon is an excellent starting point.
The Moon's progressions are significant both by house and sign. However, they manifest somewhat differently: the progression through the houses usually reflects the exact life areas where changes in your life are most likely. The signs are more about the filter through which you observe the world during these 2,5 years the Moon stays in the same sign in the progressed chart.
In this article, we will dive into the meaning of the progressed Moon through the houses.
What Is the Progressed Moon?
If you already know what progressions are about, feel free to skip this introductory part.
Secondary progressions are one of the most significant and popular parts of astrology. This predictive technique compares the celestial landscape of the days after your birth to the planetary influences through the coming years. Using secondary progressions, each day corresponds to one year. This means that the first day's sky after the day you were born corresponds to the first year of your life, the second day to the second year, the third day to the third year, and so on. You get the idea.
Times when a planet in the progressed chart changes houses or signs are of great importance. You feel a shift in your priorities and your focus goes in a different direction.
How pivotal a planet is in the progressed chart depends on its speed. Naturally, planets moving through the Zodiac more quickly carry more weight. The outer planets (Uranus, Neptune, Pluto) stay in the same sign for years, so their position doesn't change in the progressed chart, at least not during the approximately 100 days corresponding to the human life expectancy. Jupiter and Saturn are not very significant here either, since they move relatively slowly compared to the personal planets.
Not so the Moon. As the quickest-changing celestial body in astrology, the Moon is one of the most important features of a progressed chart. The progressed Moon changes signs every 2,5 years. You can read more here about the progressed Moon in signs.
It's not only planets that keep moving after your birth. The progressed ascendant is just as important.
Progressed Moon in Houses
When interpreting your Moon in the progressed chart, it is just as important to read it in context as in the natal chart. The sign, house, and aspects all influence how you experience this energy.
When it comes to the progressed Moon in houses, it often happens that the Moon changes signs when in the same house. This modifies how you perceive it. For example, if in enters the 12th house in the sign of Cancer, it is much easier to deal with it (as a water sign, Cancer's sensitivity, need for security, emotional nature is compatible with the 12th house) than once the progressed Moon moves into Leo, when you feel more dynamic and outgoing. Leo's nature is foreign to the 12th house. However, if you have your ascendant in Leo, once the progressed Moon is in the 1st house, it becomes much easier to handle, as the first house and Leo have more in common.
The aspects your progressed Moon forms on its journey often represent new energy mixes you are not accustomed to. This can be challenging as well until you learn to integrate it properly.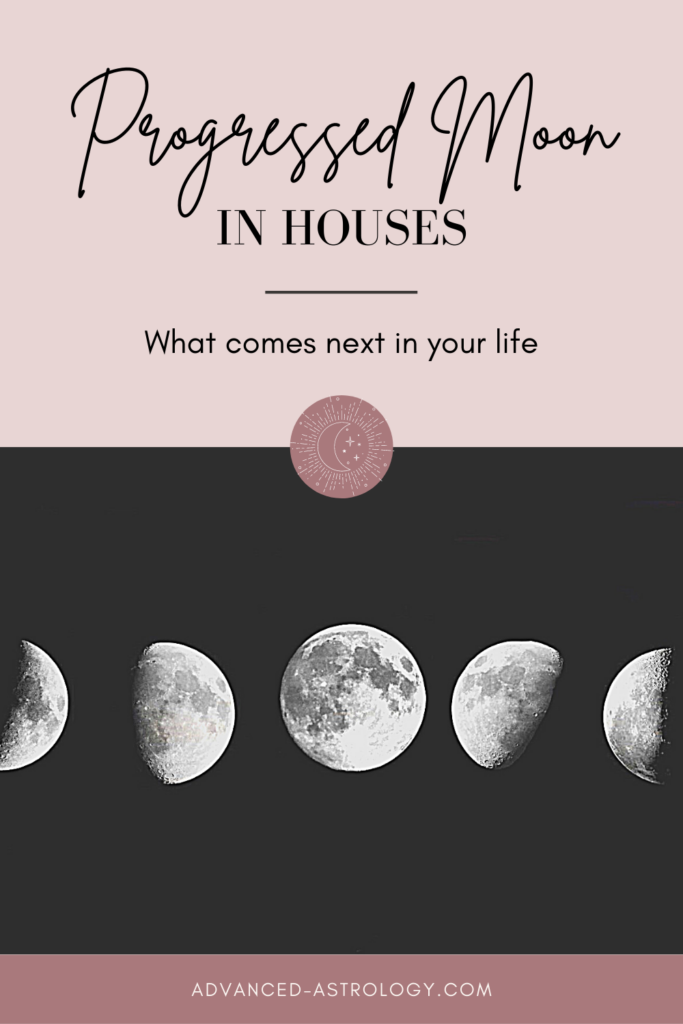 As the houses are not necessarily of the same size, the time the progressed Moon spends in each varies.
Progressed Moon in 1st House
This one is felt heavily. The progressed Moon in 1st house indicates the beginning of a new, 27-year long cycle. You are keen to get started with fresh things and change excites you. These years are all about renewal.
Previous patterns of behavior might not be accurate any longer. This is the perfect time to release them. Most people change significantly when the Moon moves into the first house of the progressed chart. The previous 2.5 years were an introverted, vulnerable time when you were more sensitive than usual, retreating into your own world. However, this comes to an end now.
The progressed Moon in 1st house indicates a time when you become more sure about who you are, but this is often preceded by a time of confusion. This is an excellent time to upgrade your personality in any way you feel the need to do. What doesn't work can't be swept under the rug anymore, you are required to let go of it. This is an expansive time. Life might throw at you experiences that rub off your previous personality, but you should approach this from a student's perspective, asking what is the underlying lesson.
On a physical level, you might experiment with your appearance, try on new styles, change your haircut. You are likely to experience a surge in your energy levels, and you are keen to take on more physical activity. You might gain some muscle when your Moon is in the 1st house in the progressed chart.
Progressed Moon in 2nd House
When the progressed Moon hits the second house, your mind is mostly occupied by your sense of safety in the physical world and its basis, finances. You might be excited about it or terrified of poverty, but you are not neutral towards money. Your finances are more likely to change during this time. You are focused on increasing your earning power.
Besides finances, this chapter is all about building a solid foundation in your life. If you make good use of your time, you can enjoy the fruits of your labor for the years to come once your progressed Moon leaves the second house.
From the perspective of personal development, the progressed Moon in 2nd house suggests a focus on your self-esteem. The sense of self that started developing during the previous years is becoming more solid, and you find greater strength in yourself. You are persistent, resourceful, and efficient. The progressed Moon here asks you to get clear on your priorities.
What you value in life is often subject to change. You might overwrite some of your previous beliefs about money in particular, but your general personal value system is also likely to undergo many changes during this time. It's a good time to build your life on the right basis.
Stability is very important during this period, however, it is preceded by a period of cleansing your psyche. This is a good time to declutter your life. Keep only what belongs to your future.
Progressed Moon in 3rd House
When the Moon is in the 3rd house in the progressed chart, you are more eager to interact with others. You want to put yourself out there. This period is characterized by an emotional need for self-expression. You are more vivid and outgoing than during the previous years.
After being soaked up in 2nd house themes, you enjoy more freedom. This is a good time to meet new people, mingle with groups, and expand your network. You might feel restlessness and a general excitement in life.
The progressed Moon in 3rd house is an excellent time for journaling, starting a blog, taking up new activities. You are likely to have more energy, so you might be inclined to work out more. If you have been planning to go back to school or to focus more on your education, the progressed Moon in the third house is a supportive influence for this venture. Your brain is sharp and you learn quickly.
While mental activity is the main theme of this progression, it suggests an increase in physical energy levels too. This is a particularly good time for running or just going for walks in your neighborhood.
Progressed Moon in 4th House
What about the progressed Moon in the 4th house?
This is another period of inward focus, as the fourth house is a water house. It's a good time to do shadow work and rethink your priorities for the next few years. You are drawn to spend time at home in privacy as opposed to going out often. You pay more attention to your emotional life and hopefully, you level up your coping mechanisms.
The progressed Moon in the 4th house indicates that you question the foundations of your life, wondering what to keep and what has no place in your life anymore. Depending on the phase of your life, the progressed Moon in this house asks you to grow up or to let go of the past. Some things can't be changed, and this time teaches you to accept things as they are. It's a great time for doing healing work related to the past, healing your inner child, and forgiving your parents.
You might feel an urge to settle down. Purchasing or selling real estate is a common theme, as is relocating. You might start to live on your own, move back home, or other significant changes in your living condition are likely. It's a good time for redecorating your house. The progressed Moon in the fourth house can activate themes related to your family, especially your parents.
Progressed Moon in 5th House
When the progressed Moon shifts into the 5th house, it is usually a very pleasant time. You suddenly feel an increase in energy levels and creativity. You crave fun. There is a strong emotional need for self-expression. This is a very good time for self-discovery.
The progressed Moon in 5th house might indicate a new romance, meeting someone who makes you feel the butterflies in your stomach. You enjoy flirting and want to have fun. You want to go out and party.
This placement can also indicate a desire to have children, or if you have kids, there might be significant changes related to them.
The progressed Moon in the 5th house can also introduce you to new hobbies. Most people find a new activity that takes up most of their free time.
Progressed Moon in 6th House
The progressed Moon in 6th house brings your attention to responsibilities and duties. As an earth house, the sixth house deals with the physical world. You might work long hours during this time. It is likely that you have to do more of the tasks you don't really feel like doing. In your professional life, there might be some important changes. The spotlight is on working diligently when the progressed Moon moves into the 6th house.
It's vital not to neglect your health. If you didn't take good care of your body in the previous years, the progressed Moon in 6th house asks you to pay more attention to your well-being. Some people get sick, but this doesn't have to be the case. This placement can also manifest as a desire to change your lifestyle, eat healthy food, work out more, and in general, make sure you give your body everything it needs.
The progressed Moon in 6th house is a sign that your focus shifts to the material world.
Progressed Moon in 7th House
The progressed Moon in 7th house increases your desire for company. You suddenly become more aware of others around you. You enjoy socializing and meeting new people who might become close to you. You might care more about other people's opinion about you.
This progression activates the themes of partnership. If you are in a bad relationship, it can act as a trigger to end it. If you have been planning to get married, this might be a time for that (depending on the rest of the chart, as always). With hard aspects, conflicts can escalate to legal affairs.
This time is perfect for starting new, preferably long-term partnerships. They might be romantic, but they can be professional or business partnerships as well. At the same time, you are called to find a balance between your own wants and the desires of others. This is not the best time for arguing and clashes.
Progressed Moon in 8th House
If you are into astrology, you know that the 8th house is a dark house. When the progressed Moon arrives here, it can definitely stir up your inner peace. These years/months are a deep cleanse for the psyche. It usually brings out the parts of you you'd rather deny and you have to face them. It's a time for addressing trauma.
Sometimes this progression can activate rather dark themes. This placement can manifest in various ways, from discovering painful secrets, intense, transforming relationships to facing life-threatening situations in extreme cases. There are many possibilities, but they are all likely to stretch you and force you to leave your comfort zone. Unresolved issues come back. The progressed Moon in the 8th house is one of the most challenging times emotionally.
On the bright side, if you have been planning to reinvent yourself, the progressed Moon in 8th house is just what you need. You might find yourself in situations that erode what doesn't help you anymore and forces you to face the truth. You become more resilient once this time is over.
Progressed Moon in 9th House
When the progressed Moon visits the 9th house, it's time for reaching for the next level. This is likely to be an upbeat, inspiring period of your life. After the hardships of 8th house energy in the previous period, you have likely changed and you see the world differently. The progressed Moon in 9th house helps you sum up what you have learned, draw a lesson from the hardships, and see how you can use it to expand your horizons.
When the progressed Moon moves into the 9th house, you are likely to question your beliefs. People usually want to observe the world from new perspectives under this influence. Your personal philosophy changes a lot.
Generally speaking, the 9th house is one of the most positive houses. The progressed Moon in 9th house brings exciting themes into focus. Some people during this time feel the urge to travel or spend a longer time abroad. You are hungry for new experiences.
Some people become interested in spirituality. This is a good time for learning, even in a formal setting. You might attract teachers into your life.
Progressed Moon in 10th House
After the progressed Moon leaves the 9th house, it's time to solidify your experiences. The progressed Moon in 10th house asks you to build and reach for your goals. This can easily be one of the most productive times in your life. You are hungry for success and recognition.
If there are major shifts in your life, they are most likely related to your career. If you have been on the wrong path, you might rethink what you want to choose as your profession, but on the other hand, if you have found your place in the world, this can be the culmination of your life's work.
Progressed Moon in 11th House
The progressed Moon in 11th house suggests an emotional need for being part of something bigger. You want to feel that you are making a contribution. This is a very active, social time in one's life.
You are eager to fit in somewhere. During this time, people often expand their social circle and join new groups. You are open-minded and curious about others who are different from you.
You are likely to discover fresh ideas when your progressed Moon hits the eleventh house.
Progressed Moon in 12th House
This time might not be easy (especially if you have no 12th house placements in your natal chart and this energy is not familiar to you) but it is necessary.
This time is all about dissolving what doesn't serve you. The progressed Moon in 12th house asks you to let go of the accumulated pain. This is the perfect time to sum up the lessons of the previous 25 years. Some are pleasant, some one would rather unlearn, but it is what it is. The 12th house is the house of acceptance, and it is a passive house. It asks you to reflect, accept, forgive. Your best bet is to go with the flow when the progressed Moon moves into your 12th house.
These years or months can be compared to the phase when some animals are getting ready to shed their skin. The new layer is growing under the old one, but the process is unpleasant and irritating. They crave a safe space in which they can be vulnerable and complete their transformation.
Some people feel the need to connect with the divine. The progressed Moon in 12th house sometimes indicates a desire to take a break from your regular life and reach for a life-changing experience that shows you new layers of the world.
---
If you liked this article, maybe you want to save our site for later. Make sure to share it with others who enjoy reading about astrology!