In this article, you can read about the meaning of Sun trine Pluto in the birth chart. This aspect is the most harmonious among Sun-Pluto aspects. Here, the flow of energy is easy and effortless, despite Pluto being a difficult planet. It's a pretty good aspect to have. It suggests that you have the potential to break any negative (transgenerational) patterns in your life.
People with this aspect can utilize the intuitive, piercing energy of Pluto to find hidden solutions, transform hardships into opportunities, and overcome whatever life throws at them. These people are usually quite ambitious.
Pluto's energy tamed by the Sun indicates great inner strength. Encountering obstacles makes you more resilient. Your personality constantly evolves if you have this aspect in your birth chart. Other people often look to you for guidance. Your presence is rather intense. It's difficult to ignore you. In addition, you are good at finding the root cause of a problem and make things right.
All in all, this is an extremely powerful planetary connection. Here's what the Sun trine Pluto natal aspect indicates in astrology.
Sun Trine Pluto Natal Meaning
Since Pluto mostly operates on the level of the subconscious, you may not even be fully aware of the traits associated with this trine.
Sun trine Pluto in the natal chart suggests that you undergo many transformations in life. The harmonious nature of the trine suggests that this happens without severe friction, in a relatively effortless way. Rebirth and transformation become second nature.
Sun trine Pluto in the natal chart is fantastic for personal development. People with this aspect often change their identity multiple times throughout their lives. You generally handle changes well, even rather dramatic ones. The harmonious flow of Plutonian energy helps cope with losses. When something doesn't work anymore, it's relatively easy for you to recognize this and move on.
People with their natal Sun trine Pluto get to the core of the matter. It's almost like you had a detector for falsehood and deception. Because of this, this trine is excellent for all kinds of problem-solving.
Although a prominent Plutonian influence in the birth chart can indicate an obsession with control, the trine is the least prone to this. People with their Sun trine Pluto can accept fated events. When something doesn't work out as expected, they reorganize and recover relatively quickly. This poem by William Ernest Henley captures the essence of the Sun trine Pluto natal aspect (he had it too).
Throughout your life, when you face various challenges, you discover many hidden strengths in yourself you didn't even imagine were there. You don't blame others, you understand that you have to take responsibility for your own life if you want to get yourself unstuck, and this attitude gives your power back to you. You are resourceful and strong-willed. When you truly want something, it's hard to stop you.
People with this aspect are hungry for the truth. There's an innate desire for doing your best and for self-actualization. You hope to keep improving yourself all your life. Sun-Pluto people are extremely self-reflective and don't shy away from facing their uglier parts. This harmonious aspect suggests that you can troubleshoot turbulences rooted in the unconscious and integrate them in a healthy way. Sun trine Pluto indicates a potential for great wisdom. Over time, you develop great insight into human nature. You are aware of people's intentions around you as well.
People with this aspect are usually also able to keep their egos under control. They don't feel the need to prove themselves, especially when they get older. At the end of the day, Pluto is the planet of manipulation among other things, and not letting your feelings interfere definitely makes you good at this craft. With the trine, however, the ego (the Sun) and the desire for power and the unconscious desires (represented by Pluto in astrology) work together harmoniously.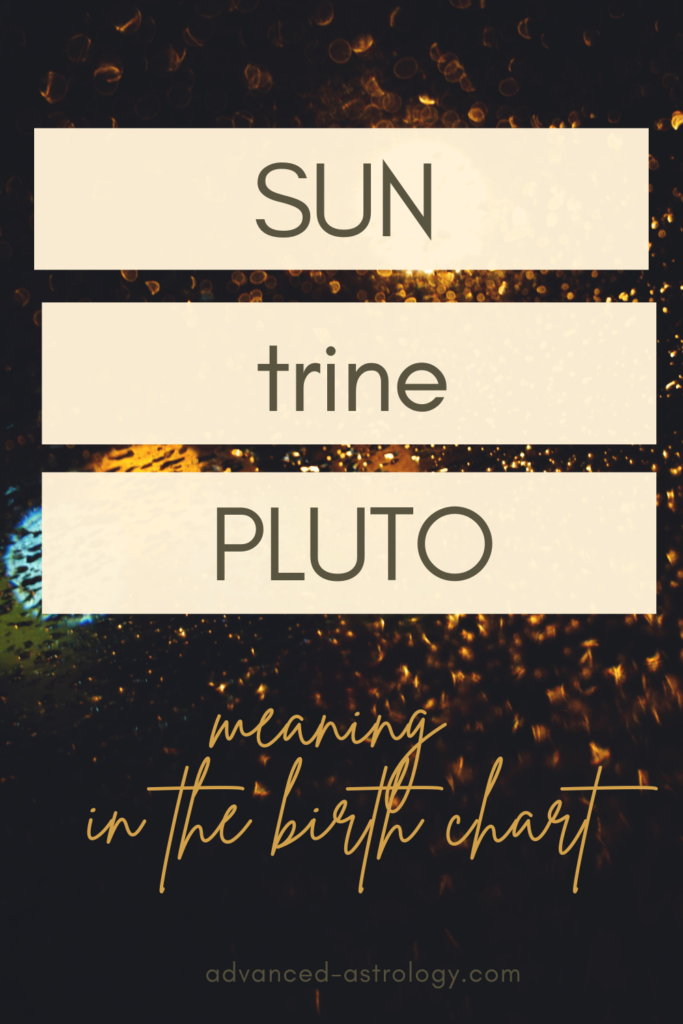 People with their natal Sun trine Pluto are often extremely charismatic (may have sexual charisma too). There is something about them that intrigues people. At the same time, others instinctively respect them, their presence is hard to ignore. Some even may find a Sun trine Pluto person intimidating. People with this aspect tend to be reserved and carefully filter which parts of their personality they allow you to see. They are also good at keeping secrets, they are very discrete. While they are generally tactful, if confrontation is inevitable, they represent their interests well. These people can be very assertive and convincing.
This aspect often indicates powerful figures in your life (usually male, often the father or a father figure, but it doesn't have to be). They may have been (perceived as) strong-willed, domineering, in worse cases controlling or manipulative, but the damage is usually less than the hard aspect would suggest. With the trine, you probably associate positive things with them. This person often had a huge impact on your personality development growing up.
Sun trine Pluto in the natal chart can also indicate male figures coming into your life who are not easy to handle but who you learn a lot from. In women's charts, the Sun is associated with the figure of the husband as well. This aspect suggests that this person may have some Plutonian traits.
If you find which houses the Sun in Pluto rule in your chart, you can extract more information. The life areas involved with these houses usually support each other. In the natal chart, every detail is noteworthy, so other placements may enhance or dim your Sun trine Pluto aspect.
Sun Trine Pluto Strengths
Trines are used as indicators of talents and innate strengths. Unlike with the sextile, you are effortlessly good at the things associated with them. Generally, this trine is helpful for all things ruled by Pluto. It also helps with utilizing other talents suggested by the rest of the birth chart.
Sun-Pluto aspects merge the visible and the invisible. The Sun is pure consciousness, while Pluto represents the unconscious. Sun trine Pluto is excellent for psychology or any field that builds upon the understanding of human nature. It is also a good aspect for politics.
People who have this trine often have good leadership skills. They may not enjoy it, but they can definitely manage it should the need arise. You can also utilize a Sun trine Pluto natal aspect in finance, medicine, the oil industry, research, investigation. You do great job on your own, if you are given enough autonomy. You do your best work if you find meaning in the task.
You may find yourself drawn to hidden or in some way morbid topics.
The Sun's Meaning in Astrology
The central star of our planet takes a central role in chart analysis as well. The Sun is one of the most important celestial bodies. Sun signs are the most popular form of astrology, you can read about the Sun in the zodiac signs all over the internet and in magazines. However, there are more layers to the Sun and it would be a pity to stop at the zodiac sign. The Sun's house in the natal chart shows where the Sun's energy is the most expressed. Its aspects to other planets reveal which planets' energy mixes with the Sun's and what qualities are a core part of you.
The Sun rules Leo, it's exalted in Aries, in fall in Libra and in detriment in Aquarius.
In astrology, the Sun stands for vitality, energy, creativity, and consciousness. It represents the archetype of the father and the king. The Sun is a very masculine energy/yang planet.
Pluto in Astrology
Pluto is the most distant and the most mysterious planet. Its dealings affect humanity primarily on a collective level. This dwarf planet was discovered only in the past century, in 1930 to be exact. It was assigned as the ruling planet of Scorpio.
In the natal chart, you want to look to Pluto's aspects and house in the first place. It shifts through the Zodiac so slowly that its sign doesn't affect you on a personal level. Pluto finishes one circle around the sun in almost 248 earth years. It spends decades in a zodiac sign (the exact time varies from sign to sign), what makes it pointless to use Pluto signs for individual charts.
Pluto's main keywords are transformation, investigation, power, control, obsession. Pluto is associated with all things hidden or under the surface. This is a subtle but extremely powerful energy that can be hard to pin down but it can have devastating effects.
Read more: Pluto in Astrology
---
If you liked this article, maybe you want to save our site for later. Share it with others who enjoy reading about astrology!