This article will look at the placements that indicate a polyglot. The ability to pick up languages easily is really impressive, and there are quite a few astrological clues that can hint at this. In this part of the talents in the birth chart series (previous articles here), you can read about linguist placements.
There are countless benefits to learning languages. This hobby is fun, helps you stay intellectually fit, and can open many doors for you, both professionally and personally. Being bilingual (or trilingual, or multilingual) offers different perspectives to look at life. So, which placements suggest that you were born for learning languages?
To be good at learning languages, you need curiosity, a desire to connect with others, good memory, the ability to recognize patterns. People who are into languages tend to be open-minded and they are open to different approaches. There are several astrological placements based on which you can spot a linguaphile. The more you see of these, the stronger the aptitude.
The key planets are Mercury and Jupiter. As the planet of communication and learning, Mercury's role is evidential. It's always important to look at a placement within the context of the whole chart.
These signs don't necessarily mean a career related to languages, it's more about learning languages as a hobby. For pursuing them professionally, Mercurian or Jupiterian themes are often linked with the MC, 10th house, and the sixth house.
Polyglots and the Talent for Languages in Astrology
So, what are the key indicators in the birth chart that someone either enjoys learning foreign languages, or someone has a natural talent for them?
Third House and Foreign Languages in the Birth Chart
The third house is really important when it comes to anything that has to do with communication skills. Although it's not the primary significator of foreign culture themes, it tells how you learn and how your mind works. Through this house, you can see if it's easy for the person to connect with others, if they are self-conscious about speaking up, or if they are uninhibited—all vital parts of language learning (and the learning process in general).
Good planets to have here if you are looking for polyglot placements in the birth chart:
People with superb language skills tend to have planets here.
The ruler of this house is essential too (this is the planet that rules the sign on the cusp, e.g. if you have your third house in Capricorn, it's ruled by Saturn). The ruler of the third house in aspect to the ruler of the ninth house is a very frequent sign that you are bilingual or have a talent for foreign languages. Even the hard aspects seem to imply this.
Mercury Signs
As mentioned before, Mercury is essential when it comes to multilingual skills. Some Mercury signs indicate a natural talent for picking up new phrases, creative use of the language, and a general desire to learn. Your Mercury sign describes how your brain works. There are talented linguists with every Mercury sign, but some tend to indicate more ease. If Mercury is strong by sign (e.g. Gemini, Virgo, Aquarius), that's another asset in the horoscope.
Read more: Mercury in Signs
The best Mercury signs for learning languages:
Mercury in Sagittarius
Mercury in Gemini
Mercury in Pisces
A Mercurian chart suggests that you are sociable and outgoing, and these qualities are definitely helpful. It's natural for you to chat with others and make connections, which gives you plenty of opportunities to practice your language skills.
Mercury in harmonious aspects to the Moon suggests that you easily memorize new phrases. People with these aspects often have an extensive vocabulary.
Ninth House
The ninth is another essential house for foreign languages. This is the house of expansion and opportunities, the natural house of Jupiter and Sagittarius. It's linked with higher education and foreign travel (among other things). People with an active ninth house often have an insatiable desire to learn.
An occupied ninth house suggests that you will have opportunities to travel extensively abroad and you come in contact with many other cultures. Depending on the rest of the chart, you might spend longer periods of time in foreign countries.
You should also pay attention to the ruler of the ninth house and its aspects to Mercury or Jupiter. As mentioned before, connections between the ruler of the ninth house and the ruler of the third usually indicate that you are good at learning languages.
Jupiter
Jupiter is THE planet of all things foreign in astrology. Foreign cultures, countries, languages—all belong to Jupiter. A strong Jupiter in itself suggests that you have the potential to be involved with other cultures.
Jupiter in aspect to Mercury is a strong indicator that you can pick up new languages easily (even the hard aspects seem to indicate this). Often, people with these aspects are even able to speak a foreign language without an accent. Mercury and Jupiter in mutual reception is also very good for this (when the planets are placed in the sign the other rules).
Jupiter in the third or in the ninth house is another good placement for linguists. The same is true of Jupiter aspecting the rulers of these houses.
Sagittarius and Foreign Languages in Astrology
Sagittarius is the sign ruled by Jupiter and the sign linked with the ninth house in the natural chart. Personal planets here often describe someone who is drawn to foreign cultures. These people need adventure, both on a physical and an intellectual plane. Their mind is usually very active. Sagittarius is one of the signs responsible for foreign languages in the birth chart.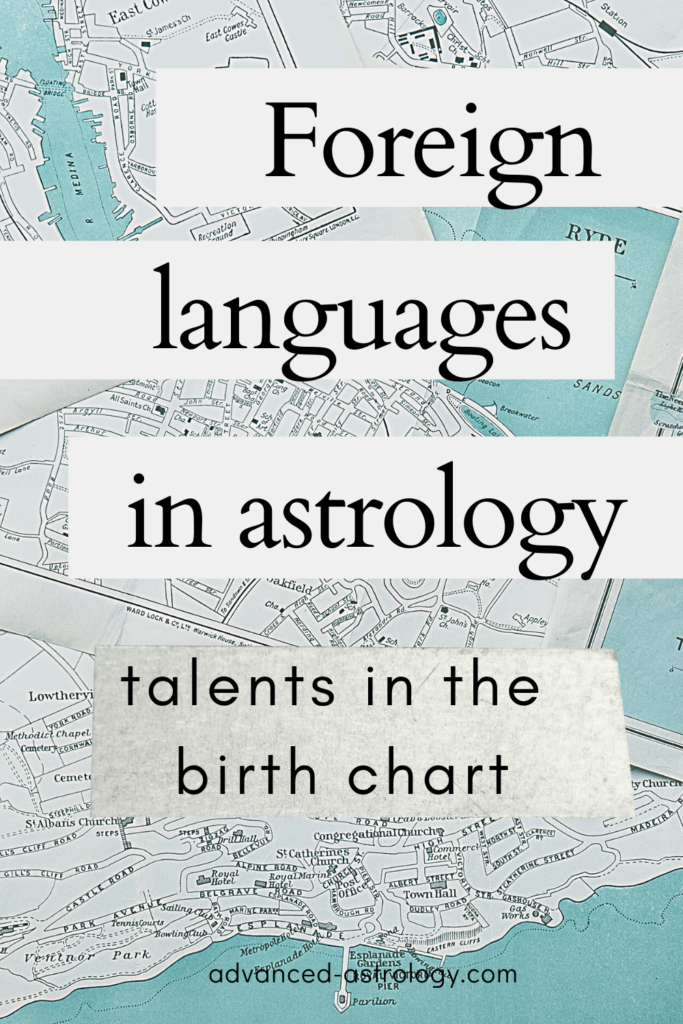 Gemini
Gemini is essential when it comes to language skills in astrology. With Gemini strong, your mind is sharp and you are curious and open-minded. The ascendant, Moon, Mercury, and Venus here all indicate that you can get good at foreign languages (you might be even able to speak without an accent). This is the sign on the cusp of the third house in the natural chart.
---
If you enjoyed this article, maybe you want to save our site for later. Share it with your friends who like astrology!