Not everything comes easily in life. At least not the things that are worth it. You have to put in the work if you want to build something stable that will stand the test of time—Saturn in astrology knows this very well. This planetary energy is all about work and structure.
Referred to as the Greater Malefic in the early days, Saturn is one of the most feared planets in astrology.
But what's the truth? Does a weak natal Saturn mean that you are doomed? Are Saturn transits really that bad? Do you have to be afraid of Saturn in astrology? (By the way, Saturn rules fears, too!)
Well, it is not an easy planet, that's for sure. You have to play by Saturn's rules, if you want to get its benefits. Saturn in astrology rules limitations, frustration, delay. But the good things is, this planet also shows you how you can overcome your difficulties, and the reward is there to stay.
Here's what Saturn has to say about persistence, restrictions and insecurities.
Keywords of Saturn in Astrology
There are many associations of Saturn in astrology. Here's a list of its most important keywords:
discipline
obligations
structure
restrictions and limitations
old age
time
delays
authority
productivity
tradition
career.
All About Saturn in Astrology: Slow and Lasting
Saturn is the last planet visible to the naked eye, and the last planet from the Sun known to humanity since the ancient times. It is named after the Roman god of time, Saturn, who is the equivalent of the Greek Chronos. The glyph of Saturn represents the sickle of Chronos. It looks like this: ♄. We reap as we sow, would Saturn say, if it could speak.
However, Saturn's function in astrology is not a pleasant one. Saturn governs time, discipline, persistence, hard work—it doesn't sound like fun. But without Saturn, everything would collapse. It gives life structure. This is true even on the level of the human body, where Saturn rules the skeletal system. (It also rules the skin, ligaments, the knees and body protein.)
Saturn is all about stiffness and rigidity, concentrated energy and the solid state of matter. In the natal chart, Saturn is the urge for stability and safety.
Knowing this, it is no surprise that Saturn rules an earth sign.
Saturn is the planetary ruler of Capricorn, a sign known as ambitious, hard-working and persistent. It is an earth sign, which means it is focused on the here and know and getting the most out of every opportunity while having the discipline to capitalize on it.
Before the discovery of Uranus, Saturn also ruled the zodiac sign Aquarius. Traditional astrologers still use it as the ruling planet of the Water Bearer. Saturn is exalted in Libra and in fall in Aries. In Cancer and Leo it is in detriment, which means it is weakened and it can't really express its true nature in these signs.
Saturn's orbital period is approximately 29 years. It stays in each zodiac sign for about 2-2,5 years.
Through Capricorn, Saturn is associated with the tenth house in the natal chart. The tenth house is the house of career and authorities, which is exactly what Saturn in astrology represents.
Often called the taskmaster of the horoscope, Saturn is the teacher and the judge. It tests you to see if you have learned the lessons which you chose to learn in this lifetime. Saturn rules discipline, hard work and persistence in astrology, and it's role is to help you develop self-discipline.
What does Saturn Mean in Astrology?
Saturn is the planet of life lessons. When you bump into some hardship in life which doesn't seem to go away easily, you've met Saturn. But there is a way to get over this situation. Saturn in astrology wants you to be like him: focused, committed and patient, and he will stand by your side.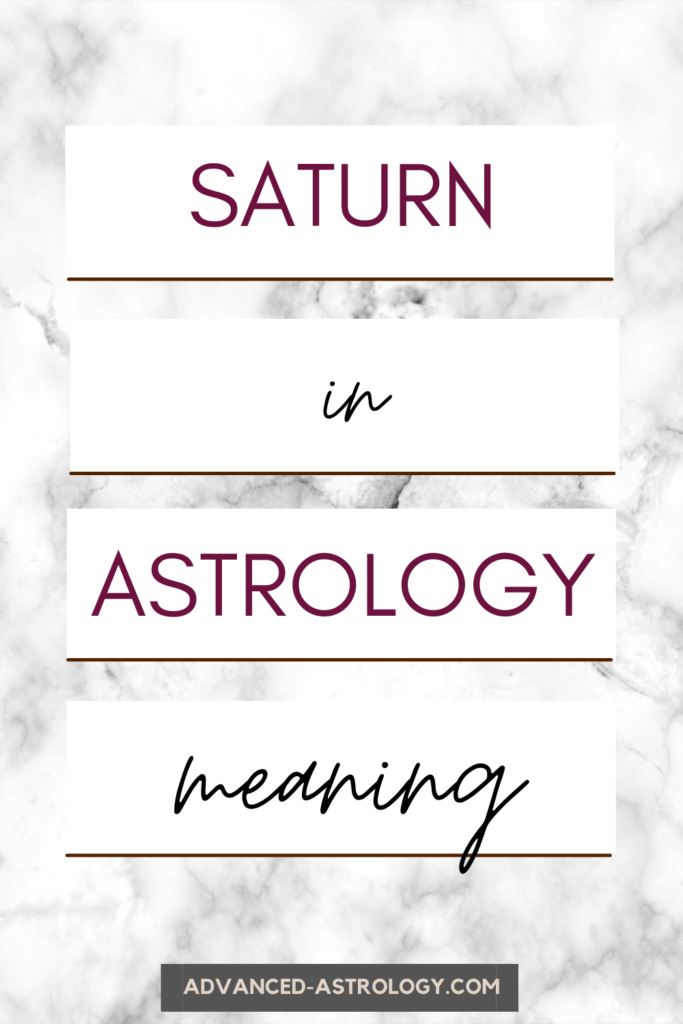 Everyone has some recurring problems in their life. Some struggle with their family, others with finances, some can't find love, others have health issues and the list goes on and on. It's highly individual in which life area you experience restrictions, but chances are you have Saturn in the corresponding house in the natal chart.
Behind these problems there is always a deeper issue. Sure, everyone dates someone who turns out to be an idiot, everyone can face money problems from time to time, but if you struggle all the time in a certain area of life, there must be some hidden pattern that doesn't let you succeed. The good news is, if you can find and resolve this issue, you can get the results you want in any life area.
But working through your issues takes a lot of time and you often find painful memories that you want to forget about. Saturn also rules fears in astrology.
The position of Saturn in the natal chart shows in which life areas can you expect limitations and restrictions. It causes frustration and delays, so you really have to focus on your goal and find a way to overcome all the difficulties life throws at you.
Hard Times and Overcoming Challenges
Capricorn season marks the beginning of winter. Nature goes barren, with little resources available. If you haven't stocked up enough food during summer, you are doomed. This sense of urgency is reflected in Capricorns and those with a strong Saturn in their charts. They are well aware of the harshness of reality, and that you have to give it all in if you want to succeed.
Saturn is the planet of restrictions. Depending on the position of Saturn in your natal chart, we all face hardships in life.
Saturn is about developing work ethics and self-discipline. This planet also has a lot to do with self-esteem. Saturn problems often reflect in low self-confidence and lack of self-esteem.It is also the planet of boundaries, and asserting them properly can be a challenge with a weak Saturn in the natal chart.
Saturn, the Planet of Time and Patience
Named after the god of time, it's no surprise that Saturn rules time in astrology. It is the planet of everything old and also the planet of productive use of time.
But there is no rush here. Remember, Saturn is in fall in Aries, which is the most hot-headed and impatient sign of the Zodiac. Saturn is its exact opposite: it makes a plan, thinks about every detail carefully, and knows that it takes time to achieve your goals.
Saturn is very well aware of the limits of time and resources. It strives to accomplish what needs to be done as effectively as possible. Optimal use of resources is a priority here, which is why Capricorns tend to make good managers.
The passing of time also belongs to Saturn in astrology. Everything old is ruled by Saturn, both physical objects and tradition or history.
This planet governs old age and the wisdom that comes with it. The lessons of Saturn can be learned only with time, and you get better as you grow older and mature. Saturn is also immortality and eternity. What it touches, persists for a long time.
The same is true with everything you build with the sweat of your brows. It takes long, the journey is hard, but the in the end, the rewards outweigh the challenges. Saturn is not a flash in the pan.
Responsibility and Life Lessons
Organizations and hierarchy are also attributed to Saturn. These persist for decades if not for hundreds of years and they became hard and stiff. There are rules that you have to follow no matter if you like them or not. Saturn rules all authority figures and the government. Obligations and also connected to Saturn, all the things that you don't feel like doing but you must do.
Saturn is about dedication, hard work, persistence, and patience. Here you have to put in the work each day for years and years until you see some result. However, everything that Saturn touches is lasting and permanent, and so is the result of your efforts. Jupiter can give you overnight success, but this is most often not permanent. On the other hand, Saturnian success is. It's about not giving up and going forward no matter hard it is, or to put it short, going slowly but steadily.
Saturn rules career and ambition. It describes your employer and all of the authority figures in your life and your approach towards them. Some of the Saturnian professions are science, a career in the military or the government, working with the elderly and all occupations where you need to be very disciplined and work under austere and hostile conditions. There is no room for novelty when Saturn is in charge, traditions, conventionality, and orthodoxy are all ruled by this planet.
Saturn in the Natal Chart
Where Saturn is in your natal chart, you can expect limitations and restrictions in the connected areas of life. For example, someone with Saturn in the tenth house might face restrictions in their career (or choose the path of a scientist or some other profession related to Saturn). Someone in whose chart Saturn is in the seventh house might marry in older age or someone older. You can expect delays and hardships where Saturn is involved.
If Saturn touches important personal points of the natal chart, it makes the related activities or areas very painful. For example, the disharmonious aspects between Mercury and Saturn make it very hard for the native to express himself.
Saturn shows in the chart the most important and biggest lesson for us in life. A native who has Saturn in the second house might learn the harder way how to take care of his finances properly or this placement might manifest in the lack of self-esteem.
Read more: Saturn in Houses
Saturn Return
Saturn makes a full circle around the Sun in approximately 30 years. A Saturn return is when it is transiting over its position in your natal chart. The first Saturn return is experienced in the late twenties. During this time Saturn puts you to the test and wants to see if you learned the matters of the house Saturn is located in your natal chart.
Saturn transits are never easy, but if you try to use your time productively, the first Saturn return won't smack you in the face as hard as if you were just slacking about. It's related to growing up and indeed this is a period of life when many people do very responsible things like raising a kid, getting married or buying a house. If you are on the wrong track, expect a powerful wake-up call during this time to become aware of that you don't have endless time at your disposal.
On the other hand, Saturn always rewards hard work. And the best of all, Saturn's gifts will stay with you for a long time.
---
If you found this article helpful, maybe you want to save it for later. Share it with others who enjoy reading about astrology!