If you get stuck in your own head, the world can be a lonely place. Humans want to connect and share their thoughts. To feel content in life, we need social connections—which is the function of Mercury in astrology. This energy represents the ability to communicate. Each planet embodies a basic urge and drive related to different parts of the human psyche. Mercury in the natal chart is about interacting with others. But of course, there is much more to it. Mercury in astrology also governs your thinking process in general and your rational mind. In addition, it shows how you learn the best.
Mercury is the fastest moving planet in the Solar System. It is also the hottest, quickest and smallest—no wonder astrologers describe it as alert and jumpy. Mercury's orbital period is only 88 days. In the natal chart, Mercury is never farther away from the Sun than 28 degrees, which means that Mercury is always located either in the same zodiac sign as the Sun, or in the sign following or preceding it.
Mercury has been known to humans since the ancient ages—under proper conditions, Mercury is visible to the naked eye. It is one of the personal planets in astrology and it has been in use ever since humans started stargazing.
Let's learn some more about Mercury in astrology and its function in the natal chart.
What Does Mercury Stand For in Astrology?
Here is a list of some keywords for Mercury in astrology:
The glyph used for Mercury in astrology looks like this: ☿. It represents the winged cap of the god Mercury which made it possible for him to travel very fast.
how you communicate
logical thinking
the conscious mind
intellect
learning
reading and writing
dexterity
trickery
short trips
transport
siblings.
As you can see, the transmission of information is Mercury's main role in astrology. In the human body, Mercury governs the lungs, respiratory system, hands, arms and hormones in general.
The planet Mercury got its name after Mercury, the Roman equivalent of Hermes in Greek mythology. He was the Messenger of Gods, and as you can guess based on this name, he governed communication and eloquence. On the negative side, Mercury and Hermes were also associated with thieves and trickery. When dealing with Mercury in astrology, it's important to distinguish gossips from facts. You need to double check this planet's trustworthiness.
Mercury is often prominent in the natal chart of writers, programmers, scientists, and in all professions where you need to analyze problems or use logical thinking. It's also important in all fields where you have to communicate a lot or teach people. Mercury can be fickle and involved with swindlery as well.
What Zodiac Sign Is Associated With Mercury in Astrology?
Every planet rules a zodiac sign in astrology. Some planets even rule two signs. Mercury is one of them: it is the ruling planet of both Gemini and Virgo in astrology. Diurnal Mercury is traditionally associated with Gemini and nocturnal Mercury with Virgo.
As you know by now, Mercury governs everything related to communication and the conscious mind. This planet is curious, chatty, and brilliant. The zodiac sign Gemini is also known as versatile, talkative, and intelligent, always hungry for new knowledge. Because they have so much in common, Mercury is the planetary ruler of Gemini. They are the natural sign and planet of the third house in the natal chart (the house of communication and learning—sound like Mercury, right?).
The zodiac sign Virgo is also connected with Mercury in astrology. Virgo is more serious and has a greater sense of responsibility than Gemini (it's an earth sign, after all, while Gemini is air by element)—Mercury can excel with its analytical thinking, reasoning abilities and love for facts here. Virgo is linked with the sixth house in the natal chart, which is the house of health and work.
It's important to note that some astrologers don't agree that Mercury governs Virgo. There is an asteroid called Chiron which also goes by the name the Wounded Healer. Some astrologers consider Chiron to be the ruler of Virgo—they are both related to healing. However, Chiron was discovered only in 1977 and it will take some time until all questions are answered about this matter.
Mercury, the Thinker and Talker
Mercury is the intellectual urge that distinguises human beings from animals. It represents communication and literacy, something our civilization couldn't exist without. The role of Mercury is to connect us. It enables you to share what is on your mind. Mercury is the bridge between your soul and your personality and also between you and other people.
In astrology, Mercury rules all forms of written and spoken communication. This includes lungs and respiratory organs which enable us to speak, grammar, and even pencils.
Mercury's position in the natal chart shows how and in which life area you communicate the best. It speaks about your ability to interact with people and reach out to them.
Someone with Mercury in the seventh house communicates the best in one-on-one relationships. A person with Mercury in the fourth house shares their thoughts the best at home with their family. Mercury in the tenth house suggests that the person does well in a career where communication is essential. If Mercury is conjunct the ascendant in the birth chart, the person tends to be quiet chatty.
Read more: Mercury in Houses
Mercury also rules reason, the intellect, and the conscious mind. A strong Mercury in the birth chart suggests that the person is very smart, was blessed with strong logical thinking and reasoning skills and who is apt with words. It also shows how you perceive the world. People with Mercury-Saturn aspects tend to be more pessimistic and prone to depression.
Mercury in contact with the Sun or Uranus is a sign of good mental abilities. If Mercury is in aspect with Uranus (any aspect, it doesn't have to be harmonious), the person is extremely intelligent. Uranus is the higher octave of Mercury, and it governs the brain in the human body.
Mercury also shows your educational and learning abilities. To understand how a person learns the best, you have to look to the third house and to Mercury in the natal chart.
For example, if you have Mercury in Virgo, you like to analyze everything before you absorb it. Mercury in Pisces concentrates very deeply, but they need solitude to work the best.
Afflicted Mercury in the Natal Chart
What happens if Mercury is afflicted in the natal chart?
Mercury is related to verbal self-expression and an afflicted Mercury in the natal chart shows that the person finds it hard to express themselves.
If a planet receives hard aspects, especially if the hard aspects come from a malefic (Saturn, Mars, the outer planets), it can't operate as well as a planet with harmonious aspects. You have to pay attention to the sign Mercury is located in. If it is in good dignity, let's say in Virgo, it has a lot of resources to utilize and can still perform well, but you still need to make some adjustments.
Read more: Mercury in Signs
An afflicted Mercury gives you a hard time communicating and learning. For example, Mercury in hard aspect with Saturn faces restrictions and limitations, which result in poor communication skills or setbacks in mental development (in extreme cases).
Mercury in aspect with Pluto gives a very deep mind. With challenging aspects, however, you have a hard time being diplomatic and you don't think before speaking which leads to harmed social relationships.
Mercury, the Planet of Youth and Fun
Mercury in astrology also governs youth, childhood and primary education. It's the ruler of the third house, after all. Immediate surroundings are also ruled by Mercury. Activities that are part of your everyday routines, for example, daily trips belong to Mercury, it even rules vehicles like cars or bicycles. (Mercury trine Saturn in the natal chart? You can own an old but reliable car!)
People connected to Mercury in astrology include your brothers and sisters, relatives, neighbors, and acquaintances. It also shows your peers and elementary school teachers.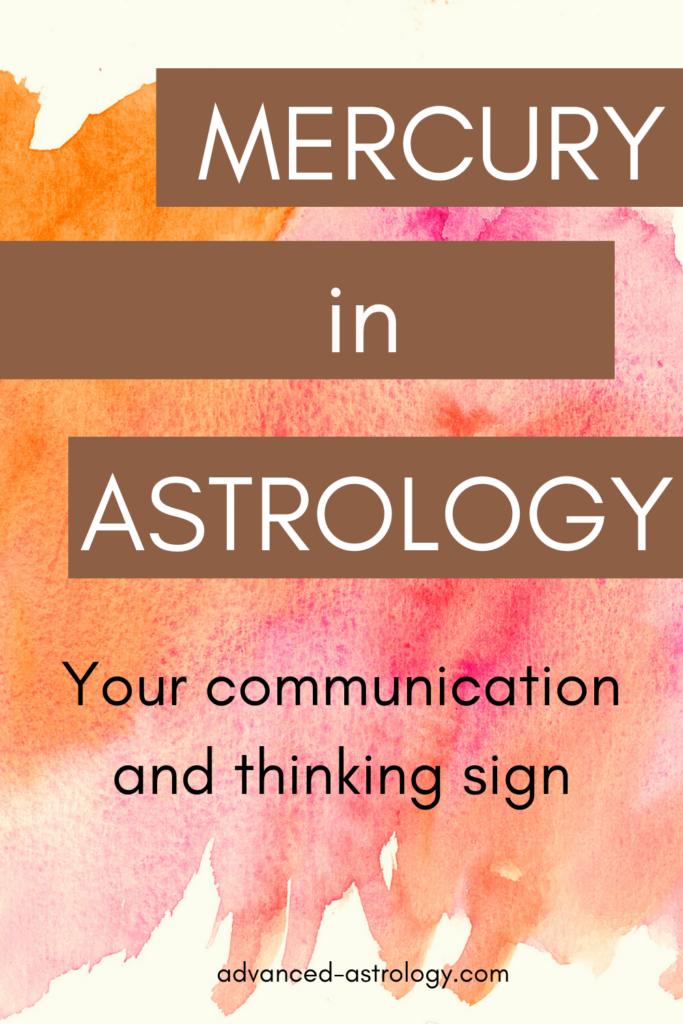 The word mercurial exists for a reason. Mercury is the planet of humor. It's interesting that Mercury is the planetary ruler of Virgo, too, which is the sign of healing, and a good laugh is definitely beneficial to your health.
There is a healthy balance between the rational and the irrational mind. A weakness of a too strong Mercury in the natal chart is that an imbalance between your rational and emotional side can occur. A well-aspected Moon or Venus proves helpful here, finding the balance is the way to make the mind work as well as possible.
Mercury Retrograde: To Panic or Not to Panic
Short answer: don't panic, revise.
Mercury goes retrograde for about three weeks every four months. We can expect this to happen three times a year. From the Earth, we see Mercury moving backward during this time. This is just an illusion, however, that's why they refer to it as apparent retrograde motion.
What to expect during Mercury retrograde?
Delays and frustration. Or just expect more caution and proofreading. According to some people, during Mercury retrograde everything you do tends to backfire! It's advised to avoid making important decisions and signing contracts while Mercury is retrograde. Household appliances tend to go broke, too.
But there is always a silver lining. Mercury retrograde is an excellent time to reflect on the previous period and let go of everything that doesn't serve you anymore. The key here is to be flexible and plan more time for activities than is usually necessary. And of course, double-check everything important you do and make plan B.
If Mercury is retrograde in the natal chart, the person can feel misunderstood and has a hard time expressing himself.
---
If you liked this article, maybe you want our site for later. Share it with others who enjoy reading about astrology!