This post is about the ascendant in Capricorn—an extremely capable rising sign. It suggests a resilient, resourceful, disciplined, and committed person. However, it's not easy being a Capricorn rising. Often, the ascendant in this zodiac sign equals tough beginnings. Experiencing lack motivates you to create a secure future. You are strong because you had to become strong. It's your major drive in life to build something solid.
People with a strong Saturn/Capricorn influence in their charts often find that their lives improve tremendously at an older age.
The ascendant in Capricorn suggests that you keep your calm under all circumstances. You are collected, polite, but can be ruthless too.
The ascendant in Capricorn implies that you tread carefully in life, worrying about the consequences of your actions. When starting out on a new venture, you go in prepared and determined to make it work. You often delay everything else in life in favor of achieving your goals.
Why the Ascendant Is So Important in Astrology
The ascendant is one of the most vital concepts in astrology. It's not an existing celestial body, though. This point speaks about the energy you put out there, the first impression others get of you, your physical appearance, but it's an important layer of the personality as well.
The ascendant refers to the sign ascending on the eastern horizon at a given moment, as observed from a given geographical location on Earth. The degree of the sign stays the same for approximately four minutes. Since the ascendant changes so fast, you need your accurate birth time to find it out where it falls in your chart.
The ascendant can either act as the cusp of the first house or fall in the first house. It's one of the four angles of the birth chart.
What Does the Ascendant in Capricorn Mean in the Natal Chart?
This placement means that you are seen as a typical Capricorn.
When someone meets you for the first time, they get the impression of a reserved, self-disciplined person. You come across as someone who knows what they want in life and has a sharp focus. Some might even call you rigid or cold. You don't like expressing emotions publicly and generally, you are very self-controlled, no matter what's going on in your soul.
Some may find you intimidating. Capricorn is not the most approachable rising sign. Especially when young, Capricorn rising natives are often perceived as quiet and shy. Generally, people with this placement are not the bubbliest. They think twice before speaking up and they like to say things of substance. However, when they do speak, they are eloquent and clever.
If you have your ascendant in Capricorn, you have a very realistic view at life. You are good at guessing how much effort something takes and whether it is worth it. It's not easy to fool you. You are grounded and present in the moment. The ascendant in Capricorn suggests a person who values the truth, no matter how harsh it is. Negative feedback makes you come up with more bulletproof strategies.
You like fun, but when duty calls, you don't hesitate to get back to work. The ascendant in Capricorn implies incredible work ethics. People who were born under this rising sign are extremely committed to their goals. No matter how many challenges they have to overcome on their journey, if it's something they really want, they'll find a way to conquer them.
The ascendant in Capricorn suggests that you are ambitious and want to prove yourself. Depending on the rest of the chart, this can play out in pursuing accomplishments in the world or just showing yourself what you are made of. Career is usually outstandingly important to a Capricorn rising personality. Climbing the ladder comes naturally to you. You are stubborn and determined.
You don't like to break promises you made to yourself. Others can also count on you. Capricron is one of the most reliable signs in astrology. It's important for you to keep your word and you expect the same from others as well. If someone lets you down, you may not forgive them. You value actions over words.
Capricorn is the cardinal earth sign of the zodiac. Earth signs deal with the physical world. Cardinal signs are leaders. They are the ones taking action and initiating changes. An ascendant in Capricorn native is a capable boss. It's not rare that these people achieve great heights in their careers. They also tend to be status-conscious. The better position you achieve, the better you feel about yourself.
The ascendant in Capricorn suggests that you come across as a prudent personality. You are seen as serious, reserved, and somewhat detached. When it comes to making decisions, you like to think things through. Generally speaking, you are a cautious person. Taking into account all possibilities is essential for you to go all in on something, and this trait makes Capricorn an excellent planner. All possible weaknesses and threats are factored in when you are making a strategy. You are oriented more on your future than lamenting on the past.
(However, many people with important placements in Capricorn do value tradition. They believe we can learn from the past.)
What's even more important about Capricorn is that this sign actually acts on the plan. As someone with the ascendant in Capricorn, you are incredibly self-disciplined. It doesn't bother you if something takes time. Patience is one of your greatest strengths. You are committed to your future as opposed to instant gratification.
With your ascendant in Capricorn, you have a knack for all things practical. People with this natal placement are usually good at managing money. You are probably frugal, can be even stingy. You are someone who spends resources rationally and wisely. Many people with this placement are obsessed with financial security.
Capricorn rising people are often of the idea that life is the survival of the fittest. They know that they have to push themselves if they want to get ahead in life.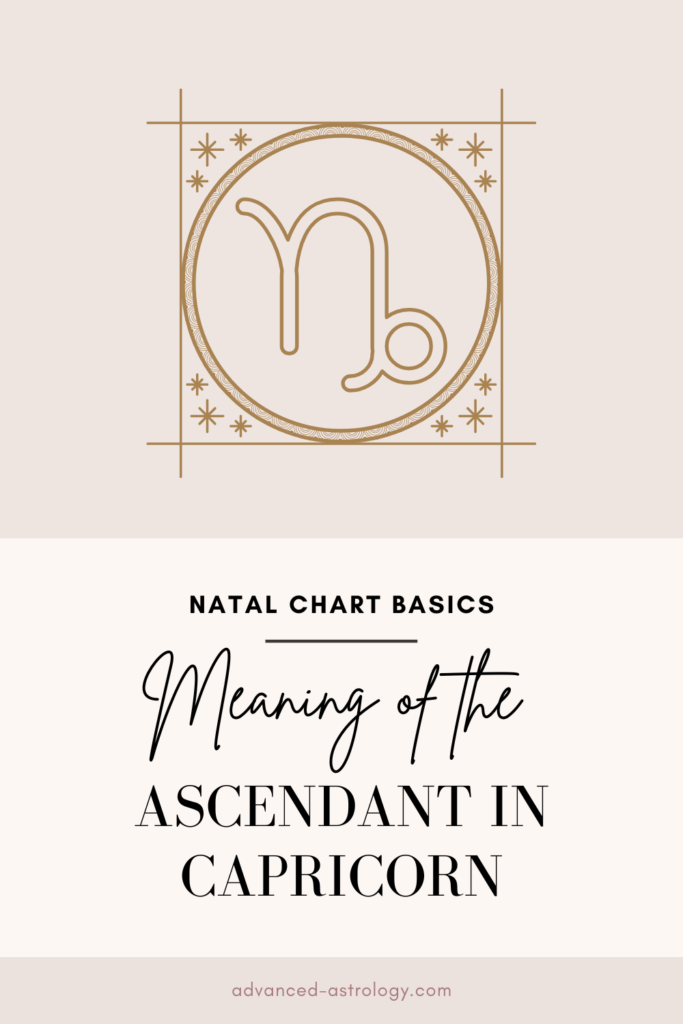 The ruling planet of your ascendant is outstandingly important in the natal chart. It's also called the chart ruler. As a Capricorn rising, your chart ruler is Saturn (this planet rules Capricorn). You should find Saturn in your chart and look to its house, sign, and aspects. A strong Saturn helps the ascendant as well.
Shadow Side
Capricorn and Saturn are not easy to deal with—Saturn is the great malefic in traditional astrology. This energy can be really challenging. If your chart has many sensitive placements hungry for belonging, the cold surface of the ascendant in Capricorn can be very painful to deal with.
You often feel self-doubt. Below your determined demeanor, many people with their natal ascendant in Capricorn experience crippling insecurity. They often have very low self-esteem. This placement suggests experiences that made you feel inadequate or insecure.
There can be a tendency to see the dark in everything. Capricorn expects the worst and prepares for it, but it struggles with enjoying the good. Melancholy and depression are real threats to people with important Capricorn placements. Life can feel like a heavy burden.
Capricorn emphasized in the birth chart suggests very high standards. It can be hard for you to accept that others don't set the bar as high as you do. Letting go of control is very hard with this placement.
If Capricorn was ascending at the moment of your birth, you may have a hard time with emotional closeness. For people with this placement, it's not easy to express emotions and to be vulnerable. No matter how much you love someone, you struggle with showing them, what they might take to heart.
If there are a few other challenging aspects or placements in the chart, the ascendant in Capricorn can indicate a tendency towards cruelty.
Ascendant in Capricorn Childhood and Early Life
Capricorn rising children are often very mature for their age. Many of them prefer the company of adults over their peers.
A Capricorn rising's childhood was intertwined with hardships and challenges. You were expected to be hard-working and an overcomer. Capricorn and Saturn are all about delays and blockages, so early life is often demanding when the ascendant falls in this sign. This placement can also play out as being a very shy child, feeling lonely among your peers.
As children, many people with this rising sign stand out with accomplishments. They are very self-disciplined about their goals and they spend long hours practicing a skill. Usually, they excel at school as well. Capricorn rising children are often expected to be productive.
Capricorn Rising Appearance
What do Capricorn risings look like?
People with their ascendant in Capricorn are either obsessed with having the perfect appearance or they don't care about it all. In the first case, they pay attention to details and are dressed to the nines from head to toe. They prefer businesslike clothing, always classy and reserved. Often, they prefer monochromatic outfits and they are particularly fond of earth colors, black, and white.
The second type doesn't really care about their appearance, and they are often seen wearing clothes that don't fit them. They wear a piece of clothing until it has completely run its course.
The Capricorn rising physical appearance often comes with a beautiful bone structure (including cheekbones). The body is often tall and slender. Capricorn suggests that your hair and eyes are dark, or darker than your family members'.
Generally speaking, the ascendant in Capricorn suggests vitality and good health. At a young age, you can look older than your actual age and younger at an old age.
Relationships
As a Capricorn rising, you probably follow the traditional ideas about marriage and partnerships. You often enter committed relationships with the idea of building something meaningful together. It's a big plus if they raise your social status.
Your ideal partner is someone who is emotionally warm, nurturing and who makes you feel supported. In a relationship, you have pretty high standards but you are also committed when you meet the right person. Some people with this placement want their partner to raise the family while they keep focusing on their career.
The stereotypical partner of Capricorn is Cancer. A person with their ascendant in Capricorn often enters relationships with people who have important planets in Cancer or who are Cancer risings.
Often, people with their ascendant in Capricorn enter committed relationships at a later age.
Capricorn Rising Celebrities
Studying the lives of celebrities is an excellent way to understand how a placement or aspect can work. Here are some Capricorn rising celebrities and famous people:
Anthony Hopkins
Cristiano Ronaldo
Olivia Rodrigo
Sophia Loren
Kylie Jenner
Ariana Grande
Queen Elizabeth II
Marie Curie
---
If you liked this article, maybe you want to save our site for later. Share it with others who enjoy reading about astrology!