Do you have your natal Moon in the third house in your birth chart? If you want to learn more about this placement, keep reading! In this article, we'll take a look at the meaning of the Moon in the third house in astrology.
The third house is often referred to as the house is communication and learning. These are for sure important topics here, but as you'll see, there is much more going on under the surface!
Well, we can know for sure that you are an intriguing personality if you have your natal Moon in the third house. You have a terrific memory and you are both intellectually and emotionally smart.
A Moon here needs a lot of self-expression in various forms.
Don't even think about repressing these creative urges, because it can hurt you in the long run! You don't like routines and you get excited about new ideas.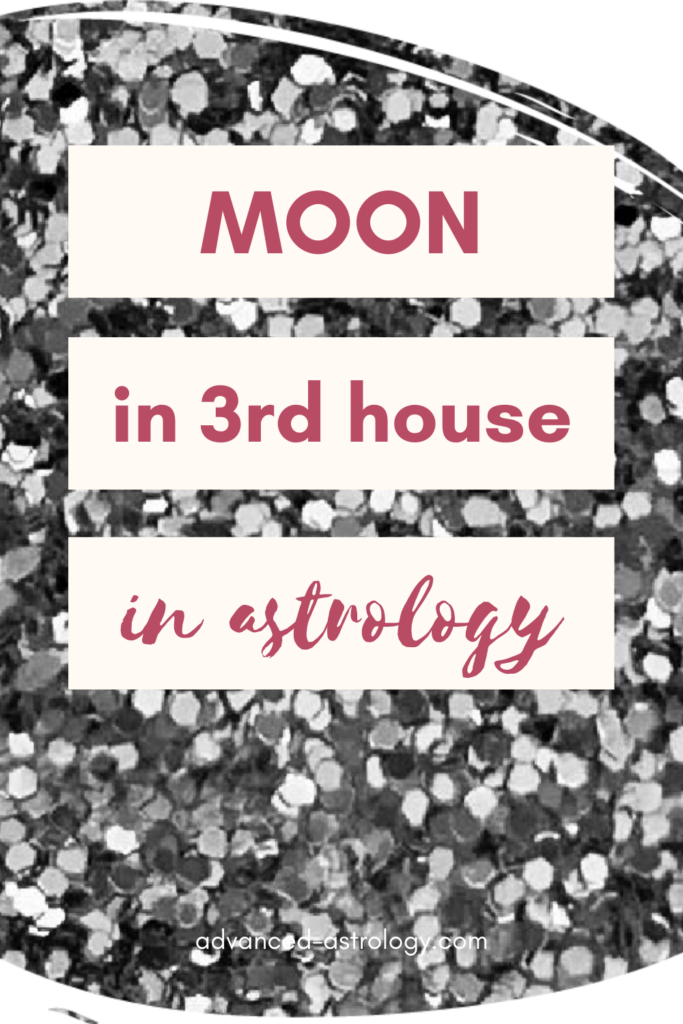 Meaning of the Moon in Astrology
If the Sun is your ego, the Moon is your soul. It represents your emotions, instincts, needs, basic urges and how you want to be nurtured.
You can understand the Moon the best when you imagine that you are still an infant. All you can do is cry, no matter if you are hungry, scared or feel sick. You want to be taken care of, you want someone to protect you and nurture you. Even though we become capable of taking care of ourselves as we grow up, we still need love and feeling accepted.
The Moon in the natal chart shows how and where you can get this sense of emotional security. Its house descries the life areas that help you restore your emotional well-being, let go of the stress and find the flow.
If you want to understand the Moon in-depth, read this article about the meaning of the Moon in astrology.
Life Areas of The Third House
Now that you know what the Moon means in astrology, we can take a step forward towards interpreting a natal Moon in the third house.
Let's take a quick overview of the third house in the natal chart!
The main life areas associated with this house in astrology:
communication
learning
your local environment
primary education
siblings
acquaintances.
The third house is traditionally associated with Gemini. Gemini is know as a versatile sign, curious and smart, but sometimes superficial and lacking follow through. If you want to learn more about Gemini, we've covered it here.
This house shows your immediate surroundings, daily trips, errands and people who you chat with: acquaintances, neighbors, peers. The third house is also the house of relatives, aunts, uncles and their children.
From your own family, the third house shows your siblings. With your natal Moon in the third house, chances are that they are supporting and you have a good relationship with them.
Curious about the third house? Click here.
Natal Moon in the Third House: Mental Connection
Now that we have revised what the Moon and what the third house mean in astrology, we can proceed to actually interpreting a natal Moon in the third house!
Keep in mind that the sign of the Moon modifies how it will express itself in a house. A Gemini Moon will display all these qualities squared, while a Capricorn Moon is more reserved and private under any circumstances.
A natal Moon in the third house operates on a mental rather than on an emotional plane.
If you have this placement, you are curious about people and life in general. You also have the gift of gab. A natal Moon in the third house keeps contact with their neighbors, acquaintances and people around them in general. They are the ones who engage in small talk with the cashier, the waiter, with everyone they come into contact with.
This placement suggests that you are an observer rather than an emotional person.
With the Moon in the house of intellectual Gemini, you prefer to see the world as a source of information rather than as a source of emotion. Even with a sensitive Moon sign, like Cancer, you use the abilities of your Moon to monitor and extract data from your environment.
This hunger for information can be a pitfall here. You always want to learn more, but the human mind inevitably becomes saturated if you consume information all the time.
However, in school you get bored quickly. You love to learn, but a traditional setting doesn't suit you. You learn the best through observation and relating to others.
A natal Moon in the third house gives very good memory. It is also a sign that you have a flair for foreign languages. This placement also indicates talent for impersonating others. You are innately good at picking up the tiny clues that make others themselves, and you can imitate them perfectly.
All You Need Is a Good Conversation
As this title says, conversation is everything for you in a relationship.
No conversations, no reason to justify the existence of a relationship, at least in the world of a natal Moon in the third house.
With this placement, you simply need to communicate a lot with people around you. You want to share your emotions and you enjoy discussing them with your friends, as this is an excellent way to vent. It doesn't even have to revolve around important things, you like small talk, too.
The Moon shows in the natal chart how you want to be nourished and how you nourish. In this case, you simply need intellectual interaction. Feel heard equals feeling loved.
If you have your natal Moon in the third house, you tend to change your opinion often. This is mostly because other people have a big influence over you, and you instinctively follow them, without thinking about it. You feel that you must be agreeable. This results in changes in your own views, too, as you reflect the views of those around you. Depending on who you are with, you show a different aspect of yourself.
Social Expectations and the Moon in the Third House
The Moon in the third house wants to please everyone around it. A Moon here is observing their environment all the time. Because you intuitively understand what others want from you even when you are not paying attention consciously, you often catch yourself acting how others expect you to.
Because your mind is so full of the external world, sometimes you lose sight of your own needs. You react quickly, but you also overthink and your brain just keeps spinning and spinning.
A natal Moon in the third house has to find the balance between being too emotional and too intellectual. The good thing is, you get better at this as you age.
Short trips are also connected with the third house in astrology. The Moon here shows that you want to travel a lot, mainly in your environment. This Moon loves these short journeys, because staying in one place for a long time makes you feel nervous. Even small things like visiting your relatives or taking a walk can be beneficial here.
One thing that can be especially helpful here is journaling. The third house governs reading and writing in astrology. With your natal Moon in the third house, emptying your mind regularly on paper can be a great way to achieve balance and be more calm. It also helps you to see both yourself and people around you more clearly.
---
If you found this article helpful, maybe you want to save it for later. Make sure to share it with your friends who enjoy learning astrology!