If you want to learn more about a natal Moon in the twelfth house, you've come to the right place.
The twelfth house is the most special house in the chart wheel. It's a tough nut to crack, as it belongs to a different dimension. The twelfth house is covered with fog, it's the house of hidden things and mysteries.
The Moon here indicates that your emotions are not accessible to you, and you have a hard time developing a truly loving relationship with yourself.
This placement makes you extremely sensitive. The Moon represents your intuition in astrology, and when it's placed in the twelfth house, you are very intuitive, sometimes even have psychic abilities. You have powerful dreams, and your higher self often chooses to communicate with you through them.
Keep reading to learn more about the meaning of the Moon in the twelfth house!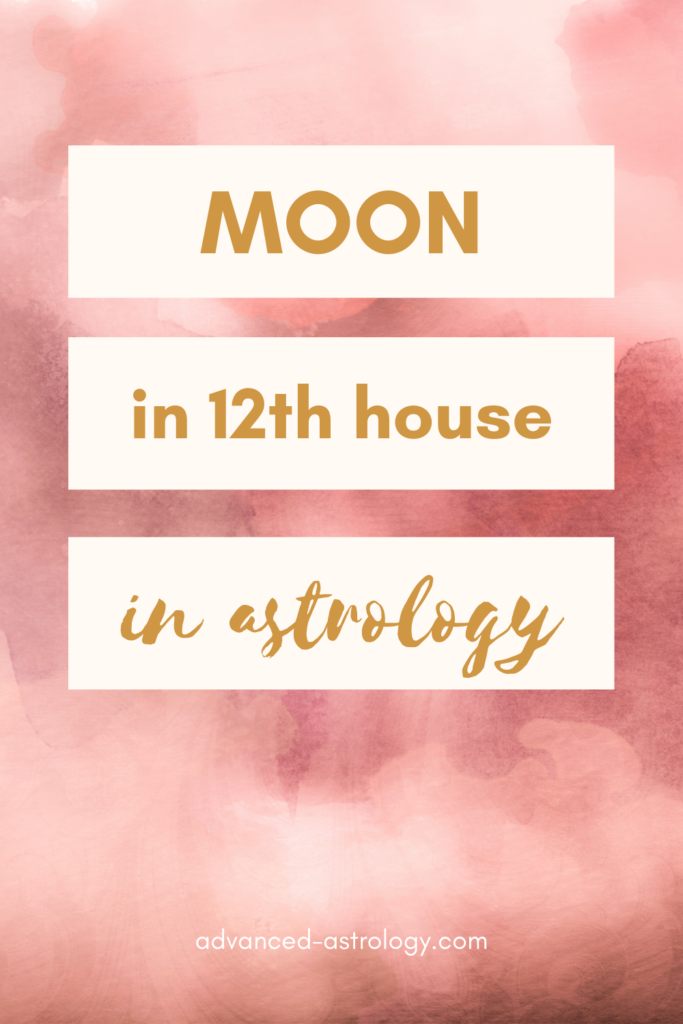 What Does the Moon Mean in Astrology?
..And why is it so important?
Imagine that you had no emotions.
Even though this would be easier sometimes, without emotions, we would be robots. The Moon is what makes us humans. In astrology, the Moon stands for feeling, intuition, habits, needs, your mood and instincts.
The Moon is associated with your more nurturing parent, usually the mother. How you were taken care of in your childhood determines how you will take care of yourself and of others as an adult. The Moon shows all these behavioral patterns that influence our lives, but we don't have any idea that they are running in the background.
The house where you seek comfort and emotional safety, and the Moon's sign shows how you express your emotions.
By understanding your Moon, you understand how to love yourself and your loved ones better.
Want to learn more about the Moon? Click here.
The Twelfth House in the Natal Chart
The twelfth house is the house of the unknown. It's full of secrets and mysteries. The twelfth house governs things like the collective subconscious, isolation, self-undoing, places of confinement and exile.
As you can see, this house is not the most cheerful in the chart wheel, but still, there is a more inviting side to it. The twelfth house is also the house of divine inspiration, fantasy, music, dreams and sleeping. When overdosed, you become addicted to it.
This house is traditionally connected with Pisces and Neptune. This makes the twelfth house a water house. Water houses are considered to be karmic.
Planets in the twelfth house often feel locked down. They suggest that the corresponding part of your personality is hidden for some reason. You are restricted and can't access it easily.
If you want to read a more detailed article about the twelfth house, you should go here.
Now that we have revised the meaning of the Moon and the twelfth house in astrology, it's time to interpret the Moon in the twelfth house!
Natal Moon in the Twelfth House
This placement is often found in the charts of people whose mother was missing from their lives. She could be literally absent, but frequently she was physically there, but unavailable emotionally.
As a child, you often felt that you can't count on your parents.
Your Moon in the twelfth house suggests that you had to learn to take care of yourself early in life. As a child, you didn't feel that your caregiver responded to your emotional needs. This was such a painful experience that you decided not to share your emotions with anyone.
A Moon in the twelfth house is not an easy placement. The twelfth house is the house of all things hidden, remember?
Accessing planets here is very challenging. As the Moon represents your emotions in astrology, you are often unaware of your emotions, or the opposite, you become overwhelmed with the intensity of them. You tend to repress your emotions. This unhealthy mechanism, however, leads to a feeling of frustration and fear of vulnerability.
People with this placement are often ashamed of their needs. However, denying your needs is very painful, and you should really work on owning the qualities of your Moon with pride.
Non-functional coping mechanisms are a frequent issue with this placement. Because you have a hard time expressing your emotions in an open and assertive way, a Moon in the twelfth house often plays passive-aggressive games. Feeling victimized is a feeling well-known to this Moon. Emotional immaturity and childish behavior are also frequent here.
You intuitively grasp what others need and you do everything in your power to fulfill their wishes. However, unconsciously you expect them to reciprocate this, and you feel hurt when they don't. Setting up clear emotional boundaries is key here. Communicating your needs directly is a challenge for you, but once you master it, your relationships will get much better.
Introversion and Solitude
The Moon in the twelfth house indicates a private person. You are shy and sensitive, and you shrink too often. Any planet in the twelfth house suggests an introvert, but with such an important planet as the Moon, the need for solitude becomes even more emphasized.
However, the Moon here tends to escape reality instead of just taking a break from the world. Make sure that you don't use your sensitivity as an excuse. The twelfth house is the house of escapism and addictions, too.
But solitude is necessary, just don't use it to escape your problems. The Moon in the twelfth house suggests that you are a highly sensitive person. It's crucial here to retreat from the world every now and then. You should spend a lot of time on your own to refresh your energies and be the authentic you. Solitude helps you find peace, isolation makes the situation worse.
Learning to express emotions freely is key. The twelfth house is the house of fantasy and inspiration. Art is a good way to let go of the pain and sadness that has accumulated over the years. The best of all, connecting with your emotions leads true happiness and inner peace.
Empathy and Self-sacrificing
If your Moon is located here, you have a need to take care of those who are suffering. You have a tendency to fight for the underdog, because you intuitively feel what others are feeling and you can feel their pain.
The root of this lies in your childhood. You often felt misunderstood and that your needs are not taken care of, so as an adult, you want to take care of others and protect them from the suffering you had to go though. By healing other people, you heal your inner child.
A natal Moon in the twelfth house is often found in charts of people who work as nurses, counselors or any profession were you can empower people.
However, being too responsive to the needs of others can be a pitfall here. The Moon in the twelfth house often becomes too self-sacrificing. You have to stay grounded and take care of your own needs first, only then can you help others.
---
If you found this article helpful, maybe you want to save it for later. Make sure to share it with your friends who enjoy learning astrology!