In this post, you can read about the meaning of Chiron in the 4th house. Chiron shows where your deepest wound is. This asteroid is associated with a pain that is extremely hard to cure. Since the wound of Chiron is exceptionally deep, it's essential to give yourself enough time and grace during the healing process. This pain carries over into your adult life. Studying Chiron can end up being a source of eye-opening information if you want to understand yourself better.
People who have a Chiron in 4th house natal placement are not sure where their home is. Does it even exist? Somewhere, anywhere?
A natal Chiron in 4th house suggests an unstable home and a lack of emotional support and stability growing up. Your childhood is rarely an uplifting memory with this placement. The warmth of home was missing from your life, and it usually takes quite some time to heal the emotional unfulfillment. Children with this placement don't feel that they matter.
Chiron here says that you witnessed many disasters as a child. Often, there were numerous drastic changes taking place in the family that shattered you emotionally, for instance, moving to a new place or an ugly divorce of the parents. A parent not being able to give you reliable emotional support and soothe you is very common. In extreme cases, people with this placement were placed in foster homes (luckily, this is rare). What Chiron in 4th house people share, however, is a struggle to feel truly welcome and at home anywhere and the feeling of being a surplus.
Ideally, the 4th house, the home and family are a shield from the world and a safe place. With challenging 4th house placements such as the Chiron in 4th house natal placement, this is unfortunately not the case.
Healing Your Chiron
With a Chiron in 4th house natal placement, fourth house matters are central to your healing journey. Some of these are:
finding an inner sense of security
reparenting your inner child
making peace with your past
being aware of how your roots affect your life
healing your relationship with parent figures
The rest of the birth chart modifies how this placement works out, but there are some themes that are shared by most people who have this placement. Its zodiac sign and aspects to Chiron should also be taken into account. As an illustration, someone with their Chiron in 4th house conjunct the Moon had probably severe issues with their mother yet they crave an emotionally stable home where they are loved unconditionally. Someone with Chiron in 4th squaring Venus may not feel worthy of being loved at all, etc.
Chiron in 4th House Natal Meaning
This Chiron placement very often indicates a broken home. In many cases, the parents didn't have a good relationship. They may have been absent as well. Temporary or permanent separation is very common among people with a Chiron in 4th house natal placement.
Chiron in 4th house indicates a difficult relationship with one of the parents (often the mother). Typically, the care they could give you was not sufficient in some way. It can also happen that they were not present mentally and they couldn't respond to your needs appropriately. It is very common that this parent was in an overwhelming position themselves and they had no resources to take care of you because they couldn't take care of themselves either. This placement very often indicates a mother wound.
It's a frequent theme here that there was no one around who had the inner strength and resources to teach you how to cultivate emotional stability. Childhood is very often a lonely time in your life. Children blame themselves for negative things around them, and this guilt often leaks into your adulthood as well.
This placement suggests that early influences may be holding you back. It is common for these people to feel guilt if they are about to make substantial changes in their life, something that was not evident to happen in your family. You may feel disloyal and unconsciously sabotage yourself in order not to "betray" your ancestors.
Chiron in 4th house in the natal chart suggests an unhealed relationship with the past. This placement may suggest guilt or shame related to your past. Letting go is very hard. People with this position sometimes keep blaming their parents for the deficit in their childhood, even into adulthood. Chiron here often manifests as clinging to past memories and seeing it as something preventing you from building your future. In other cases, you may try to desperately escape your past. There's no balance.
When you are out and about in the world, you suppress your true emotions and try not to show weakness. This placement can indicate a fear of vulnerability because of the experience of no one being around to hold space for you. It can also work out as creating a sense of safety by accomplishing great things in your professional life. Many people who have this Chiron placement seek reassurance in their achievements. They are often hard-working and determined individuals.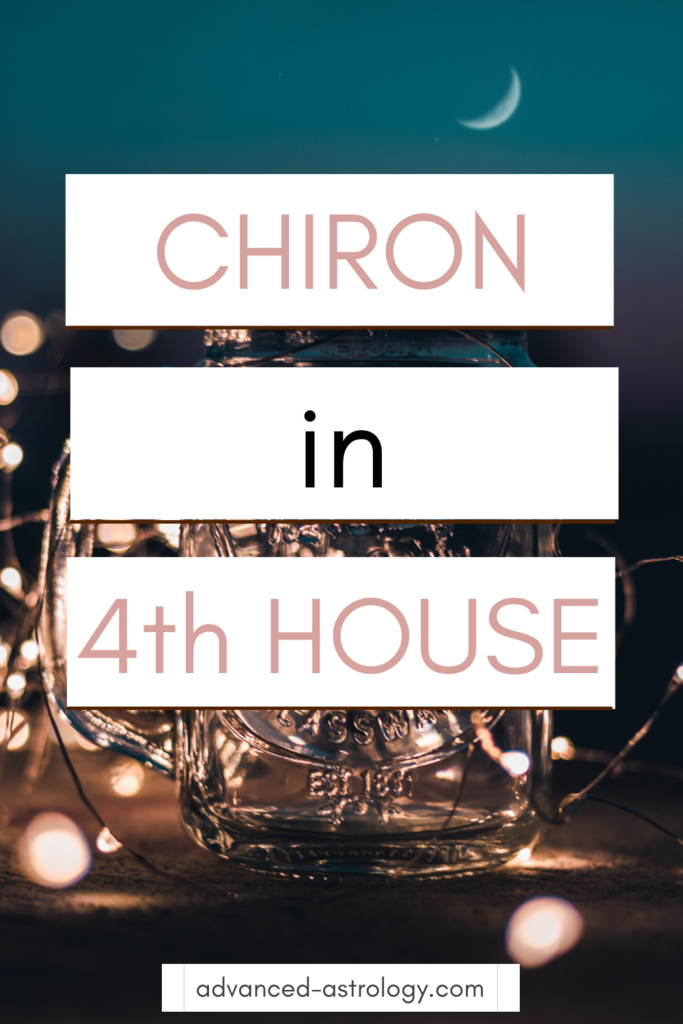 Chiron in 4th house can also indicate wounding related to your origin. In some cases, it can indicate secrets in the family (depending on the rest of the chart). Chiron in 4th house natal very often suggests wounds being passed down to you. Healing yourself also means working on healing your family line.
This placement can indicate karmic lessons related to your family, roots, motherland.
Sometimes Chiron in 4th house in the natal chart manifests as a desire to own. You may seek safety in your belongings, hoarding whatever you think will make you safe. This placement suggests a fear of loss.
Chiron in 4th house people are often either obsessed with their family or try to avoid this topic. This placement can manifest as a fear of starting your own family. Alternatively, it can suggest that you desperately want to raise a family, one where you can feel safe and nurtured (depending on the rest of the chart). You may try to start over and make up for not having the warmth in your childhood.
Chiron in 4th house natal often also indicates an effort to escape emotionally close relationships that would make you feel vulnerable. Fear of rejection is very common. When a conflict emerges in a relationship, you may get defensive.
This position often suggests a tendency for codependency.
Chiron in 4th house in the birth chart suggests that if you work through your pain, you are able to become an empathetic, caring, accepting parent (and person in general). Chiron represents the Wounded Healer, who is able to help others overcome the same thing that wounded him and caused him suffering for the rest of his life. People with a well-integrated Chiron in 4th house natal placement are very good at making others feel at home in their presence.
What Does Chiron Represent in Astrology?
Chiron was discovered just a few decades ago, in 1977. This asteroid is the most used by the majority of astrologers.
This asteroid is located between Saturn and Uranus. Its orbit is very eccentric, however, so it often crosses the paths of these planets. The orbital period of Chiron is approximately 50.7 years. This also means that you experience your Chiron return around the age of 50-51.
If you want to learn how to heal, Chiron can be an excellent guide on this journey.
In the birth chart, Chiron reveals your deepest wound and what it is centered around. The most important keywords linked with this asteroid are trauma, suffering, pain, wound, healing, acceptance, wisdom. Chiron's pain often manifests as feeling trapped in a situation and facing the same negative circumstances repeatedly. It is an enduring pattern, which requires a lot of work to overcome.
This asteroid represents a blockage in the flow of energy in the natal chart, something that needs to be cleaned, healed and closed so that you can become free of the past. Facing Chiron often takes decades. However, at the other end of the journey, you find wisdom and self-acceptance, and the ability to inspire others with your example.
The wound represented by Chiron stays for decades in many cases, shaping you as a person. Given that it's such a big part of your life, Chiron is said to not be completely healable but if you accept the pain related to it, it makes you stronger and wiser, allowing you to help others who are going through the same thing. In short, Chiron embodies the archetype of the Wounded Healer.
---
If you liked this post, maybe you want to save our site for later. Share it with others who enjoy reading about astrology!