How to determine relationship compatibility in astrology? The stars can also help you in finding out the potential of a relationship if you know what to look for.
The aspects/placements mentioned in this article are not just for romantic compatibility. They are essential in family bonds, friendships, coworker relationships, and all kinds of connections. At the same time, you want different aspects with your boss and with your child. An aspect that can be stimulative in a professional connection might not be the best for close emotional bonds. How favorable or challenging an aspect depends on the nature of the relationship. If you want to read about the worst synastry aspects, this article is for you.
This article is about synastry in the first place, but if you are curious about other techniques too, you should also read the composite and Davison charts.
First, a pretty frequent question:
Does compatibility matter?
As so often in astrology, the answer is: it depends. If BOTH people really want to make a relationship work, you can get by even with unfavorable aspects (and learn a ton from each other). However, it is really, really nice to have some common ground. It makes things much easier. Don't forget that astrology on its own doesn't do anything. It can only be used as a tool, similarly to using a CT scan to get an image of the body, but on its own, the scanner is the cause of anything. It's just an instrument, showing you what's going on.
You get the idea.
That being said, here are some of the most important factors for compatibility in astrology beyond zodiac signs (which doesn't matter, really). Some of them can be used even if you only know your date of birth, but for some, you'll need the exact time. This article is more about long-term compatibility between two people, not really about hot aspects.
The Moon and Compatibility in Astrlogy
Let's start with the most important factor: the Moon.
Conflicting Sun signs are not that big of a deal when it comes to compatibility in astrology (the importance of Sun signs is overemphasized in popular astrology anyways). However, the Moon is a different story. This luminary is essential. In the birth chart, it shows your emotional needs and what makes you feel safe and nurtured.
If two people's Moon signs are very different, the relationship can still work, but it makes it harder. To illustrate this point, imagine a loud, extroverted, bold, daredevil Aries Moon with a shy, anxious, extremely sensitive Cancer Moon. The Aries Moon finds the Cancer Moon a ridiculous crybaby, while the Cancer Moon is overwhelmed by the Aries Moon. It's not all lost if your Moon signs are not really compatible, but it is much better if they are. Ideally, there should be some other supportive aspects. For example, one person's Mercury conjunct the person's Moon helps a lot.
Sun-Moon connections are beautiful, especially the harmonious aspects. This connection can feel like a real soulmate encounter. It's good to see this in any type of relationship, but it's particularly good for couples.
House overlay matters a lot, too. Even if at first sight, Moon compatibility is challenging based on the zodiac signs, the house placements can make up for it. More about house overlay below.
To sum it up, the Moon is especially important in close relationships. With your child or parent, it is really good if you have good Moon aspects. However, for example, with your boss or coworker, the nature of the relationship is different so perhaps this is not the most crucial facet of your synastry chart.
Venus
Venus is another essential planet from the standpoint of compatibility in astrology. Harmonious aspects are the most valuable. Venus conjunct Venus or in another good aspect (trine, sextile) suggests that you enjoy similar things and have a similar idea of fun. For example, if both of your have your Venus in fire signs, you both like to go to inspiring places, do physical activity together, and you find similar things beautiful.
Conflicting Venus signs, on the other hand, can indicate irritation. For example, let's go back to the Aries-Cancer example and say that one person has their Venus in Aries, the other in Cancer. When the first person wants to go out, the second person would prefer to stay at home and just enjoy each other's company. What they would really enjoy differs. It's not that it cannot be overcome, but it takes some effort.
Mercury and Compatibility in Astrology
Mercury seems to be underrated when it comes to compatibility aspects. If you know some astrology, you know that Mercury shows one's communication and thinking style. Now, we all know how crucial communication is in a relationship. If two people's Mercuries work in a similar way, they understand each other much better. There is an intuitive understanding between the two of you and comprehending the other person requires less effort. So, harmonious Mercury aspects are really beneficial. If you just have this planet in the same element signs (e.g. you have your Mercury in Capricorn, the other person in Virgo—both are earth signs) that helps too, even if they are not aspecting each other with a tight orb.
Mercury in Aspect to the Luminaries (the Sun and the Moon)
This is excellent for compatibility in astrology. The luminaries are crucial parts of you—the Sun represents your ego, ambition, and conscious self, while the Moon is the emotional nature. When someone's Mercury touches them in a preferably harmonious aspect, it's really easy for the other person to understand your core personality. You are at the same wavelength, so to speak.
Inner Planet Conjunctions
In synastry, the conjunction is the most significant aspect (even if it is not an aspect in the strict sense). The planets don't even have to be close to each other. If you have personal planets just in the same zodiac sign with someone, this suggests that there is common ground and you have a lot in common, which needless to say, makes it easy to relate to each other. (The Sun, Moon, Mercury, Venus, Mars count as personal planets—they move quickly through the Zodiac, so their position in your chart is highly unique to you.)
Any of the personal planets conjunct your partner's personal planets is a strong indicator that there is a potential connection between you. These conjunctions are strongly felt and they can be really beautiful (Mars can perhaps suggest some irritation but the rest are perfect in all variations).
Jupiter and Astrological Compatibility
Jupiter is not a personal planet in the strict sense, but when it touches someone else's inner planets, it can be really good. Jupiter conjunctions are strongly felt. This planet governs law in astrology, so Jupiterian influence is often found in the charts of people who do something together that is recognized by the law, for example, registering a business with someone or spouses.
Jupiter is the planet of optimism, generosity, expansion, the higher mind. In synastry, it can imply that you believe in each other and you approach each other with benevolence and generosity.
Ascendant Compatibility in Astrology
This is another crucial part of astrological compatibility. However, to factor in the ascendants, both person's exact time of birth is needed. If your ascendant is conjunct the other person's descendant (which automatically means that their ascendant is on your descendant), it is a truly magical connection. You see each other as the ideal partner for long-term commitment.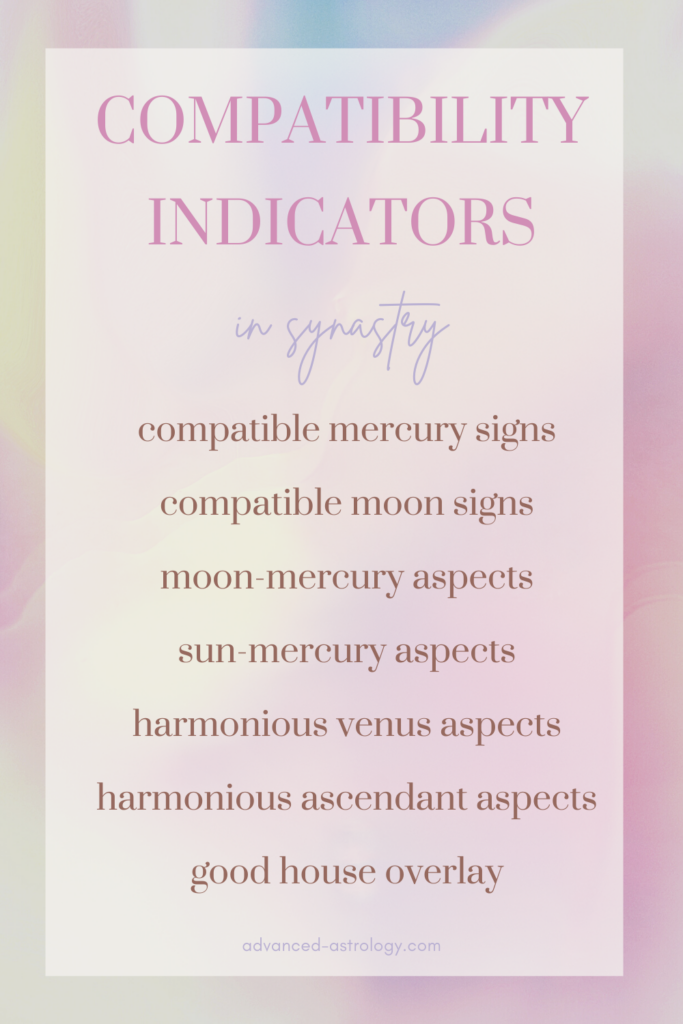 House Overlay
This is another technique that requires you to know your time of birth. If you don't know the other person's exact time of birth, you can still get some information based on the sign and degree of their planets and see which house of yours their planets activate. Here, you look for in which house in your chart fall the planets of the other person.
Let's say someone's Sun falls in your seventh house—you probably see them as the perfect partner for you. Or if someone's planets fall in your tenth house, they might be an important person in your life related to professional success or public reputation. Someone's planets in your ninth house usually indicate that you learn a lot from this person and they inspire you to aim higher.
House overlay is really important, and you should definitely pay attention to it.
Incompatible Placements
Lastly, is it bad if you have some placements that traditionally don't go well with each other?
Not necessarily. These placements can provide opportunities for growth. The other person shows you a different approach that can teach you new ways of looking at things. Some hard aspects can provide fuel for the relationship.
When talking about compatibility in astrology, you should always analyze it in the light of the original natal charts. How you perceive a certain relationship depends on your personality. What one person enjoys might irritate or bore someone else to death and vice versa, so the first question you have to answer is who you are as an individual.
Astrology teaches us that other people are our mirrors, showing us our shadow side and what we have to work on, so in this sense, you can learn important lessons even from bad relationships and they can show you what you want and don't want in the future.
---
If you liked this article, maybe you want to save our site for later. Share it with others who enjoy reading about astrology!