If you have been wondering what it means to be born on a certain day, you have come to the right place.
Did you know that in addition to your birth time, the day of the week when you were born is also significant? At least in earlier days people thought so. You have probably come across the nursery rhythm Monday's Child, and it is interesting to find links between the poem and astrology.
Astrology is extremely complex and fascinating. Every day of the week has its own ruling planet. The energy of this planet affects those born on that day.
Although this information is less significant than those contained in the natal chart, it is fun to find out under the influence of which planet you took breath for the first time.
Days of the Week Birthday Meaning in Astrology
Every day of the week has a ruling planet. The seven traditional planets each rule one day. Some days have a telling name (Sunday is ruled by the Sun), while in some other cases, you have to go back a bit to find the connection.
Here is a list about which day corresponds to which planet in astrology:
Monday is ruled by the Moon
Tuesday is ruled by Mars
Wednesday is ruled by Mercury,
Thursday is ruled by Jupiter
Friday is ruled by Venus
Saturday is ruled by Saturn
Sunday is ruled by the Sun.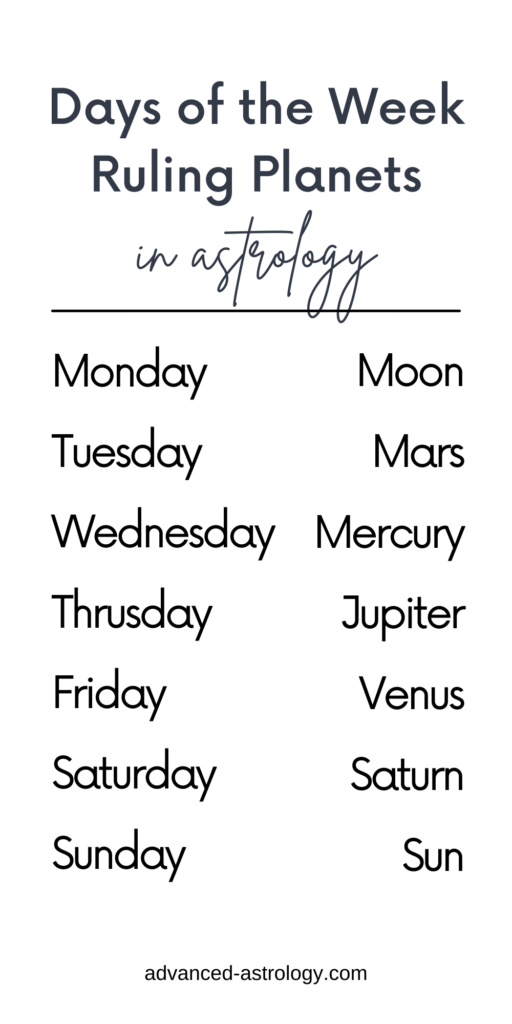 Keep reading to find out what does being born on a certain day means!
Born on Monday Meaning
What does being born on Monday mean in astrology?
The personality of people born on Monday is influenced by the Moon. This luminary governs youth, nurturing, emotions, the soul. It is also the planet of women, and if you were born on the day linked with the Moon, women are likely an important influence on your life journey.
People born on Monday are said to keep their youthful appearance and curiosity even at an older age, they are kind, intuitive, sensitive and nurturing. They can be passive rather than take initiative.
Born on Tuesday Meaning
What does being born on Tuesday mean?
This day of the week is associated with the planet Mars. Mars is the planet of fighting, aggression, drive, action. People born on Tuesday reflect these traits too.
People born on Tuesday are warriors. If you were born on Tuesday, you are ambitious and you have more energy than the average person. You are direct and have a strong will, actively pursuing what you set your eyes on. Nothing is impossible to you.
Born on Wednesday
What does being born on a Wednesday mean in astrology?
Wednesday is the day governed by Mercury. This quick planet is linked with thinking ability, logic, communication, movement and transport, but also with trickery.
People born on Wednesday are communicative, versatile, curious. They are excellent at connecting with others, and they tend to be quite extroverted. They are very talkative.
Born on Thursday Meaning
This day of the week is ruled by Jupiter, the greater benefic and the planet of luck.
People born on Thursday enjoy the blessings of Jupiter. Jupiter is the planet of expansion, and people born on the day ruled by this gas giant want to grow on every level. They dream about discovering the world and they want to gain knowledge in life.
They have very strong faith in life and they radiate with optimism, what usually attracts good things to them. People born on Thursday are smart, open-minded, and morals are important to them. These people tend to be generous, giving brings them joy.
Born on Friday Meaning
Friday is the day of Venus in astrology. Now, if you know a bit about astrology, you know that Venus is all about enjoying yourself and having fun. According to astrology, Friday is the perfect day to do what you love with those you love. In general, Venus is a very favorable planet, and you are quite lucky if you were born under the influence of Venus, especially if you have a strong, well-aspected Venus in your natal chart too.
The personality of people born on Friday tends to be warm and attractive. They are often very popular. They attract good things to them just by being themselves.
People born on Friday are blessed with the Venusian sense of harmony. They are good at relationships and they tend to be quite romantic. However, sometimes they want to live up to other people's expectations even at their own expense and they can be too conflict avoidant.
These people are sociable, carry themselves with grace, and they have excellent taste. People born on Friday notice beauty everywhere.
Born on Saturday
If you were born on Saturday, you were born on the day of Saturn. In astrology, Saturn is one of the more challenging planets, but there is a positive side to it as well.
People born on Saturday are disciplined and persevering. They are realistic, good at assessing the situation and setting achievable goals. These people are very committed.
Many people born on Saturday are late bloomers, and as they grow older, they find life to get easier and more exciting.
What Does It Mean to Be Born on a Sunday?
The Sun is the ruling planet of this day of the week in astrology. People born on Sunday are generally considered lucky. They have a lot of energy and they tend to be quite charismatic. They like attention and they are often popular, however they are individualistic.
Being born on Sunday suggests that you are creative, artistic, playful. Self-expression is important to you.
---
If you found this article helpful, maybe you want to save it for later. Share it with others who enjoy astrology!