If you have your descendant in Gemini, you have come to the right place. In this article, you can learn what the 7th house in Gemini means. This position automatically occurs if your rising sign is Sagittarius.
The sign on your descendant is less talked about than the rising sign, but it can provide interesting insight when it comes to relationships. The descendant always falls into your seventh house of partnerships. The descendant in Gemini or Gemini on the 7th house cusp suggests that you are attracted to people who radiate with the energy of the Twins. (and perhaps you are intimidated by them at the same time).
The descendant in Gemini indicates that your ideal relationship is based on intellectual connection. You are attracted to people who are witty, smart, great conversationalists. You are usually interested in air signs in general. Mental connection is more important to you than emotions in the long run.
Your rising sign tells which traits you are aware of possessing. You identify with your rising sign and tend to project the sign on your descendant onto others, in particular onto people you are in close relationships with.
Keep reading to find out more about the descendant in Gemini in your birth chart!
Descendant in Gemini Meaning
What does the descendant in Gemini indicate about your close relationships and ideal partner?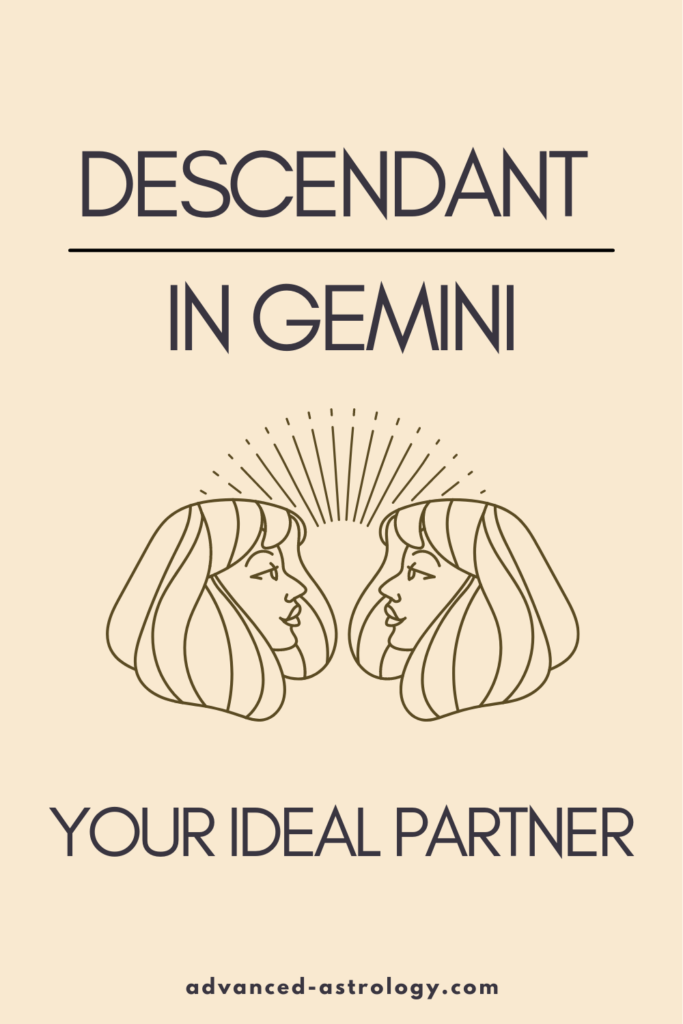 The ascendant in Sagittarius and descendant in Gemini suggests that you are aware of the bigger picture, but you sometimes miss the details. You need a partner to point them out and show you what you need to pay attention to. You learn a lot from your relationships with others. You also teach your partner, for you, relationships that support growth are the best.
Your ascendant in Sagittarius indicates that you are wise and educated. Your knowledge is amazing. You keep expanding it and you love learning. It is your innate talent to seek growth, and you are open to being inspired.
You enjoy sharing what you know with others―and you want people around you who are open to being taught. The descendant in Gemini wants to explore the world together while having fun.
Mental connection is a must with this placement. If a person cannot spark fascinating conversations, there is no chance for the relationship to work out in the long run. It also helps if your sense of humor is compatible.
People with this placement enter relationships out of curiosity. They want to explore what it means to be in a union. Because of this curiosity, once you learned what you wanted, you can get bored of the relationship.
The descendant in Gemini suggests that freedom is essential for you. If your partner wants to cage you, the relationship is bound to fail. You stick to your daily activities and your social circle, and you need someone who is supportive of this.
Gemini is a dual sign in astrology. When the cusp of the 7th house is in Gemini, it can indicate more than one committed long-term relationships or marriages.
The Descendant in the Birth Chart
What is the astrological meaning of the descendant and why is it so significant?
This angle represents what you want in your close relationships and what kind of partner you are attracted to (subconsciously). If you are not satisfied with your partner, understanding your descendant and 7th house can give you clues. The energy here is something you are not aware of in your personality, and you tend to seek it in other people. However, it is important to emphasize that you do possess the traits of the sign in your 7th house, you just need some self-awareness to come to it.
The descendant is one of the most important points in the chart. As one of the angles, it is one of the chart's pillars. This point corresponds to the part of the sky that was setting on the western horizon. To calculate its position in your natal chart, you have to know your exact time of birth, because the degree of the descendant changes one degree every four minutes. This point is directly across the ascendant. It always falls into the 7th house in the birth chart.
The seventh house is the house partnerships and unions. It is often referred to as the house of marriage, which is definitely one of its most important life areas, but there is more to it. The 7th house also governs business partnerships, one-on-one relationships, legal matters, open enemies. In the natural chart, it is connected with Libra and Venus.
The ruler of your descendant reveals more information about your seventh house. (For the descendant in Gemini, this is Mercury). You can learn more about the ruler of the 7th house through the houses here.
Gemini in Astrology
Gemini is the third sign of the Zodiac. It is a masculine sign by polarity. The planetary ruler of Gemini is Mercury. Mercury is the planet of the conscious mind. Its key functions are thinking and communication.
By element, the Twins belong to the group of air signs (along with Libra and Aquarius). Air signs are oriented on people and the intellect. They perceive things on a mental plane and they are emotionally uninvolved.
Gemini is one of the mutable zodiac signs (the other three are Virgo, Sagittarius, and Pisces). Mutable signs are adaptable, versatile, and they embrace endings and changes. These signs mark the endings of the four seasons.
Gemini is the sign of connecting with other people. Those with Gemini strong in their charts are communicative, social butterflies, easy-going, fun to be around. This sign needs constant mental stimulation. It gets bored in a heartbeat, and one of the biggest weaknesses of Gemini is a lack of follow-through.
In the natural chart, Gemini is connected with the third house of immediate surroundings and communication. This house governs young age, siblings, relatives, acquaintances, people you chat around with in a true Gemini fashion.
---
If you found this article helpful, maybe you want to save our site for later. Make sure to share it with others who enjoy learning astrology!