In this article, you can read about the descendant in Pisces. What does this placement suggest about your attitude to other people and relationships?
The descendant represents your other half. It shows what you unconsciously seek in others. If your descendant and 7th house are in Pisces, you experience the energy of this sign most intensely in your relationships. You often find that your partners are mystical, artistic, sensitive, dreamy. They inspire you to look beyond reality and find inspiration in your life.
If you have not integrated the traits of Pisces properly, it can happen that your partner has escapist tendencies. The worst case scenario is being attracted to people who are addicts, avoid taking responsibility for their actions, or who even trick you and deceive you. With Pisces involved, illusions can occur.
The descendant in Pisces also means that you are a Virgo rising. The descendant is directly across the ascendant, and they are always in opposite signs. We are more familiar with our rising sign and tend to experience the descendant sign through other people—opposites attract.
Keep reading to learn more about the descendant in Pisces in the natal chart!
Descendant in Pisces Meaning in the Birth Chart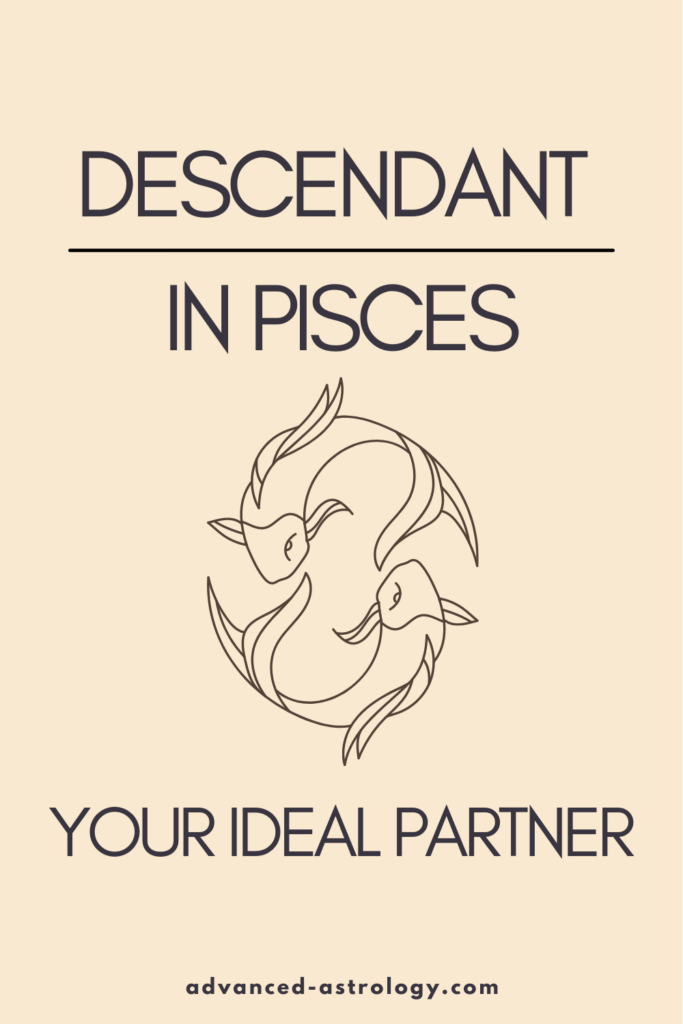 If your descendant is in Pisces, you are a Virgo rising. People with this placement are strongly connected to reality. They are grounded, organized, have their ducks in a row. They always know what needs to be done, and they have a strong sense of duty. With this placement, you navigate life well, but sometimes you lack faith that things will work out. You learn to be more trusting and worry less from other people.
The descendant in Pisces suggests that you have a lot of experience with order but haven't dealt with chaos frequently. You tend to choose partners who inspire you to transcend reality. They show you that there is more to life than what meets the eye.
People with this descendant sign tend to be attracted to sensitive, mystical, otherworldly energy. The descendant in Pisces suggests that your partner is often involved with spirituality, art, music, they are compassionate and selfless. They encourage you to discover your intuition.
However, the descendant in Pisces can also manifest in a negative way. Your partner can be detached from reality and have weak boundaries. Martyr syndrome is a common issue with this sign. You can perceive your partner as too weak and unable to cope with life. You can also see them as too emotional, sensitive, easy to hurt. You can find their behavior irrational which upsets you if you have not recognized the descendant in Pisces in yourself yet. Unconsciously being attracted to delusional people can also happen.
The descendant in Pisces suggests that you show your partner how to be more efficient and grounded. It comes naturally to you to take care of others. You are there for your partner when they need practical help. However, you can feel sometimes taken advantage of and that your partner becomes a burden. You can find yourself in the company of people who are not in charge of their life.
This sign on the descendant can suggest a desire to merge with your partner on a soul level. You often find a spiritual bond fulfilling. It is important for you to experience unity in your relationship. Deep down, you are a hopeless romantic.
Ideally, your partner finds out what you want, and you find out how to get it. Partnerships works the best if you appreciate your partner's vision, and they let you execute.
The descendant in Pisces is ruled by Jupiter and Neptune. The position of these planets tell more about your 7th house in Pisces.
What Does the Descendant Mean in the Natal Chart?
What does the descendant, abbreviated as DC, represent in astrology?
This angle shows which part of the sky was setting at a given moment. In the natal chart, the descendant corresponds to the sign setting on the western horizon at the minute when you were born, as seen from the place of your birth.
In the chart, the descendant is always located in the 7th house, or it is its cusp, depending on the house system. The 7th house is the natural house of Libra (but in your birth chart, it can of course begin in any of the twelve zodiac signs).
The descendant is the point opposite the ascendant. The ascendant shows your identity, something you recognize and know how to deal with. The descendant, however, represents your disowned traits. This angle shows what you have to find in yourself to grow.
There can be an imbalance between these two signs, and we tend to over-identify with the rising sign. If you don't like the kind of relationships you are in, studying your descendant and learning to own it can help you change this. Often, your partner may be reflecting this part of you.
Pisces, the Last Zodiac Sign
As the twelfth and last zodiac sign, the domain of Pisces takes place between two worlds. It does not belong fully to our everyday reality, and there is something ethereal and mystical about this sign.
In modern astrology, the Fish is ruled by Neptune. Neptune was discovered only in 1846, and before than, Pisces was ruled by Jupiter. This sign is connected with the twelfth house in the natural chart.
Pisces is a water sign when it comes to elements. Water signs are associated with emotions, intuition, the unconscious. As a sign of this element, Pisces is connected with the collective subconscious, unity with the divine, compassion, empathy. As a mute sign, Pisces is not easy to figure out because it cannot express itself well (fish cannot speak). This makes it easy to misunderstand this sign, and Pisces can feel lonely and it is prone to dark moods as well.
By modality, Pisces is one of the four mutable signs (Gemini, Virgo, Sagittarius, Pisces). These signs embrace changes, they are adaptable and versatile. Pisces is a feminine sign by polarity.
The positive traits of Pisces are receptivity to divine inspiration, a sense of connection with the world, softness, spirituality. However, this sign assumes that everyone is good and it can fall prey to people with darker motives. The negative traits of Pisces include running away from your problems, insecurity, a lack of willpower.
---
If you found this article helpful, share it with others who enjoy learning astrology and save our website for later!