If you want to learn about the descendant in Sagittarius, you have come to the right place. This article can help you understand your attitude to relationships better.
If your descendant sign is Sagittarius, this means that you are a Gemini rising. (The ascendant and the descendant are the angles of the same axis, and they are always in opposite zodiac sign.) The ascendant in Gemini indicates that you are hungry for human interactions, you have many acquaintances, but you let close only a few people. Your relationships work the best if your partner gives you freedom and helps you find meaning in your everyday reality.
With the descendant in the sign of the Archer, your partner mirrors your need for new experiences and growth. You learn to observe things from perspective through your relationships with others. They show you aspects of life you haven't paid attention to before. The descendant in Sagittarius suggests that your partners are greatest teachers.
The descendant helps you gain insight into your relationship dynamics. This angle is all about what you seek in others and what you seek in a relationship.
Find out what does the descendant in Sagittarius reveal about your relationships!
Descendant in Sagittarius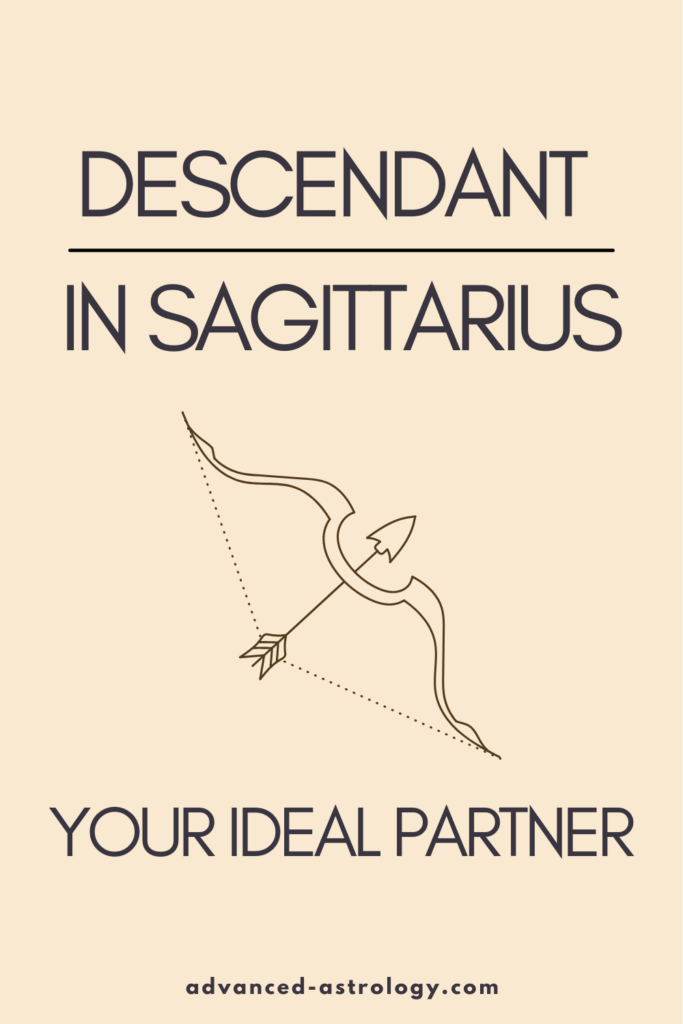 Gemini and Sagittarius are in some way similar, but also different. This duality is present in interpretation of the ascendant descendant axis as well. The sign on the descendant is usually one you don't really identify with. Because of this, we notice this sign in other people sooner than in ourselves. Others teach us how to deal with the descendant. You experience this part of you through others.
It is important to emphasize that you do own this sign as well, but it usually requires conscious effort to integrate it properly. If you want better relationships, understanding your descendant and seventh house can be a great first step on this journey.
The descendant describes how you approach relationships and partnerships. The 7th house in Sagittarius suggests that you experience expansion through others. People you are in a close relationship with help you on your quest for wisdom.
Intellectual connection is very important for you. You enjoy debating and hearing new opinions. You have an insatiable need for information and learning, and your ideal partner is able to inspire you and teach you. You want to adore your partner's intellect. It is also a priority of yours to have fun in each other's company.
As a Gemini rising, you come into contact with many people, but you want to be with someone exceptional. You can idealize your partner.
Gemini is an air sign by element. Your identity can be changing all the time. The descendant in Sagittarius indicates that you are drawn to people who are complex personalities as well. It is essential for you that they support you on your journey. They must give you freedom. Unless water signs are strong in your chart, attachment to you is based on a mental bond, and it lasts as long as there is enough stimulus in the relationship.
The descendant in Sagittarius indicates that you see the bigger picture if someone points it out to you first. Your partnerships serve the purpose of growth. You are unconsciously attracted to people who are intelligent, educated, sometimes of foreign origin. They are philosophical, eccentric, restless, a free spirit.
It can also happen that your relationship inspires you to turn to spirituality. Ideally, you find peace and a sense of connection with the world and your higher self through your relationships.
The negative manifestation of the descendant in Sagittarius can be relationships where your partner imposes their views on you. They can be preachy and have fixed views that they are not willing change. They can be insensitive as well, focusing too much on the idea and forgetting about the human.
If you haven't integrated your descendant in Sagittarius properly yet, you can be too optimistic about others. When under pressure, you can get stuck in your own little world, and you can't find the solution without stepping back and taking a look at the bigger picture.
With the descendant in Sagittarius, your 7th house is ruled by Jupiter. The position of Jupiter in your birth chart tells more about this life area. You can read about the ruler of the 7th house through the houses here.
Meaning of the Descendant in the Natal Chart
The descendant represents the point of the sky setting on the western horizon. This is where the stars disappear and where the domain of shadow begins. As the point directly across the ascendant, the descendant speaks about energy you don't acknowledge in yourself, therefore you need people who add it to your life.
It is important to note that the descendant represents you as well, just like the rest of the chart. It describes what kind of people you are attracted to on an unconscious level, but this origins from you, too. The whole birth chart is about you, including the 7th house.
To calculate your descendant, it is essential to have access to your birth data. As this point changes one degree approximately every four minutes, the minute of your birth is important. The place of birth is necessary too.
The key astrological meaning of the descendant is relating to others. This angle along with the 7th house can help you understand your relationships better. The seventh house is the house of partnerships, marriage, legal matters, open enemies.
Planets in this house or conjunct the descendant stand out in the natal chart, as angular houses and the area around the angles are more powerful.
Sagittarius in Astrology
The Archer is the ninth sign of the Zodiac. It is the sign of expansion, higher learning, opening to your mind to various ideas, and the quest for freedom. Sagittarius is restless and an adventurer.
Ruled by Jupiter, the planet of growth, abundance, spirituality, Sagittarius is driven by the need to understand the world and experience everything. If there is one things this sign hates, it is being caged.
Sagittarius observes the world from a distance, and this allows it to notice the meaning behind things. It is the sign of abstract learning.
In the natural chart, Sagittarius is linked with the ninth house of higher learning. This house is about education, spirituality, long-distance travel and foreign countries. These life areas serve expansion and help you connect with the universal force beyond the mundane reality.
---
If you found this article helpful, maybe you want to save our site for later. Make sure to share it with others who enjoy learning astrology!