Geminis are fun, witty, and adventurous. This zodiac sign has a way with words, Gemini is the best communicator in astrology. They make friends quickly, but need an intellectual connection to stay in a relationship.
If you were born between May 20th and June 20th, your Sun sign is Gemini. If you want to understand Geminis better, here are ten Gemini fun facts that they will never tell you, even though they wish you knew these Gemini secrets!
1.Gemini Is an Overthinker
Living in their mind, Gemini thinks all day. They have the most complicated mind among all the zodiac signs in astrology. Their brain keep spinning and spinning, until they become confused and can't bear it anymore. In those moments, a Gemini needs some outlet. They often use their famous Gemini humor.
2.They Don't Want To Hurt Your Feelings With Their Jokes…
Everyone knows that Gemini equals sarcasm. While the Twins are fun to be around, they jokes can be annoying to the more sensitive zodiac signs. Gemini loves to have fun, however, they sometimes don't realize that not everyone shares their sense of humor.
3. …But They Get Bored Quickly and This Is How They Have Fun
A Gemini's mind needs constant stimulation. They use jokes as a coping mechanism against boredom.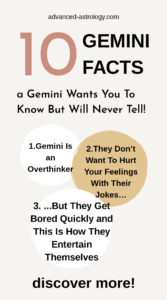 4.Geminis Need a Mental Connection
As an air sign (air is all about intellect), Gemini wants mental stimulation. They simply need you to be an intellectual partner. This sign appreciates a good conversation more than anything
5. The Twins Will Notice Every Detail
Gemini is gathering information all. The. Time. Their mind is constantly monitoring their environment. This zodiac sign is very good at picking up the tiny clues others don't even notice. No detail will stay hidden in front of a Gemini! Sometimes they won't tell you, but they notice everything.
6. A Gemini Can Become Emotionally Detached
Air signs are not really emotional. As part of the air air family, Gemini connects on a mental level rather than on an emotional. However, when they are under stress, they will become straightforward detached! When they feel hurt, they will zone out of a relationship.
7. Geminis Can't Stand Monotony
Geminis need constant stimulation. They are super alert and versatile, and if they have to stay in a boring environment, they suffer a lot. Gemini simply needs to be on the go all the time. Their brain craves excitement.
Gemini is incredibly versatile. Sometimes labeled as a jack-of-all-trades, Geminis love to dabble in everything. This makes them super interesting conversationalists!
8.Mood Swings All Day
A Gemini experiences mood swings often. You can never know what's going on in the mind of a Gemini: in one moment, they are super happy and in before you notice it they have fallen into deep depression. After 5 minutes, the happiness is back.
9. A Gemini Is Brilliant
There is no such thing as a stupid Gemini. Their brain is like a sponge, it absorbs everything. The zodiac sign Gemini is ruled by Mercury in astrology, the planet of intellect, so it's no surprise that they are super smart!
10. A Gemini Has to Learn to Be Consistent and Persistent
Even though a Gemini has a huge vocabulary, these words seems to be missing. As a mutable sign, there is always something new that captures their attention. Gemini easily gets bored, what stops them for achieving their goals. They need a Capricorn or Taurus in their lives to show them how to be persistent!
---
Gemini is a fascinating zodiac sign. Those born under the Twins are interesting people and it's fun to be around them!
Make sure to share this post with Geminis and everyone who has a Gemini in their lives!