Jupiter in Aquarius is a curious, open-minded, justice-loving placement in the birth chart. You are a lover of knowledge, a starry-eyed idealist, and an extremely rational person at the same time. The Jupiter in Aquarius personality is a multi-faceted talent. This Jupiter signs brings exciting energy into the natal chart.
Traditionally one of the most positive planets, Jupiter's position in the birth chart tells where you can find your luck and make the harmonious flow of energy work for you. In short, Jupiter is the planet of opportunities. Its main themes are expansion, knowledge, higher learning, optimism.
Jupiter was recently transiting Aquarius. It entered this zodiac sign on 19th December, 2020, and stayed there until 29th December, 2021 (and made a trip into Pisces in May and June, when it turned retrograde and shifted back into Aquarius).
Jupiter is somewhat of a generational placement-it takes 12 years for this celestial body to make a full circle around the Sun. Because of this, people born during a 12-month period have the same Jupiter sign. Your most important personality traits are not described by your Jupiter sign, but it should still be paid attention to.
Let's dive into the meaning of Jupiter in Aquarius!
Jupiter in Aquarius Meaning in the Natal Chart
If you are somewhat familiar with astrology, you know that Aquarius is all about originality, innovation, ideas. Jupiter in Aquarius radiates with this creative, unique energy. You are smart, unique, an interesting person to be around. In the birth chart, this Jupiter sign indicates an individualistic trait in your personality.
Jupiter in Aquarius is an extremely open-minded placement. It suggests that when everybody shakes their head in disbelief upon hearing about a seemingly ridiculous idea, you give it a second thought and seize the opportunity. You love experimenting and you have a rather unusual way of thinking. This allows you to recognize good opportunities and make the most out of them. Jupiter in Aquarius recognizes new trends sooner than other people.
Throughout your life, you are likely to revise and change your way of thinking (which is a good thing). However, until you see it for yourself, there is little use in trying to convince you-you are rather stubborn in your opinion. You sometimes have provocative ideas, and you might even enjoy shocking others with your views.
Jupiter in Aquarius is great for popularity. Groups of like-minded people might be of great help on your journey. People with this placement usually like being around others. This placement suggests that you easily make friends, and you get along well with older people too.
If you don't like socializing, teach yourself to like it. A natal Jupiter in Aquarius, in an extroverted air sign, suggests that the more you put yourself out there, the more luck you attract into your life. You have a talent for socializing, waiting to be developed.
You are deeply aware of the inequal distribution of opportunities in the world, and it breaks your heart. Jupiter in Aquarius suggests that injustice enrages you. People with this placement often stand up for the underdog. They are usually very interested in the development of society and they are socially sensitive. It brings you a lot of joy if you can help someone. Many people with a strong Aquarius in their chart enjoy volunteering. You might find yourself especially drawn to causes that strive to empower the underprivileged.
Jupiter in Aquarius in the natal chart is excellent for science, engineering, technology, medicine, humanitarian work. And it is a great placement for astrology too!
One of the potential pitfalls here is getting lost in theory. While it is necessary and refreshing, theory takes you only so far. Establishing a grounding practice in your life that reminds you to put your ideas into action can be beneficial for a Jupiter in Aquarius personality.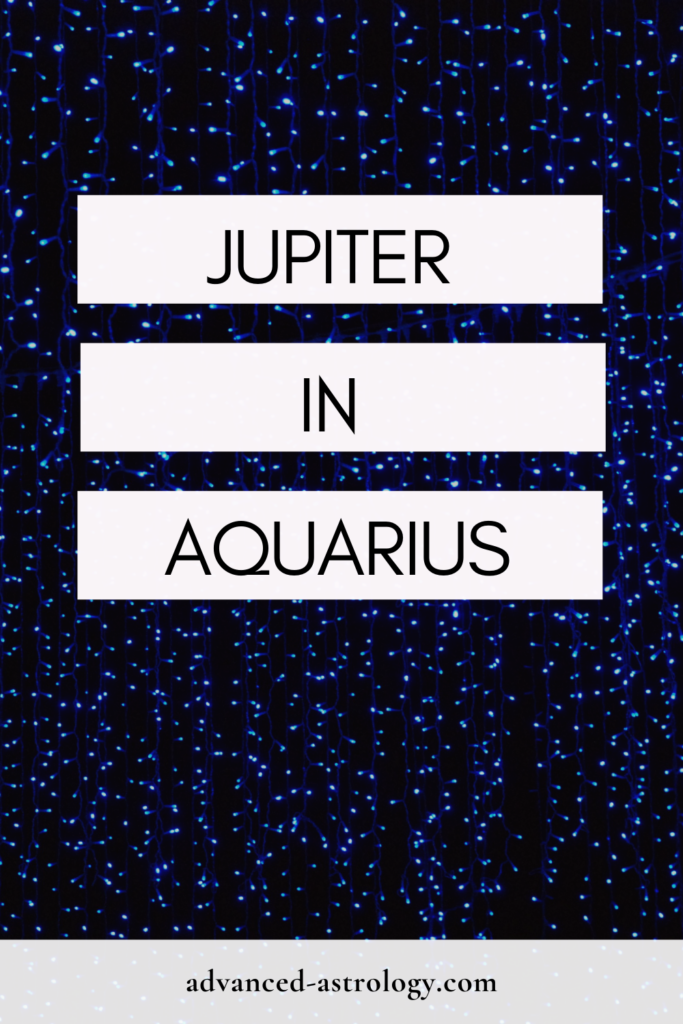 The dispositors of your Jupiter are Saturn and Uranus. Their position in the birth chart also has a say in how your Jupiter plays out.
In the birth chart, planets don't exist in a vacuum. How they interact with the horoscope should always be taken into account. How your Jupiter expresses its energy is also determined by its house placement and aspects. Connections with other planets modify how planetary energies play out. The house where your Jupiter is located shows in which life area this planetary energy is present the most intensely.
You can read more about house placements here.
Jupiter in Aquarius Woman
A Jupiter in Aquarius woman is drawn to men who are in some way unusual and care little about the mainstream ways of doing things. Especially her husband is likely to be like that. Jupiter in Aquarius in a woman's chart suggests that you might meet under unusual circumstances. Your husband shows you a new way of thinking and you can have great conversations. Your marriage is likely to be intellectually very stimulating.
Jupiter in Aquarius women's husbands are often engineers, software developers, intellectuals. If there are challenging tendencies in the natal chart related to this topic, the partner might be emotionally unavailable.
Aquarius, the Water Bearer
What are the most important traits of Aquarius?
Aquarius is perhaps the most special zodiac sign. It is one of the three signs that have both a traditional ruler (in this case, Saturn) and a modern ruling planet (Aquarius is ruled by Uranus).
Aquarius is the eleventh sign of the Zodiac. It is the sign of giving back to society and laying the ground for progressive ideals.
The Water Bearer is original, innovative, bright, open-minded, iconoclastic, idealistic. Its positive manifestation is a breath of fresh air.
Aquarius is a fixed sign. Fixed signs are concerned with consistency, and don't like changes. When it comes to triplicity, Aquarius is an air sign (don't let the word water confuse you). Air is the element of the intellect, social relationships, curiosity. It is objective, detached, logical. By polarity, Aquarius belongs to the group of masculine signs.
Aquarius is associated with reforms, humanitarianism, volunteering, science, technology, engineering.
Meaning of Jupiter in the Birth Chart
Jupiter's role is to expand your mind. It encourages us to look at things from a new perspective, think beyond the mundane level. It knows no limitations. The sign where your Jupiter is placed in the birth chart tells how you can learn and grow. Its house shows the life areas that help you on your path towards expansion. The activities linked with this house are worth putting energy into.
Jupiter is the ruling planet of Sagittarius, and the co-ruler of Pisces (in traditional astrology, it is considered the ruler of the latter, too). This planet is in fall in Virgo, in detriment in Capricorn, and it is exalted in Cancer.
In astrology, the most important keywords of Jupiter are expansion, growth, faith, optimism, joviality, wanderlust. It represents the trust in the universe.
One of the most important things about tapping into Jupiterian energy is to strive to be as giving and generous as this planet. The more you try to be like Jupiter, joyous, optimistic, the more of its energy you attract into your life.
Jupiter in Aquarius Celebrities
Here's a short list of Jupiter in Aquarius celebrities and prominent people:
Barack Obama
Anthony Hopkins
Kylie Jenner
Marilyn Monroe
Princess Diana
Agatha Christie
Camilla Cabello
Lana del Rey
Kate Moss
Heidi Klum
Marie Curie
Albert Einstein
---
If you liked this article, maybe you want to save our site for later. Share it with others who enjoy reading about astrology!