If you want to learn how you can expand and grow, look to your Jupiter. This article about Jupiter in Gemini, how you can find your luck if you have this Jupiter sign in your horoscope.
People with this placement are here to discover how the world around them works and learn everything they can. They tend to have a very friendly nature. They have a natural affinity for communication.
Jupiter here suggests an extremely active mind and a powerful intellect (although it is not always easy to channel your thoughts properly). You are curious, open-minded, and well-educated. The more you learn, the happier you are. You are good at debating and love fascinating conversations.
Jupiter was transiting this sign between June 30, 2011, and June 11, 2012. It will enter Gemini on May 25, 2024 and it will stay there until June 9, 2025 (if you have your natal Jupiter in this sign, this should be a good period for you!).
Because of its yearlong stay in one sign, Jupiter's interpretation by signs has a generational flavor. People born during these 12 months share the same Jupiter sign. On a personal level, Jupiter's house and aspects are more significant (but the sign is of course important too). The sign which your Jupiter is in is expanded in your birth chart.
Let's find out what a natal Jupiter in Gemini reveals about your personality!
Jupiter in Gemini Meaning in the Natal Chart
Jupiter in Gemini is in detriment. This sign is opposite Sagittarius, the sign where Jupiter is domicile. In Gemini it is in a weak dignity, but as always, nothing is all bad. Jupiter's dispositor is Mercury in this case. Mercury and Jupiter both have to do with the mind and learning, but on different levels. Mercury is information, Jupiter is knowledge.
The purpose if Jupiter is to help us expand, to rise above what is in front of your eyes, and see things from a fresh perspective. Gemini, on the other hand, is about the mundane details. Jupiter in Gemini might struggle with broad vision. It can't see the forest for the trees.
Jupiter in Gemini people are often extremely intelligent, especially if this placement is accompanied by other planets in Gemini. The challenge of this placement is learning how to focus and use your intellect in a constructive way. It tends to be an all over the place Jupiter sign.
People with this placement tend to be open-minded. They are super excited about learning something new, meeting new people, traveling to new places. They are often well-informed and well-educated and many different fields (although often just on a superficial level). You have an insatiable hunger for information. People with this Jupiter sign are usually very interesting to talk to.
Jupiter in Gemini loves learning and it has an excellent perception of reality. It particularly likes learning things that have a practical application. Learning languages, grammar, programming might be easier for you than for most people. You are talented for a wide range of things. Education might be a major factor in your success with this placement. Make sure you get all the education you can get.
Logical thinking is one of your fortes. You are objective, detached, and you often have great judgement. You dislike doing things you don't understand why they should be done. You also like seeing evidence for theories.
Some Jupiter in Gemini people are prone to misunderstandings. Their mind interprets information in a unique, unusual way, and they might not be congruent with the context. They are communicative and open, but emotional intelligence might not be their greatest strength (depending on the rest of the chart). They might not recognize when to make jokes and when to be empathetic or just shut up and listen to the other person.
Jupiter is the planet of faith, but here it is in a very cynical sign. People with this placement tend to reject ideas about spirituality (unless there are some other placements in the chart). People who are into magic, the law of attraction, stuff like that might make you freak out actually.
Lacking faith in yourself and in your own abilities seems to be a common pattern here. Focusing a bit more on your spiritual growth can go a long way with this Jupiter sign.
Depending on the natal chart as a whole, this placement implies a communicative, socially adept person. If you have a natal Jupiter in Gemini retrograde, the extroversion of Gemini might be somewhat limited. In this case, it might take longer for you to gain self-confidence and to express yourself in the world.
Gemini dislikes to settle down. People with Jupiter in this sign might find it hard to commit to one idea for a long enough period of time. Too much Gemini—if not integrated properly—can manifest as ADHD tendencies. Finishing something is much harder for you than getting started.
Jupiter can be used as a career indicator too. Its position in Gemini can come in handy in any profession that requires a lot of communication, trade, education. Jupiter in Gemini careers often require intense intellectual efforts. It is an excellent placement for anything that has to do with writing, reading. Jupiter here seems to be good for careers related to the media as well.
In the natal chart, Jupiter shows how a person can get lucky. If it was transiting the Twins at the time of your birth, you might find that opportunities come to you through your acquaintances, school friends, when you engage in small talk with someone and it suddenly turns out that they have an amazing offer for someone like you. The key with this placement is to be open-minded and keep educating yourself.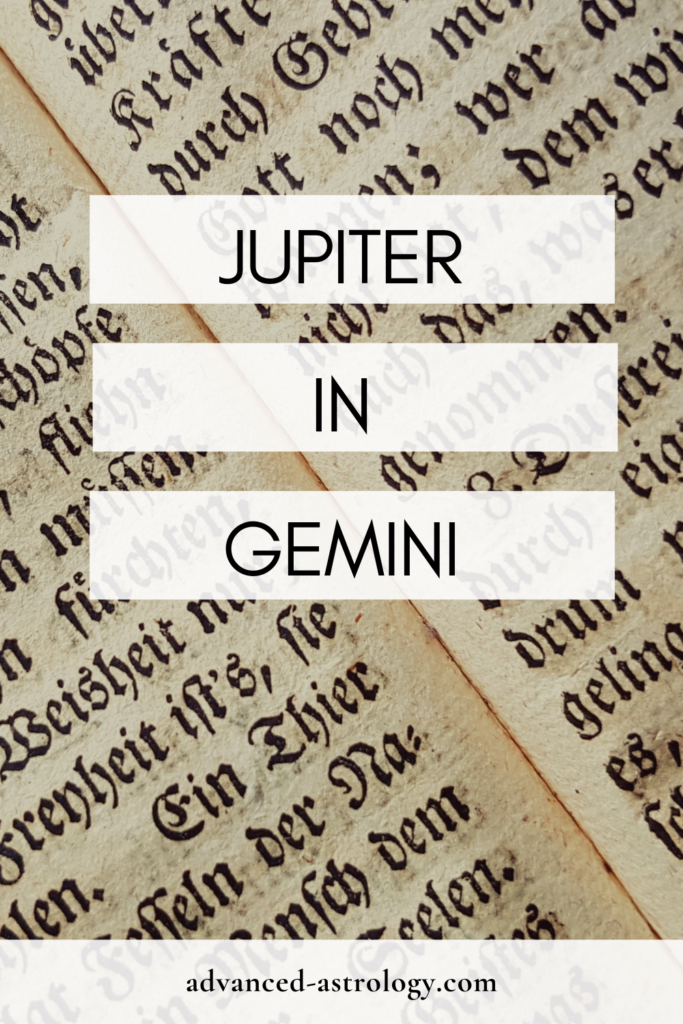 The house of your Jupiter tells in which life area Jupiterian energy manifests the most intensely. For example, someone with Jupiter in Gemini in the 6th house might be open in the workplace and establish many relationships, or have a job that deals with the media, education. Don't forget to include the aspects of Jupiter too, for example, Jupiter conjunct Saturn might succeed slower and has to work harder, while Jupiter in aspect to Mars indicates enhanced ambition and drive to achieve your goals.
You can read more about Jupiter through the houses here.
Jupiter in Gemini Woman and Husband
In the chart of a woman, Jupiter also speaks about the husband. Jupiter is the planet of law and protection. It doesn't deal with the kind of man (if you are heterosexual) you are into, it only tells who are you likely to marry.
Jupiter in Gemini in a woman's chart suggests that husband is intelligent, well-spoken, educated. It doesn't mean that you will necessarily marry a Gemini, but they are likely to display the traits of this sign. You might meet through mutual acquaintances, school. This placement can suggest a husband who grew up in the same neighborhood as you, or you live close to each other.
What Does Jupiter Represent in the Birth Chart?
Jupiter takes place between Mars and Saturn, it is one of the gas giants of the Solar System, the largest planet. Its revolution period is about 12 years, what means that it spends approximately one year in each zodiac sign.
In astrology, Jupiter is the planet of ethics, law, philosophy, ideals, spirituality, expansion, vision, wealth, abundance. It is often referred to as the planet of luck. Jupiter rules generosity, higher education, wisdom.
A strong Jupiter in the natal chart suggests a person who is optimistic, ambitious, enthusiastic, has good morals (unless Jupiter is heavily afflicted).
Jupiter rules Sagittarius, and it is the co-ruler of Pisces (in modern astrology, the latter is ruled by Neptune). Jupiter is exalted in Cancer, in fall in Capricorn, and in detriment in Gemini.
Gemini, the Twins
Gemini is the third sign. It is mutable air. In astrology, air is the element of the intellect, which is the essence of Gemini. Mutable signs are flexible and changeable. Gemini is a masculine or active sign by polarity.
Gemini season marks the end of spring. The Sun transits it approximately between
Gemini can be described as smart, agile, observing, curious, communicative, roaming. People with this sign strong in their chart tend to be extremely intelligent, have a strong need for social connections, have amazing verbal skills, but they might lack patience and they might dislike commitment. The negative traits of Gemini are forgetfulness, changeability, cynicism, trickery.
Gemini's planetary ruler is Mercury. Mercury is the planet of the analytical mind. As the third zodiac sign, Gemini is linked with the third house of communication and learning (but this doesn't mean that it is always on the cusp of the 3rd house-unless you are an Aries rising, it is probably somewhere else in your chart.)
Jupiter in Gemini Celebrities
Some Jupiter in Gemini celebrities:
Oprah Winfrey
J. K. Rowling
Jane Austen
Bernie Sanders
Grace Kelly
Amal Clooney
Cindy Crawford
Thomas Edison
Stephen Hawking
Martha Steward (Jupiter is a singleton, the only planet in an air sign)
Aretha Franklin
Kanye West
---
If you liked this article, maybe you want to save our site for later. Make sure to share it with others who enjoy learning astrology!