This article covers the characteristics of a natal Jupiter in Libra. Jupiter in this sign suggests an affinity for balance and a need for harmony, both in your inner world and in the world around you.
Jupiter in Libra indicates a person who has an innate talent for relationships. You are open to others, kind, impartial, cooperative. This placement in the natal chart suggests that you get a lot of help from others. Equality and fairness are very important to you and they are an integral part of your personal philosophy.
Jupiter changes signs each year. Its orbital period is 12 years. The last time Jupiter was traveling through Libra was between 9th September, 2016 and 10th October, 2017.
Jupiter will be transiting Libra again in 2028-2029, from 24th August, 2028 until 24th September, 20229, to be exact. For people who have their natal Jupiter in Libra, this will be an important time. It should be a favorable period also for people who have Jupiter in an air sign in their natal chart.
What Does Jupiter in Libra Mean in the Natal Chart?
Planets in Libra have Venus as their dispositor. Where Venus is in the natal charts affects Jupiter too.
Jupiter in air signs suggests a path intertwined with communities and social interactions. With Jupiter in Libra, partnerships are particularly emphasized. One-on-one interactions offer the greatest potential for self-development. There is a lot of energy in this placement, and it is primarily oriented on forging relationships.
This position of Jupiter suggests that good things come to you through other people (for the full picture, combine this interpretation with Jupiter's house placement-more on that below). Jupiter here is great for popularity.
If it is placed on an angle or has a prominent role in the birth chart, Jupiter in Libra suggests a charismatic, charming, detached person. Even if you are not the best at socializing when young, you can definitely develop the talent of dealing with people. You are tactful, sophisticated, open, sincere. The positive manifestation of this placement is virtuousness, kindness, fairness.
Relationships might be particularly important for your growth as a person, especially close partnerships. Your partners are your greatest teachers: they reflect your strengths and weaknesses, and teach you important lessons about yourself. You might find that you understand something much better if you can discuss it with someone.
Who you get the most support from depends on the house and aspects of Jupiter. For example, Jupiter in the tenth might suggest that your bosses and authority figures in particular encourage you in particular to develop your skills.
The more you strive to be fair and give and take in an equal measure, the more Jupiter supports you. Besides romantic relationships, Jupiter in Libra in the natal chart suggests that business partnerships and collaborations are also opportunities for growth.
Sometimes people with this placement don't know how to stand up for themselves and they might be taken advantage of. You might be a bit naive, especially at a young age. Jupiter in Libra often struggles with reaching out to others for help. Remember, this sign is about giving and taking equally.
Jupiter in Libra suggests that you have a knack for negotiation. People who display an evolved version of their natal Jupiter in Libra tend to be fair, and others appreciates the win-win attitude you have. You want everyone involved to get something out of a deal. Listening to both sides is important to you. People with this placement usually dislike cheating in any form (unless there are some heavy afflictions of course).
In the natal chart, Jupiter signs tell how you can tap into your luck. Jupiter in Libra is an excellent placement for anything related to law, art, aesthetics, communication, any field where you deal with people and where you need tact and diplomacy. This Jupiter sign also suggests great creativity. People with this placement often like learning about art.
While Jupiter in this Venus-ruled sign has many blessings, it indicates a danger of laziness and taking good things for granted. You might be too indifferent, waiting for things to work out on their own even in situations that would turn out better if you'd pursue them.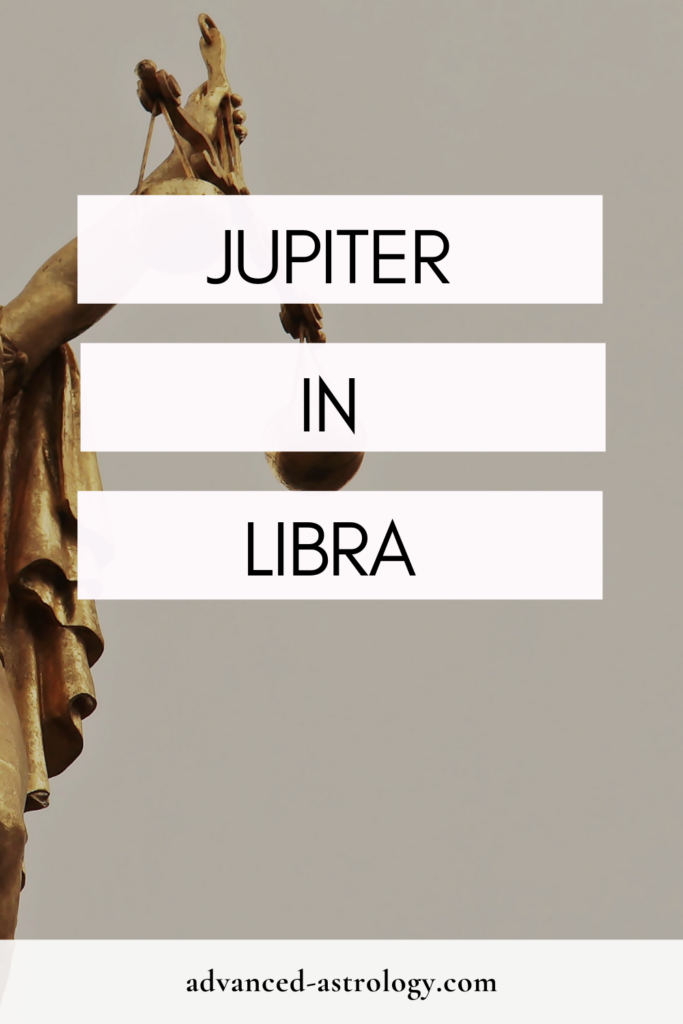 The house and aspects your Jupiter receives are just as important as its sign. Aspects alter how a planet expresses its energy. Make sure to look to Jupiter in the context of the rest of the birth chart.
Read more: Jupiter through the Houses
Jupiter in Libra Woman and Husband
Besides your philosophy and way of expanding your consciousness, Jupiter indicates the husband in a woman's horoscope. It describes the legal spouse, not the person you are dating or the type of partner you are prefer (which would be Mars for a woman).
Jupiter in Libra in a woman's natal chart suggests that the marriage has good chances of being balanced and harmonious, if Jupiter is well-aspected.
A Jupiter in Libra woman might get married to someone who is a lawyer, an artist, works in a creative field, someone who is very elegant, diplomatic, charming, social.
The Astrological Meaning of Jupiter
Jupiter's main association is growth. This planet represents the higher mind, the deus ex machina good fortune, the search for meaning, the bigger picture. Jupiter rules faith, spirituality, optimism, joviality, abundance, generosity, large amounts of money, luck, philosophy, higher education, broad vision.
The negative side of Jupiter is not knowing when to stop, overindulgence, laziness.
Jupiter transits each sign once in twelve years. It stays in the same zodiac sign for approximately 12 months. Jupiter transits are usually good periods of time. Because of its long orbital period, large groups of people have the same Jupiter sign, and it is not the most determining factor in the chart in terms of the personality of the chart owner.
This planet is the ruler of Sagittarius. Jupiter co-rules Pisces with Neptune, the modern ruler of this zodiac sign.
Where you see Jupiter in the natal chart is where you can expand and where you can attract the most good fortune.
The Zodiac Sign Libra
Air signs are associated with interpersonal relationships. Libra is the sign of one-on-one interactions. It is an air sign by element, a cardinal sign by modality, and a masculine or active sign by polarity. The element air is connected with intellectual and social matters. It is objective, detached, outgoing. Cardinal signs like to initiate things and go after new challenges.
Libra is the seventh zodiac sign. The seventh house of partnerships is the house linked with it in the natural chart. It is ruled by diurnal Venus, the planet of love and beauty.
Libra marks the beginning of autumn (in the northern hemisphere). The Sun enters this sign approximately on 23rd September, which aligns with the equinox, and it leaves Libra on the 23rd October, when Scorpio season begins.
Libra's most important connotations are relationships, partnerships, harmony, justice, balance, objectiveness.
Jupiter in Libra Celebrities
If you wonder which celebrities have their Jupiter in Libra, here's a short list:
Mother Theresa
Meghan, Duchess of Sussex
Wolfgang Amadeus Mozart
Freddie Mercury
Serena Williams
Jennifer Lopez
Beyonce Knowles
Naomi Campbell
Winston Churchill
Donald Trump
George W. Bush
Carl Jung
Liz Greene
---
If you liked this article, maybe you want to save our site for later. Make sure to share it with others who enjoy learning astrology!