In this article, you can learn what does it mean to have your Jupiter in Pisces in your birth chart. We are collectively experiencing this energy at the moment, as Jupiter is currently residing in Pisces.
Jupiter is the planet of luck and abundance—its sign shows how you can attract these things into your life. It represents the urge to grow. In the natal chart, Jupiter in Pisces is an excellent placement. Jupiter feels very good in this sign, one of the signs it rules.
Jupiter in Pisces indicates that you are intuitively aligned with the laws of the universe. You can know that you are on the right track when your heart is filled with love and compassion. You have a strong intuition, especially if Jupiter is accompanied by other water placements in the chart. You are cheerful, idealistic, sympathetic. This placement suggests that you are open and amiable.
One thing to keep in mind about Jupiter is its relatively slow movement compared to the inner planets. Its sign doesn't describe your personality, it rather provides guidance about your path in life. This gas giant stays in the same zodiac sign for about a year. People born in the same generation have their natal Jupiter in the same sign.
The last time Jupiter was in Pisces was between the 17th January, 2010 and the 9th September 2010. Jupiter in Pisces transit is currently happening at the time of this writing. Jupiter will stay in this sign until the 10th May 2022, with another time in Pisces following from the 28th October 2022, when Jupiter retrograde back in this sign, and leaves it on the 20th December of the same year. If you have your natal Jupiter in this sign, this year will probably memorable to you. Jupiter returns in the same sign every 12 years.
Keep reading to learn more about the meaning of Jupiter in Pisces in the natal chart!
Jupiter in Pisces Natal Meaning
Jupiter in Pisces is in the sign it rules (along with Neptune). In modern astrology, Pisces is ruled by the latter, but still, Jupiter is very comfortable in this sign and can express itself well. It is a harmonious, dreamy, fluid energy. Pisces is the sign of merging with the divine, and Jupiter, the planet of faith and optimism is at ease here, allowing you to easily connect with the wisdom of your higher self and the collective unconscious.
Jupiter in Pisces suggests a powerful imagination. You have an innate talent for attracting into your life whatever you desire. If you have this placement, you have many ideas. Your mind overflows with them, what might be overwhelming from time to time.
This placement implies that you daydream a lot. Jupiter in Pisces possesses enormous amounts of creative energy. However, to which extent are you able to realize your dreams is a different topic. Pisces is a weak-willed zodiac sign. Jupiter here is not particularly driven, so it relies on other planets to pursue its goals. You might be too passive, unless an ambitious Mars or some other placements in your chart make up for it.
Jupiter in Pisces is an empath. It is extremely receptive to the emotions and moods of others. This placement suggests that you are compassionate and want to help those in need. People with this Jupiter sign are often drawn to volunteering, social work, helping animals, any activity that allows you to contribute. Seeing all the suffering in the world breaks your heart.
This placement implies that you are extremely receptive to the ideas, emotions, vibrations of others. Depending on the rest of your chart, you might be easy to influence. It's important to filter what you want in your life. Too much negativity and hopelessness can easily bring you down, so it is wise to choose to do some activities that refresh your soul and recharge you with good vibes.
This placement suggests an interest in spirituality. You might be drawn to astrology, tarot, law of attraction, while some Jupiter in Pisces people take part in religious activities. When young, you might spend a lot of time searching for meaning.
Vivid dreams are common among people with their natal Jupiter in Pisces. This placement suggests that you need a lot of sleep. You can access your inner wisdom through meditation, what people with this placement are often drawn to. In general spending time in silence can be good.
As lovely as Piscean energy is, it would be a great mistake to forget about the shadow side. As an otherworldly, mystical sign, Pisces is hard to pin down. Its negative traits include lack of boundaries, trusting the wrong people, fraud, disappointments, illusion.
Because of its enhanced sensitivity, Pisces placements easily get absorbed in their fantasy world, and they might struggle with differentiating reality from imagination. The worst-case scenario is getting caught up in false ideas and fantasies.
If a person lives the negative manifestation of Jupiter in Pisces, they might show themselves someone else than who they really are. (Of course, this doesn't mean that everybody with Pisces placements is like that). Let's not forget that Pisces is the sign of deception too-Jupiter here can be the grandmaster of masquerade as well. Sometimes this comes out in a healthy way, for example, acting or art, but some caution is welcome. What you see is not always get with Pisces. Self-deception can also happen.
Pisces Jupiter Life Lessons
Jupiter shows how you can grow and expand in life. In the natal chart, Jupiter in Pisces suggests that you are here to be connected with the whole world. Your soul wants to be one with every creature on the planet.
If you have this Jupiter sign, it is essential to be in contact with your soul and learn to differentiate its call from the noise of the external world. If your intuition can speak up, it will take you to what you need. Embracing spirituality is important with this placement.
Using your creativity and imagination utilizes the energy of your Jupiter in Pisces. Any activity that allows your fantasy to flow freely is a great way to connect with your Jupiter. Using your imagination in a positive way is important to learn if you have this placement in your birth chart.
Jupiter in Pisces is an excellent placement for medicine, pharmacy, psychology, music and singing, acting, art, social work. People with this placement are often drawn to helping professions and creative jobs.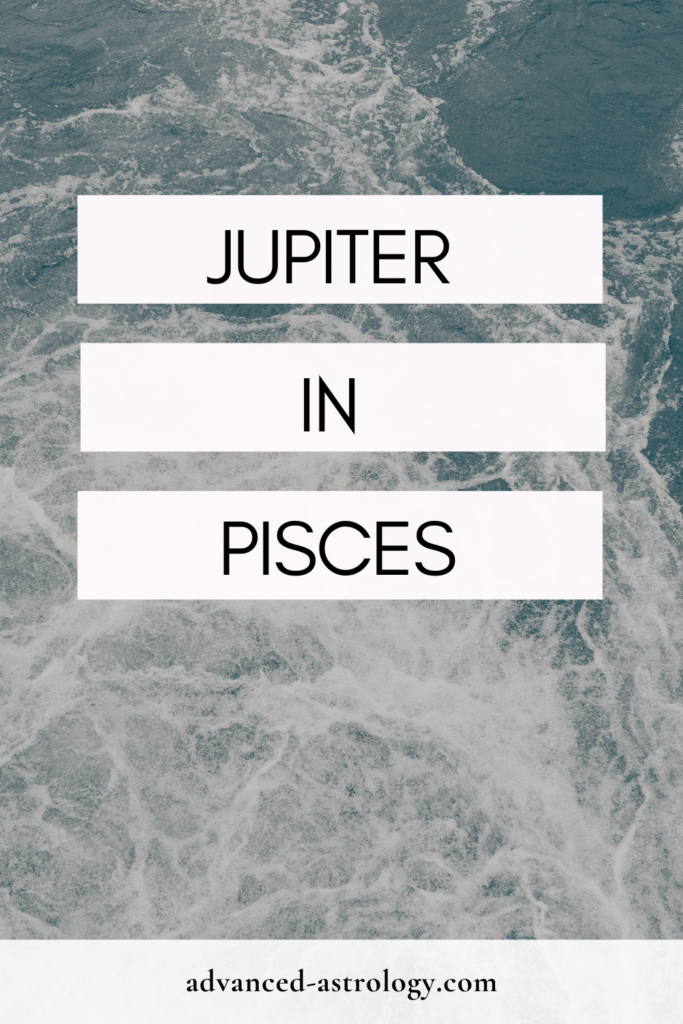 To completely understand your Jupiter, you must take all its characteristics into account (its dispositor, the house placement, and aspects). The house reveals the key life areas where your lucky stars are waiting for you.
Planets in contact with Jupiter tell how you can grow the most and invite luck into your life.
Jupiter in Pisces Woman and Husband
In women's birth chart, Jupiter can be used as a significator of the husband too. It is important to emphasize that it refers to the legal spouse, not lovers or the type of person you are attracted to.
This placement suggests that you want to connect with your spouse on a soul level. You want to be in a romantic, soulful relationship. You might get married to someone artistic, a healer, or your marriage can be a healing experience.
If the negative side of Pisces is more dominant, there is a possibility of deception in the marriage. The spouse can also be prone to addictions or escapism, someone who needs some form of help, or a person with impractical views and ideas.
Jupiter's Meaning in the Birth Chart
Jupiter is the largest planet, and in astrology, it expands whatever it touches. It rules many things we want to experience: abundance, serendipity, luck, financial prosperity, wisdom. Pay attention to where Jupiter is located in a chart—it unveils how you can tap into your luck. Jupiter is all about opportunities.
Jupiter is the ruler of Sagittarius and the co-ruler of Pisces (assigned to Neptune in modern astrology). Jupiter is exalted in Cancer, in fall in Capricorn, and in detriment in Gemini.
Jupiter is easy to spot in the night sky because of its brightness. This gas giant is the largest planet in the Solar System, and it is located between Mars and Saturn. Its orbital period is approximately 12 years. This makes it somewhat of a generational influence in astrology, as Jupiter changes signs only once a year (not counting retrograde periods).
In astrology, Jupiter governs faith, spirituality, the higher mind, higher education, law, foreign cultures, big money, wealth, abundance. Its expansive energy teaches us to rise beyond everyday worries and limited thinking and to have faith in life.
Pisces in Zodiac
Pisces is the final sign of the Zodiac. Part of it belongs to our reality, but it also has access to a different world, the world of imagination. It is the sign of completion, unity with the divine, unconditional love, selfless service. It is not tangible, flows through your fingers. As a water sign by element, Pisces is linked with the sphere of emotions, intuition, the unconscious. It is a magical but slippery sign.
Pisces is part of the mutable quadruplicity (Gemini, Virgo, Sagittarius, Pisces), which is linked with changes, endings, adaptability. It is a feminine sign by polarity. Its modern ruler is Neptune, and its traditional ruler is Jupiter.
Pisces is the twelfth sign, and it is found on the cusp of the twelfth house in the natural chart, which is the most mystical house, hard to grasp. Pisces belongs to two worlds. Its symbol resembles two fish swimming in the opposite direction but bound together.
In astrology, Pisces is sensitive, emotional, romantic, intuitive, creative, spiritual, mystical. This sign is connected with inspiration and divine guidance. The negative traits of Pisces are drifting without consciousness,
Pisces season starts approximately 18th February and lasts until 20th March, the March equinox.
Jupiter in Pisces Celebrities
Looking up how a placement works in a famous person's chart is a great way to learn more about it. Some Jupiter in Pisces celebrities:
Victoria Beckham
Jodie Foster
Quentin Tarantino
Lady Gaga
Emilia Clarke
Penelope Cruz
Shawn Mendes
Edith Piaf
Abraham Lincoln
Sigmund Freud
Edgar Allan Poe
---
If you liked this article, maybe you want to save our site for later. Share it with your friends who like astrology!