If you are about to experience a Jupiter return, you are in for lots of revelations and serendipity. This is a time when projects you've been working on come to fruition and new desires emerge in your heart about what to do next. It's a great time to find out in which direction you want to grow in the future.
During this time, life feels more expansive. You are likely to step out of your comfort zone. For many people, this is a joyful year, for others, there's a lot of work to do, but it is for sure a formative period in your life. It's the perfect time to plant the seeds you want to grow into something substantial over the next decade. It also encourages you to believe in yourself and grow as a person (sometimes through difficult experiences).
Jupiter returns happen every 12 years. This gas giant has an orbital period of 12 years (11.682 years, to be exact). This means that it finishes a full circle around the Sun in 12 years and it takes that amount of time for Jupiter to return to the place in the Zodiac where it was at the time of your birth. Because of the retrograde motion of Jupiter, you probably experience multiple exact hits. However, the whole time of transiting Jupiter in your natal Jupiter's sign tends to be a favorable time.
You probably already know what Jupiter stands for in astrology: expansion, abundance, wisdom, good luck, fortune, higher education, travel, teachers. Most astrologers and astrology lovers agree that it's the most positive planet out there. The aforementioned themes are the most likely to see a positive improvement in your life. But other themes can also come up, depending on the house, sign, aspects of your Jupiter. The house ruled by Jupiter (the house that begins in Sagittarius) can also be involved.
When Am I Having My Jupiter Return?
Jupiter returns are actually very easy to calculate. As mentioned above, it takes 12 years for Jupiter to make a full circle through the Zodiac. Jupiter returns happen when transiting Jupiter aligns with your natal Jupiter. However, it is not just about the exact date of the conjunction, all time counts when transiting Jupiter is in the same zodiac sign as your natal Jupiter.
This means that people experience their first Jupiter return around the age of 12. The next one comes 12 years later, approximately at the age of 24, when people are becoming real adults and their brain development is about to reach completion. The third Jupiter return occurs at 36 (it may indicate the beginning of a mid-life crisis), and so on. If you want to calculate it, here's a handy tool.
Jupiter Return Meaning
Now that you know how often Jupiter returns happen, it's time to find out what you can expect during this event.
This time is likely to be a window of time when making positive changes feels much easier and more straightforward. Common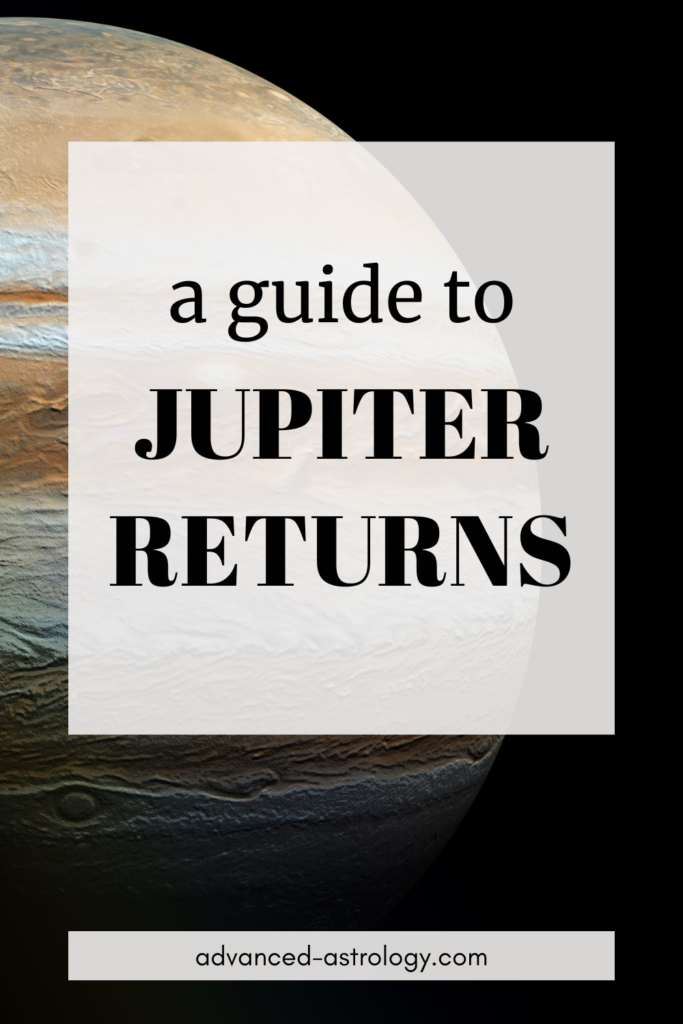 Jupiter return years align with 12th house protection years. The energy of the 12th house is difficult, so challenging experiences can also come up for some people. Finding yourself at crossroads is common. The condition of your natal 12th house is important when learning about how your Jupiter return plays out.
However, if you make an effort to overcome what life is throwing at you, it is likely to pay off. Unresolved issues from the previous Jupiter cycles often make a comeback. At the end of the day, 12 years is no small time. This is a transition between two long cycles, so it is definitely an intense time. The end of the previous period may stir some hard emotions, but you are able to learn from it and grow into a wiser version of yourself. At the end of the day, you need to trust the universe that it is all happening in your favor (this may not be easy). Jupiter is the planet of faith, so it may be tested under this influence.
During this time, taking a look at your life and seeing what works and what doesn't is a good idea. You are able to think clearly and attract good ideas about how to make your life fuller. If you want to let go of something, it is a good time for that. A Jupiter return is also perfect for coming to terms with issues in the past and moving on.
The house of your Jupiter is essential when talking about Jupiter returns, because
Jupiter is transiting through this house, so you get to experience its default transit blessings
You have Jupiterian energy here natally, so the boost is more intense
Jupiter Return through the Houses
Here's a short overview what you can expect during a Jupiter return, depending on the house. You may want to read the description for the house that has its cusp in Sagittarius too (and eventually in Pisces), since it's ruled by Jupiter and your Jupiter return may be linked to the matters of that house as well. You can read about natal Jupiter in the houses here, natal Jupiter in the signs here.
You may want to take a look both at the whole sign and the Placidus house of Jupiter if they differ.
Jupiter Return in 1st House
How you see yourself is changing. You develop a stronger sense of self and learn what works for you and what doesn't. You have a clearer vision of who you want to be in the future. It's a great period for new beginnings, you have a lot of energy to take initiative and commit to long-term goals. Jupiter in the 1st house may indicate weight gain.
Jupiter Return in 2nd House
If you have your Jupiter return in your 2nd house, your finances are likely to change for the better. You have an abundance mindset. However, you may spend more than you did before.
Jupiter Return in 3rd House
Here, connecting to others is a key theme. You usually become more outgoing, socialize more, crave the company of others. It can also manifest as learning more than you usually do. Your mind is particularly receptive to new information. This is usually a really busy period in your life. Be open to new possibilities.
Jupiter Return in 4th House
Jupiterian energy in the 4th house suggests that your family life is likely to improve. Maybe you spend more time with your loved ones, your relationships with them become better or you are able to resolve some conflicts from the past. Jupiter here can also indicate moving to a place you love more or an improvement in your living condition. Moving abroad can also occur if the 9th house is also involved.
Jupiter Return in 5th House
This is a creative, fun period. You are excited to be alive. Jupiter here can work out in many ways, maybe in the form of a new romance, discovering new hobbies, but it can also indicate children coming into your life.
Jupiter Return in 6th House
This a perfect time for all work-related matters. Finding a new job should be easier. You are likely to see improvement in your professional relationships, especially with your coworkers. Health matters may have a front row seat.
Jupiter Return in 7th House
If you have this transit, it can indicate new relationships or taking an existing relationship to the next level. It can also suggest an improvement in your public image or professional success if you work in a consulting profession.
Jupiter Return in 8th House
This transit can turn out in many ways. It can help you regenerate, gain almost-psychic insights, support your relationships (mostly where joint resources are included). Legal matters may also be actual in your life.
Jupiter Return in 9th House
This can be a time of frequent foreign travel, new experiences that leave you more open-minded and acquiring wisdom. It's also perfect for higher education, meeting teachers or mentors who expand your mind.
Jupiter Return in 10th House
Changes related to your career and professional life are in store. You may gain recognition, improve your public image. Sometimes this transit indicates changing jobs or careers. You are asked to put yourself out there during this period and gain some form of visibility.
Jupiter Return in 11th House
If you have your Jupiter return in your 11th house, it indicates that you are socially more active than usual. You may meet many new people, join new groups, form new friendships. This is a very favorable transit. Jupiter here definitely is a helpful influence for turning your hopes and wishes into reality.
Jupiter Return in 12th House
The 12th house is a difficult house, but with the beneficial presence of Jupiter here, you are able to make great discoveries about yourself and overcome blockages. This may be a time when you spend more time in solitude, but it leads to deep insights, letting go of unconscious blockages, healing yourself. Any time spent on self-reflection will pay dividends. You can read more about Jupiter transiting in the 12th house here.
---
If you liked this article, maybe you want to save our site for later. Share it with others who enjoy reading about astrology!