In this article, you can learn about the meaning of Black Moon Lilith in the ninth house. This placement suggests that various philosophies had a profound effect on your life.
Lilith in 9th house wants to find her own personal belief system. She struggles with external expectations of spirituality and she refuses to have blind faith in something. People with this placement want to explore the world on their own, but once they have formed an opinion, they don't like changing it.
Lilith is a point of shame, trauma, pain, refusal in the natal chart. It is not easy to face it and integrate it properly. Black Moon Lilith is a hidden side of you, parts of your personality and desires that are suppressed. Lilith cannot come to expression freely, and has to find alternative ways which are often destructive.
Keep reading to learn more about the meaning of Lilith in 9th house!
Black Moon Lilith in 9th House
What does Black Moon Lilith in 9th house mean?
The 9th house is one of the more positive houses in the birth chart, being a fire house and the natural house of Sagittarius and Jupiter. However, it is also the house of expansion, and Lilith here can make a more profound impact.
As you grow older, you often realize that you have a completely different value system than what you were taught as a child. Your teachers (and authority figures) could be either very inspiring or you found them repulsive and felt restricted by them. Sometimes this placement indicates power struggles with your teachers.
Faith, religion, and personal philosophy are the most probable areas that Lilith affects when placed in this house. It is hard for you to change your views, even when they don't serve you at all.
Lilith in 9th house suggests that there is a period when you question everything and rebel against the norms. But once you find your own life philosophy, your views are very hard to change.
Your relationship with religion is often colored with disillusion, betrayal, strife. In some cases, this placement can suggest that you were forced to follow a religion, what was very painful for you. Faith and church are often the same thing in your eyes, and you can refuse both. Lilith in 9th house can indicate changing religions, or completely abandoning them. People with this placement may have lost their faith in life in general, and at some point they are likely to be atheists. Pilgrimages might be n important turning point in your life.
Lilith in 9th house can suggest troubles with education, even though Lilith here loves learning and is in general curious. Issues are the most expressed during higher education. Some people with this placement drop out in college (if there are other indicators in the chart too), others struggle with finishing their studies and do so with delay. This position of Lilith suggests that you learn the best on your own.
People with this placement can refuse structures and rules imposed on them. They want to maintain their independence, but they often don't manage to do this in a way that can be aligned with the rules of society. Lilith is extremely self-willed. Issues with authority figures are frequent.
The positive manifestation of Lilith in 9th house is being a unique thinker and reforming society, talking about taboo topics, an interest in topics rarely discussed.
This position can suggest that you don't see the opinions of other people as valid. Hard ninth house placement can indicate self-righteousness, dogmatic beliefs. Black Moon Lilith in 9th house can try to convince others to see the world in the way the Lilith person does.
If Lilith is close to the Midheaven, it can indicate problems with your reputation.
The ninth house is the house of foreign travel as well. Your trips abroad can change how you perceive the world. Black Moon Lilith in 9th house can indicate encountering people of foreign origin who strongly embody the themes of Lilith.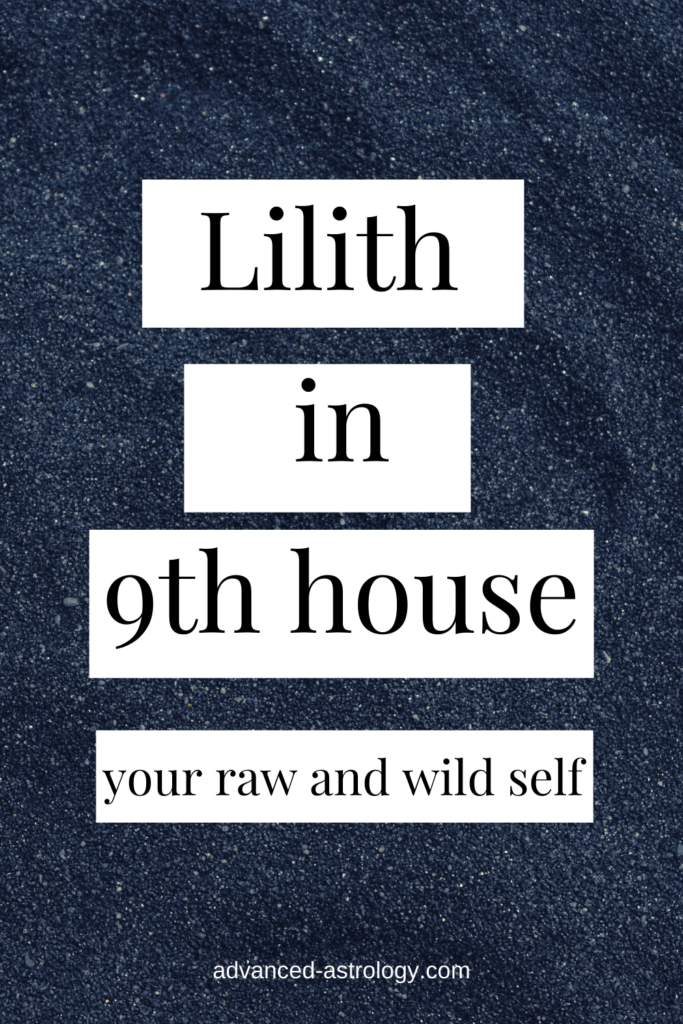 The sign and aspects of Lilith modify how this placement expresses itself. Finally, it is important to mention that in the natal chart, every detail should be paid attention to and you have to read everything in context.
Black Moon Lilith in Astrology
Lilith is a relatively new part of astrology. Because of this, its effect is no known fully yet. It is mostly associated with rejection, rebellion, integrity, shame, trauma, power. It is a very wild, hard to control, raw energy. Lilith is associated with sexuality too, especially the sexuality of women.
Lilith is not equally important in every birth chart. If it is conjunct an important point or planet, or forms other significant aspect to them, it becomes more influential.
There are more Liliths in astrology. One of them is the asteroid Lilith 1181, which is the only existing celestial body. There is another Lilith called Black Moon Lilith, which is the most often used in chart reading. This point can be calculated based on the Moon's apogee, or as the other focal point of the Moon's orbit. (The Moon's orbit is of elliptical shape, which means that it has two focal points. In the first is the Earth, and the second one is considered Black Moon Lilith). Dark Moon Lilith is based on a fictional planet.
The mythological background of Lilith is part of the Jewish folklore. She was the first wife of Adam,but she was not willing to submit to him, and she was punished bu having to leave the Garden of Eden.
Lilith is associated with the untapped, dark feminine that cannot express herself under the pressure of patriarchy. This is the selfish, aggressive side of a woman that prioritizes her own well-being, her own desires, and refuses to cater to patriarchy and consider herself less worthy. The energy of Lilith can be hard to tame because it is rebellious, independent by nature. However, if you learn how to make the most out of this energy, you can tap into your own power. Lilith requires you to make friends with your shadow side.
Black Moon Lilith stays in the same sign for approximately 9 months, making a full circle through the Zodiac in 9 years.
Meaning of the Ninth House in the Birth Chart
The ninth house is the house connected with Sagittarius in the natural chart. It is the house of expansion, discovery, the house of the higher mind. The ninth house governs life areas that broaden your perspective and help you connect with the higher self.
The ninth house is a cadent house, which means that it primarily manifests on a mental plane. Planets here are considered less powerful and potent, but in general the ninth house is a positive house.
Some of the life areas governed by it include higher education and universities, religion, long-distance travel, foreign travel and foreign cultures. The most important life area of the ninth house is the quest for understanding and growth. All matters of it serve the purpose of seeing the big picture.
---
If you found this article helpful, maybe you want to save it for later. Make sure to share it with others who enjoy learning astrology!