Lilith in Aries is colored by the fiery, belligerent energy of this Martian zodiac sign. If you have this placement, you are fierce,competitive, driven, passionate, assertive. You are aggressive and dominant. This placement suggests that you are very capable. You love to win. Lilith in this sign is a go-getter.
You have strong sexual energy. In general, sex is important to you. Seduction can be a way to boost your self-confidence. Seduction equals victory. Lilith here can see sex as a competition. She can be selfish in bed, prioritizing her own pleasure and not caring about her partner.
Lilith in Aries is very impulsive. In astrology, Lilith represents a rebellious, independent energy. When in Aries, the issues of control become more emphasized. You hate to be told what to do. Lilith here can indicate problems with controlling anger and expressing it in a healthy way. The negative aspect of this placement is making trouble when there is absolutely no need for it. Rebellion can be a form of self-sabotage.
In the natal chart, Black Moon Lilith is often a painful point covered with shame and trauma. Dealing with it can be quite challenging, as its nature is subtle and refined. Lilith's home is the domain of the unconscious. You often don't understand on a conscious level why things happen the way they do related to the life areas of Lilith's house in the natal chart.
Keep reading to learn more about the meaning of Lilith in Aries!
What does Lilith in Aries mean?
Black Moon Lilith in Aries is under the influence of Mars, the planet of war. This Lilith sign can be a true blessing if you learn how to manage it.
People with this placement are very masculine, regardless of gender. Women with an Aries Lilith have plenty of yang energy too. At the same time, this counts as a femme fatale placement in astrology. People with this position tend to be quite charismatic, especially if Lilith is located close to the ascendant.
Lilith in Aries suggests that you are strong, ambitious, and you strive to be independent at an early age. You have a high self-esteem. Lilith here is self-confident, what makes her particularly attractive.
Black Moon Lilith in Aries is extremely competitive and has a strong drive to win. You are aggressive about your goals. You are determined to make things happen. Don't cross the boundaries of a Lilith in Aries, or you are done for.
People with this placement can be quite vindictive. They easily get angry, and when they see red, they are very impulsive.
Lilith in Aries is governed by instincts and passion. It has very strong urges. There is a LOT of energy in you. This energy needs an outlet. If you don't have a constructive one, Lilith here can become quite destructive.
One of the core themes of Lilith is independence. In a relationship (and in general), you are not willing to give up your own dreams and plans for your someone else. You need a lot of freedom. You hate it when you have to make compromises and don't tolerate people who try to drag you down. If you feel trapped, you have a strong urge to protect yourself and get out.
This placement can be an indicator of anger issues. Lilith here often feels unconscious rage and frustration. Because of Lilith's destructive nature, you sometimes struggle with finding a healthy outlet for these emotions. Lilith in Aries can manifest as recklessness, arrogance, aggression, confrontational behavior. In the worst case scenario, this placement can suggest a violent nature.
This placement can be a sign of your parents disapproving of showing anger at an early age. Perhaps you learned that you cannot stand up for yourself, and you struggle with doing so in a healthy way as an adult. The traits of Aries can be hard for you to integrate well.
Depending on the rest of the birth chart, Black Moon Lilith in Aries can cause challenges in your relationships, because you can perceive your partner as an opponent you have to conquer instead of being a team. There can be a tendency to talk others into serving you. Lilith in Aries can be very selfish.
People with this placement sometimes have root chakra problems. An unhealthy relationship to the physical world and the matters of survival is common with this placement. .They can be overly attached to the material world, or alternatively, they can feel anxious about it. Lilith here is extremely motivated to be an overachiever.
Learning to contain yourself is one of the most important lessons of Lilith in Aries. People with this placement also have to learn not to let their ego carry them away.
Physical exercise can be a good way to integrate Black Moon Lilith in Aries.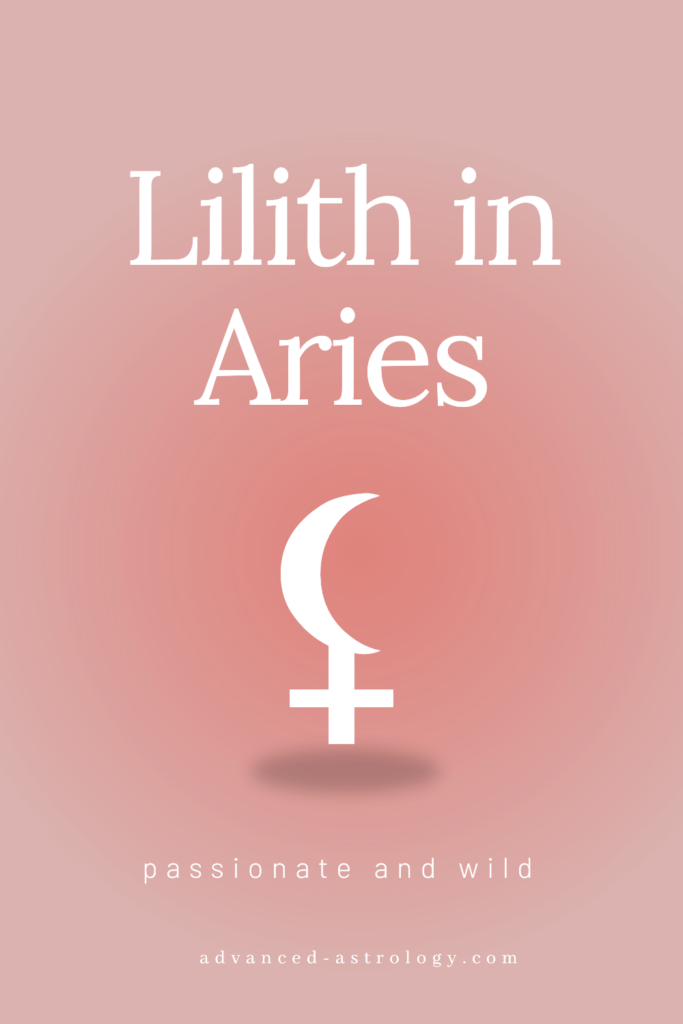 The house of your Black Moon Lilith tells which life areas this point impacts.
Meaning of Lilith
There are more Liliths in astrology, but this article focuses on Black Moon Lilith (not the asteroid). This point carries less weight than the planets, and it is not equally important in everyone's chart. However, in some cases, Lilith can shed light on some issues that would go unnoticed otherwise.
Black Moon Lilith is not a celestial body that exists in reality. It is a mathematical point. BML can be calculated two different ways: it can represent the second focal point of the Moon's orbit (which is of elliptical shape and has two focal points, in the first one is the Earth). The second way to calculate Black Moon Lilith is using the lunar apogee, which is the point where the Moon's orbit is the furthest away from our planet.
In the birth chart, Black Moon Lilith is a point of challenges. You have to face your shadow self here, what is needless to say, not easy.
To understand better what Lilith is all about, you have to know its mythological background. She is a female demonic figure. The origins of Lilith's story stems from Jewish folklore, and its name means night monster.
Lilith was brought into existence as the first women, and she was supposed to be the first wife of Adam. However, when Adam wanted to have sex with her in a domineering way, Lilith refused to submit to him, and choose herself even at the expense of having to leave the Garden of Eden. God punished Lilith for her 'rebellion' by exiling her. Later, Lilith lived in a desert with demons.
Lilith is associated with the free feminine self, repressed by patriarchy. Lilith about independence, integrity, standing up for yourself and your rights, and it is linked with female sexuality as well. However, there is a negative side to Lilith too. It can manifest in destructive, self-sabotaging, chaotic, manipulative ways. It is also associated with secrets, the occult, shame, trauma, the subconscious. Lilith is in some way similar to Pluto.
Lilith makes a full circle through the Zodiac in 8 years and 10 months. This means that it stays in the same zodiac sign for approximately 9 months.
The symbol of Lilith consists of a crescent on a cross, looking like this: ⚸.
Aries in Astrology
The Ram is the first zodiac sign. It is pioneering, courageous, super competitive. The Sun transits Aries between the 20th of March and 21st April (approximately). Aries season starts with the March equinox. This part of the year corresponds to spring and new beginnings.
As a cardinal sign, the Ram is all about taking action and initiating things. By element, Aries is a fire sign. Aries is a masculine sign by polarity,
Aries is ruled by Mars. The Sun is exalted here, Saturn is in fall, and Venus in detriment. In the natural chart, Aries is associated with the first house (but in a chart, any house can begin in Aries).
An emphasis on Aries in the natal chart suggests a person who is driven, a born leader, has a lot of energy, but who is impatient and can be impulsive.
---
If you found this article helpful, maybe you want to save it for later. Make sure to share it with others who enjoy astrology!