In this article, you can learn about the meaning of Lilith in Libra. This is one of the more challenging Lilith signs in the natal chart. Libra is the sign of balance and harmony, while Lilith is about the lack of harmony. Needless to say, there is some conflict between them.
Black Moon Lilith in Libra suggests that you are fascinated by relationships, but for some reason, you are often unsuccessful in this life area. Things start out well, but they come to an end before time. In other cases, you fall in love with people who are for some reason unavailable.
Lilith in Libra suggests a heart-shaped hole in your soul. You are hungry for love, but you can't get enough of it, no matter how much someone loves you. There is a tendency to see your shadow side mirrored back by others. You don't trust easily and it is hard to maintain harmony in the long run with this placement. You pay a lot of attention to what others want from you, even define yourself as the function of your relationships.
Lilith is raw, wild, independent, rebellious. In the natal chart, it shows what was repressed into the unconscious. It is the dark side of the Moon that can't come freely to expression. Black Moon Lilith influences the birth chart in various ways. Some people completely reject the traits of its sign, while in other cases, Lilith is overcompensated. It can have a quite destructive effect. Lilith can bring the worst out of a sign, but if you manage to integrate it, it helps you find your own power.
Keep reading to learn more about Black Moon Lilith in Libra!
Black Moon Lilith in Libra
What does it mean if you have your Lilith in Libra in the natal chart?
This placement suggests deep-seated insecurities related your self-worth. You are a person who cares a lot about what others think. Lilith in Libra is driven by the desire to appeal to others—you are very sensitive to the influence of your environment. Make sure to choose your friends carefully with your natal Black Moon Lilith in Libra. Your significant others should also be a beneficial influence in your life, because their opinion matters a lot to you. Bad company can be detrimental for people with this placement.
Lilith in Libra suggests that as a child, you witnessed many arguments in your family. In some cases, Lilith here indicates that the parents were divorced or on bad terms. Conflicts were frequent and there was little peace. As an adult, you probably dislike conflicts. If there is a lot of drama in your relationship, you want to get out of it.
People with their Black Moon Lilith in Libra want to be close to someone, but they are afraid of it too. Unconsciously they often sabotage their relationships. There can be a tendency to project your own insecurities onto others. Lilith here can indicate that you settle down only later in life. It is not easy for yo to make a final decision and commit to someone.
People with this placement are usually very seductive. They possess strong sexual energy, and the other sex (or the sex they prefer) finds them attractive. Lilith in Libra finds power in being desired. This placement suggests that you pay attention to your physical appearance.
This placement suggests that you like to consider every option. There can be a fear of committing to one thing only, letting all the other options go. You are interested in many things. Lilith here wants to observe things from multiple perspectives. Because of this, people with their Black Moon Lilith in Libra are very good at negotiation. Others like to talk to you.
People with their natal Black Moon Lilith in Libra tend to look for satisfaction in places that are not good for them in the long run, such as overeating. This placement indicates a wound related to being unlovable. You crave to be accepted and appreciated for who you are, and learning to give the love you want yourself first is one of the most important lessons of this Lilith placement.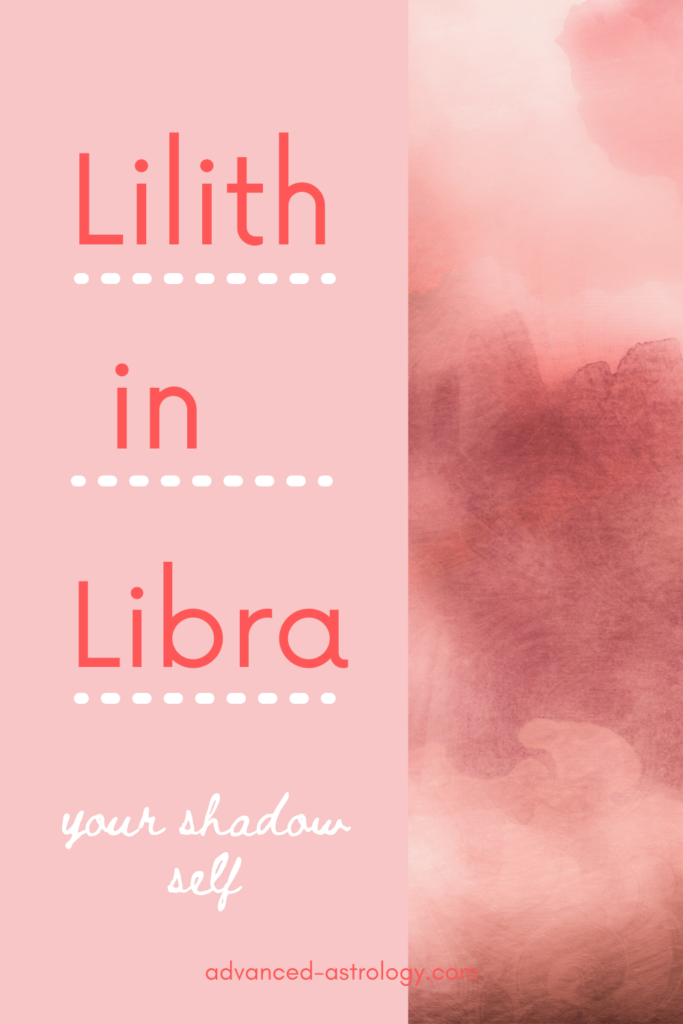 The house of your Lilith is also significant. It reveals in which life area you face more challenges than the average person.
Meaning of Black Moon Lilith
What does Lilith represent in astrology?
As a relatively new term in astrology, Lilith's importance is not fully known yet, but it is linked with the dark feminine, the strive for independence, rebellion, chaos, strife.
The word Lilith means night, and Lilith was a female demon. In Jewish folklore, she was the first woman (created before Eve), and she was the wife of Adam, but also his equal partner. Lilith valued her independence and equal rights, and when Adam wanted to dominate (especially sexually), she didn't submit to him. However, god punished her by making her leave the Garden of Eden. According to mythology, she later went to a desert where she lived with demons, becoming a demonic figure herself too.
In the birth chart (and in astrology in general), Lilith represents a part of you suppressed into the unconscious. It is associated with trauma, pain, shame, rejection, things taken forcefully from you. Lilith is usually a quite challenging point in the horoscope.
Libra in Astrology
Libra is Latin for the Scales. It is the seventh sign of the Zodiac. In the natural chart, it is connected with the seventh house of partnerships (but in your own chart, any house can begin in Libra, depending on your ascendant). The Sun transits this sign from approximately the 24th September to 23rd October.
Libra is the cardinal air sign of the Zodiac. Air signs are people-oriented, intellectual, objective. As a cardinal sign, Libra likes to take initiative. It is a masculine sign by polarity.
Libra is ruled by diurnal Venus, the planet of love and beauty. Its core theme is finding balance. Libra wants to exist in harmony. As an air sign, it observes everything through a veil of emotional detached objection. It lets the intellect rule and judge, without emotions blurring the picture.
---
If you found this article helpful, maybe you want to save it for later. Make sure to share it with others who enjoy learning astrology!