Venus and Mars are two highly significant planets in synastry. What does it mean if you have a Mars conjunct Venus synastry aspect with someone?
Aspects between these planets indicate an immediate mutual attraction. It is more physical than emotional or intellectual. Venus-Mars aspects in synastry indicate that you have an invigorating effect on each other.
When it comes to attraction indicators in astrology, some aspects are more powerful than others. Venus-Mars connections are among the strongest magnetism indicators in synastry. Aspects between them suggest that you find each other irresistible and exciting. This is a naturally passionate relationship with very high highs. Venus-Mars aspects are sizzling (even the hard ones, but they come with more friction in other areas).
Depending on the type of the relationship, Mars conjunct Venus synastry aspect indicates intense sexual attraction. There's a lot of chemistry (and it doesn't fade over time). This is a perfect aspect for lovers. In other types of connections (trine, opposition), you still find each other magnetic and exciting. When you are together, time flies.
Before diving into the meaning of the Mars conjunct Venus synastry aspect, it's important not to forget about the chart as a whole: one aspect doesn't determine the quality of the relationship nor is a guarantee for anything. A single conjunction doesn't tell much about how well you get along in the long run or if there are destructive issues in the relationship: it just refers to the primal attraction between two people.
This aspect is similar to the Venus trine and sextile Mars synastry aspects. How they work exactly depends on the sign, house placement and the aspects to the conjunction, both in your own charts and in synastry.
Mars Conjunct Venus Synastry Meaning
In astrology, synastry reveals the dynamics of a relationship between two people. By comparing the two birth charts, you can see how you perceive each other and how the other person's energy interacts with yours. Both Venus and Mars are significant planets in synastry, they should not be ignored.
With a conjunction between them, you find each other different enough to be excited and inspired yet similar enough to be comfortable with being yourself in the company of the other person.
In a romantic context, you often see each other as the perfect partner. For women, Mars shows what traits they want in a partner, for men, this is represented by Venus. With the Mars conjunct Venus synastry aspect involved, you recognize a lot of your dream partner's qualities in the other person.
This aspect is one of the telltales of very strong attraction, something like love at first sight. It's usually the Mars person who takes the more active role in the beginning. The Venus person catches the eye of the Mars person and they want to be around them. They may be the one initiating contact or pursuing the Venus person (not just in a romantic relationship, this behavior is typical for friendships and other types of connections as well). Very often, the Mars person keeps being the pursuer in the relationship: they text the Venus person more often first, come up with ideas about what to do together next, etc. This is not to say that the Venus person never initiates, but in general, the Mars person takes the lead. The Venus person usually plays a more subtle role in the relationship.
In a non-sexual relationship, Mars conjunct Venus in synastry suggests that you find the other person charismatic and attractive. Being around the other person makes you feel good about yourself (this is especially true for the Venus person). If you have this aspect with someone, you see them as interesting and fun. Life is just more exciting when you are together. You are never bored. The other person makes you feel attractive and hot. You are more energized in each other's company. The fuel Mars provides can be good for achieving common goals. You are instinctively in sync with each other and you achieve goals with ease when working together as a team. Venus conjunct Mars in synastry suggests that you are supportive of each other and conflict resolution is easy in this relationship.
The Mars person energizes the Venus person. The Venus person, on the other hand, inspires the Mars person to enjoy life more. The Mars person often finds the Venus person very sensual. Mars conjunct Venus synastry suggests good sexual compatibility.
Mars Conjunct Venus Synastry and Marriage
Many people wonder if the Venus conjunct Mars synastry aspect is a good sign for marriage. The answer is not black or white – it really depends. While this aspect is great and enjoyable, it's not among the key aspects for long-term compatibility. It's more like the cherry on top. What matters more is having good Moon and Venus compatibility and a good house overlay. These synastry aspects and placements are more helpful in the long run. If you want to read more about the best aspects for marriage, click here.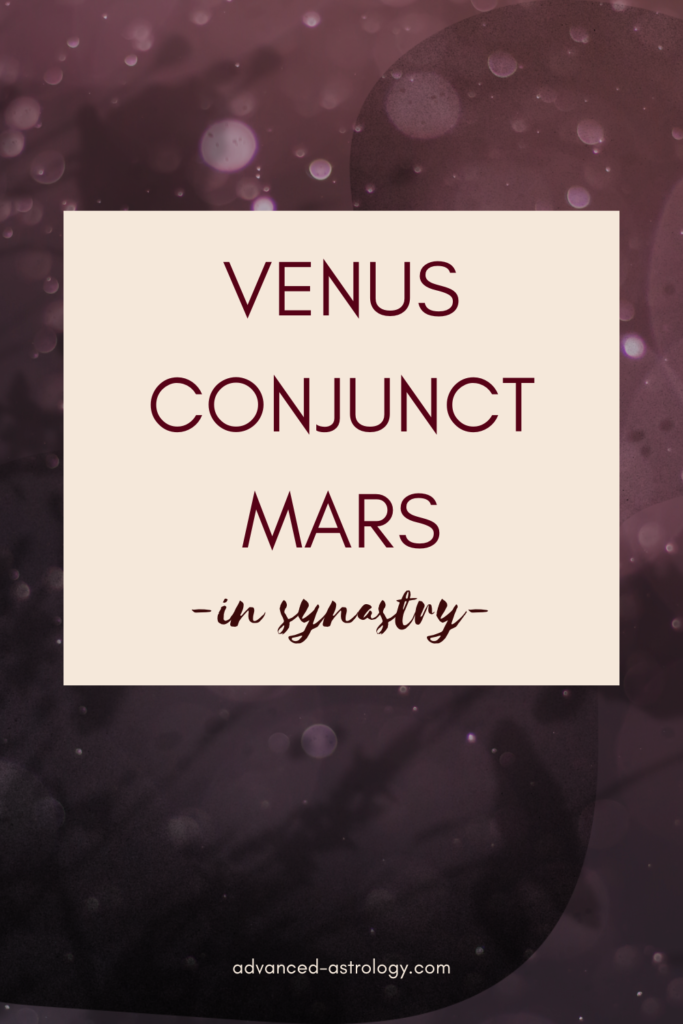 Venus in Astrology
Venus is the planet of attraction, love, all things pleasant and delightful. This planet is closely related to socializing and relationships. No wonder it takes up such a central role in synastry! Venus reveals what you seek in relationships and how you express affection (and want to be loved in return). Venus shows what you attract effortlessly. It is something that comes naturally to you.
In a birth chart, Venus tells what you like and what you find attractive. Besides relationships and taste, Venus is also linked to self-worth and financial matters.
Venus is the ruling planet of Taurus and Libra.
Mars in Astrology
In astrology, Mars is another essential planet. It is a planet full of energy and ambition, can be hot-headed and dangerous when unleashed yet it is essential for achieving your goals. Mars shows what you want and go after.
In the birth chart, a strong Mars indicates a determined, charismatic person who is brave, enthusiastic and has good leadership skills.
The Red Planet is one of the personal planets in astrology. Mars is the ruling planet of Aries and the co-ruler of Scorpio (it used to rule this zodiac sign before the discovery of Pluto).
---
If you liked this article, maybe you want to save our site for later. Share it with others who enjoy reading about astrology!