Do you know those people who, despite being charismatic and attractive, for some reason don't know how to maintain a relationship? Or they maybe even have trouble starting a relationship? The Mars conjunct Venus natal aspect can have this effect. The square works in a similar way as well.
Mars and Venus are two key planets in the birth chart. But when they form a hard aspect to each other (conjunction, square, opposition), it is not easy to deal with their merged energy. These planets work in completely different ways. Their essence is the opposite of each other. Venus is the archetype of the female and Mars is the archetype of the male. Here, the feminine and masculine energy of a person are in clash with each other.
It can't be denied that Venus and Mars are attracted to each other, but when they are in such a close contact as in the case of the conjunction in the natal chart, challenges are guaranteed. You are impatient and desiring, and you are confronted in the world all the time. Hard Venus-Mars aspect can be quite frustrating. These issues can stem from your childhood, as many people with these aspects come from a dysfunctional family.
Mars conjunct Venus can indicate struggles with giving and receiving love, finding the right partner, healthy boundaries, etc. Your emotions are intense and profound, and so are your urges. People with hard Venus-Mars aspects in the natal chart tend to be impulsive and lack tact in their relationships. This life area often becomes a focus only later in life.
Keep reading to learn more about the Venus square Mars and Venus conjunct Mars natal aspect in astrology!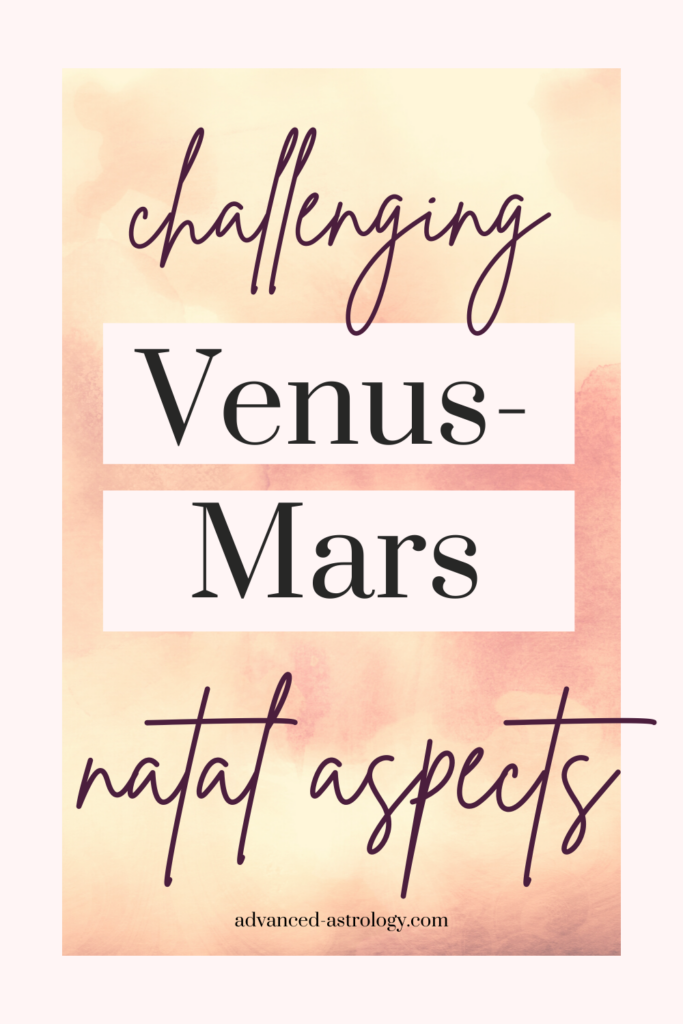 Mars Conjunct Venus Natal
Mars conjunct Venus natal is a tricky aspect. It usually takes a lot of time to learn to deal with it and utilize it constructively. It affects your ability to form meaningful relationships in the first place. People with this placement are usually quite attractive, flirtatious, magnetic. You connect with others easily and your sexual drive is pretty high. However, long-term relationships can be colored with ego clashes and a lack of compromise. Arguments are frequent.
People with their Venus conjunct Mars in the natal chart are quite driven. This conjunction indicates charisma, courage, strong will. It is not rare that people with this placement excel at their career, hobbies, other life areas. But when it comes to love, especially romantic love, they can feel blocked.
Mars is the planet of energy, drive, desires, while Venus is the planet of sweetness, love, unions. When these two energies merge, they must learn to function together. Here, the feminine and masculine energy in you become one. In situations when only one of them is supposed to be active, they both want to express themselves. As it often happens with hard aspects, both Venus and Mars tend to function at their lower octave.
Venus conjunct Mars suggests a passive aggressive attitude. Venus doesn't let Mars be assertive, while the impatience of Mars won't allow Venus to attract with sweetness. Mars wants action and Venus is passive. There is a huge inner tension when this aspect is present in the birth chart.
People with this placement tend to struggle in their relationships. Their best relationships come later in life. When young, they are impulsive and don't pay attention to the needs of their partner (or the needs of other people in general). The energy of Mars is selfish and domineering. Venus maybe wants to resist this aggression, but Mars is so assertive and conquering that this is almost impossible. The cooperate nature of Venus is repressed.
In the natal chart, Venus governs relationships with others, and it is likely that one of the partners hurts the other one with their self-centered behavior. Venus conjunct Mars in the natal chart can indicate entitlement issues. You can feel that you must get what you want (immediately if possible), and you freak out if this doesn't happen.
The house where the Venus conjunct Mars natal aspect occurs tells in which life area it manifests. You spend a lot of energy here (Mars), and you value success here a lot (Venus). The sign of the conjunction is important as well.
Mars Square Venus Natal
The square between Mars and Venus is a challenging aspect as well. Knowing that the square is all about frustration, irritation, tension, this is not surprise.
People with the Mars square Venus natal aspect possess the charisma of the conjunction too. But this comes to expression usually later in life. There are some issues to work through first.
Mars square Venus suggests that you tend to be unsuccessful at relationships when young. Your social skills are often weak, and you don't know how to approach others in a way so that they reciprocate your interest.
With hard Venus-Mars aspects in the birth chart, is hard to find balance between giving and taking. Your heart is in war. People with this aspect can love an hate at the same time. Venus square Mars can be challenging to handle.
You love to pursue your object of desire. This is an active energy flow in the birth chart, you prefer to take action and get what you want. You are passionate and even aggressive. One of the greatest lessons of Venus square Mars (and hard Venus-Mars aspects in general) is patience.
Peace is one a precipice. You tend to act in a harsh way that bothers you partner. People with their Venus square Mars in the natal chart have to learn to be more cooperative and receptive to the feelings and needs of others. Your will and emotions are in conflict with each other. It is hard to make them work together.
But don't worry, this doesn't mean that your love life is doomed. Quite the opposite. People who have the Venus square Mars natal aspect later turn out to be irresistible to the other sex. If you are willing to make conscious effort, you can sublime this aspect into a drive to be successful, achieve the things you want for yourself, and gain social status.
A natal Venus-Mars square can suggest talent for art and music. With this aspect, there is a huge tension, and creativity and harmony can help you let go of stress. Venusian things mean a lot to you, and you put quite a lot of energy into pursuing them.
Venus square Mars requires you to work on your emotional intelligence as well. The condition of the Moon in your birth chart is an important factor here. A well-aspected Moon can make this process easier, while with an afflicted Moon, there are internal struggles accompanying the Venus-Mars square too. Overcoming this is no small task, but that is the purpose of the square-to push you out of your comfort zone, towards growth.
The most important lesson of this aspect is to recognize that the conflict in the external world (your relationship) is a reflection of the conflict inside you.
If you learn how your feminine and masculine side can live in peace with each other, you experience that your relationships start to function better as well. Your directness can help your partner understand your needs and boundaries, and encourage them to express what they want from you as well. Your ideal partner is open and direct.
Venus Opposite Mars Natal
Venus opposite Mars in the natal chart is somewhat similar to the square, but the frustration is not always present in the same amount. Sometimes you find the energy of Venus easier to focus on, while in other periods you go with Mars.
Venus opposite Mars in the natal chart suggests that your masculine and feminine side are at odds. In a similar way as in the case of the square, you don't know when to pursue and when to let others take the lead. You need balance, which you achieve by gaining experience. When young, this opposition can suggest issues with relationships in your peer group or of romantic nature. You can feel blocked from expressing your desires. You are impatient and frustrated when things work out immediately.
Venus opposite Mars indicates that your urge to accomplish your goals clashes with your need to be in a relationship. In the beginning, you enjoy pursuing the person you are interested in, but as time goes by, issues are likely to come to the surface. Emotional turmoils are frequent. Your relationships are characterized by push and pull dynamics. Love ad sex don't always go hand in hand.
One of the ways to soothe the Venus opposite Mars natal aspect is unleashing your creativity.
Meaning of Mars in Astrology
Mars is the drive that pushes you forward and keeps you alive. This planet is all about action, energy, instincts, getting what you want. It governs young man, and its energy is extremely masculine.
In astrology, this planet governs aggression, your instinctive reactions, defense mechanisms, sex, libido. Mars is responsible for keeping you alive. Without this planet, you would lack assertiveness and wouldn't be able to survive. Mars is a very physical planet.
Mars is impulsive, impatient, courageous, passionate. Its drive is strong and it must act on it immediately. If it cannot, it becomes explosive.
In astrology, Mars rules the zodiac sign Aries. It used to rule Scorpio too (in traditional astrology it is still considered the ruling planet of this sign). Mars is in accidental dignity in the first house, and in accidental exaltation in the eighth.
Meaning of Venus in Astrology
Venus is the planet of femininity. The Roman goddess of love and beauty who Venus got its name after embodied what this planet is all about in astrology.
As one of the personal planets, Venus is an essential celestial body in the natal chart. This planet is all about relationships and enjoyment. It makes life worth living.
In astrology, Venus rules balance, harmony, peace, partnerships, unions of all kinds. A strong, well-aspected Venus in the birth chart suggests charisma, grace, poise, good social skills. People are drawn to you.
Venus has to do with values as well. Your Venus tells about what you enjoy, what you value, what you wish to own. This planet governs aesthetic taste, the kind of music and art you like, your fashion style, etc. Venus also rules money.
In the Zodiac, Venus is the planetary ruler of two signs: Taurus and Libra. In the second and seventh house, Venus is in accidental dignity (these houses are connected with Taurus and Libra in the natural chart).
---
If you found this article helpful, maybe you want to save our site for later. Make sure to share it with others who enjoy learning astrology!