If you want to learn what a natal Venus in the eighth house means in astrology, you'll love thus article!
It's all about Venus in the eighth house.
Venus here is in the house associated with Scorpio. The eighth house is a mysterious place, and this mystery sticks to your Venus, too. You are drawn to hidden things, you are passionate and secretive.
Venus in the eighth house indicates that you benefit through other people in life. This placement gives you luck when it comes to joint resources and other people's money.
Keep reading to learn more about what Venus in the eighth house means in astrology!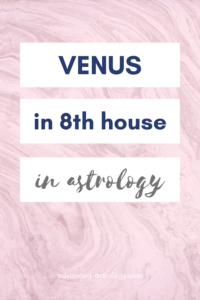 What Does Venus Mean In Astrology?
Venus, named after the Roman goddess of love and beauty, is the most feminine planet in astrology. It is the planet of grace and charm.
There are two zodiac signs that belong to Venus. It's the ruling planet of both Taurus and Libra. Taurus is an earth sign, focused on the beauty we can experience on the Earth. Libra wants harmony and balance around it, both in relationships and in art.
Venus rules a lot of things in astrology.
Flowers, fruits, sweets, jewelry, beautiful clothes, fragrances and other luxuries are all associated with Venus. It's also the planet of art and beauty. But Venus is the planet of relationships, too. Venus rules all forms of partnerships, both romantic and businesswise.
Venus knows that you can achieve much more when you cooperate with others.
But Venus simply doesn't like to be alone. It gifts you social skills, charm, grace and charisma. A well-aspected Venus makes you attractive to people.
In the natal chart, Venus shows what you enjoy doing the most. It also shows how you can attract love into your life,and how you give and receive it.
If you have weak Venus in the horoscope, it suggests that you don't feel worthy of love.
Want to learn more about Venus? Read more about this beautiful planet here.
The Eighth House in the Natal Chart
Now you know what Venus represents in astrology, but what about the eighth house in the natal chart?
Well, this house is a super mysterious place. Some would call it dark, because its matters are not your everyday fun activities.
The eighth house is the house of death, sex, rebirth, deep and intense transformations in astrology. It also governs hidden things, like your subconscious and taboos.
Other people's money, financial gain through legacy or marriage belong to this house, too.
The eighth house is traditionally associated with Scorpio and Pluto. Scorpio is a water sign, mysterious, passionate, emotional. It's resourceful and investigative, and if you have several planets in the eighth house, the same qualities are also true to you.
The eighth house is one of the most fascinating houses in the chart wheel. If you would like to learn more about it, here's an in-depth article about the eighth house in astrology.
Here's What Your Venus in the Eighth House Reveals About Your Personality
Venus in the eighth house people share some traits with the Venus in Scorpio folks.
If you have your Venus in this house, you are charismatic, secretive and have a magnetic power. There is an aura of mystery around you, what makes you irresistible.
The eighth house is the house of joint resources. Financial gain often comes into your life through other people's finances.
Relationships help you evolve on multiple levels.
They help you grow spiritually (especially when they end), but your relationships also make you financially more successful. Venus in the eighth house indicates that you can benefit from your spouse, inheritance or insurance.
Venus in the eighth house indicates that you'll have a long life, and you'll die peace.
One thing you should watch out for is getting too much of good things. Venus here can make you self-indulgent if it is afflicted.
Fascination With Taboos and Venus in the Eighth House
The eighth house is the house of secrets. People who have placements here are drawn to mysteries and things beyond what logic can explain.
Most people find death scary and thinking about dying or the afterlife bizarre,. But not you. Venus in the eighth house people are puzzled by these phenomena. Forensics, detective novels, horror movies, all these things are welcome.
You like to think about everything hidden. This placement can make you interested in psychology, too―the eighth house is the house of the subconscious.
You are often drawn to spirituality, too, and it can be a source of great happiness in your life.
Venus in the Eighth House in Love
Venus in the house of Scorpio makes you popular with the opposite sex. If your Venus happens to be in Scorpio, than multiply this attractiveness by two! You are a real magnet when it comes to love.
However, this doesn't necessarily mean that you easily find happiness in a relationship. The eighth house is a hidden place, and with many planets there, you don't always understand emotions and don't know how to be complete on your own.
Venus in the eighth house sometimes indicates that your marriage doesn't last long. You profit a lot from it, however, when it ends.
In a relationship, you want to share yourself on a very deep level. Venus in the eighth house is looking for her soulmate. Intimacy is extremely important to you. You can become jealous or possessive if you feel hurt or in danger.
Sex is a crucial part of a relationship here. Venus in the eighth house people are passionate and they often have a lot of love affairs. Think of a femme fatale type of women or its male equivalent in case of men.
There is usually a lot of drama involved with this placement.
Sometimes you enter a relationship with the wrong partner. Venus here has a need to save and help a person, however, everyone has to help themselves first in order to solve their problems.