What does it mean to have your natal Mercury in Aquarius?
This is an excellent placement. Mercury in Aquarius people need intellectual freedom. They are usually very smart, drawn to logical and scientific thinking. Depending on the rest of the chart, this placement indicates an original personality with a unique sense of humor. The ultimate purpose of Mercury in Aquarius is to enrich society with fresh ideas.
For Mercury, this is a favorable placement, as this planet and the Water Bearer have a lot in common (some astrologers consider Mercury to be exalted in Aquarius). Mercury and Aquarius are both intellectual, curious, playful, objective. The modern ruler of Aquarius, Uranus, is the higher octave of Mercury.
In astrology, Mercury signs offer insight into how a person's mind operates. Mercury signs describes how you solve problems, what your thoughts tend to revolve around, how you come to conclusions, but also how you communicate with others. Mercury is one of the most important planets in astrology.
Keep reading to learn more about what Mercury in Aquarius reveals about a person!
What Does Mercury in Aquarius Mean in the Natal Chart?
Aquarian energy in the birth chart implies a need for authenticity, freedom, experimenting. If Mercury was transiting this sign at the moment of your birth, this need is characteristic of your intellect.
Mercury can be in Aquarius if the Sun is in Capricorn, Aquarius, or Pisces. In the birth chart, this Mercury sign indicates a potential for developing unique skills and for great intellectual ability. These people have a very active mind.
Mercury in Aquarius has an insatiable hunger for knowledge. People with this placement are often interested in less popular topics which can be labeled as weird. Luckily, they don't really care about what others think.
In the birth chart, this placement suggests that your mind is oriented on improving existing structures, optimizing things, adding a touch of new and revolutionary to how things are done. It is not rare that people with this Mercury sign are extraordinarily intelligent and gifted. They genuinely enjoy learning, they might be bookworms from an early age. Aquarius Mercury men and women are often good at multiple things.
In you have this Mercury sign in your horoscope, your mind works differently. Your unique perspective allows you to notice things most people miss. You appreciate eccentric, quirky things, and like to put yourself in environments that are different from your own, so that you are exposed to as a much new stimuli as possible. You are open-minded and progressive. Prejudices annoy you.
In the birth chart, Mercury speaks about how you communicate. This Mercury sign likes unusual perspectives, it has a need for being different, what is reflected in your verbal self-expression too. If Mercury receives hard aspects, you might be unpredictable in your speech and gesticulation. People with this placement often use sophisticated verbiage, sometimes getting a bit too technical for the average person. They tend to be speak very quickly.
When they meet new people, Mercury in Aquarius people often come across as reserved. They like to observe others and make their judgements first before interacting with them—they are good at noticing subtle clues. Reading people is easy for them. Because of their detachedness, they are less likely to fall prey to manipulation. Psychology and sociology are interesting to them.
Mercury in Aquarius is a scientist. People with this placement are drawn to probem-solving, real-world problems in particular. They like theories, but theories must be backed up by facts. Because of this, Mercury in Aquarius people tend to really enjoy research.
Mercury in Aquarius cares little about breaking the rules. What others think about you doesn't get to you, you keep doing your own thing. You might be too eccentric, what makes it hard to fit in. In the birth chart, this placement suggests that you are stubborn and self-willed. Planets in Aquarius indicate that you have issues with authority figures.
If you didn't integrate your natal Aquarius Mercury properly, you might end up lost in abstract theories that clash with reality. Instead of the scientist whose inventions make life easier for society, you might become the weirdo who tries to invent the perpetuum mobile.
When this planet is in Aquarius, the chart holder dislikes emotional closeness, or better said it is uncomfortable with it, especially if the Sun is in Aquarius too. People with this placement need time to open up to someone. They prefer to discuss superficial things.
Mercury in Aquarius indicates that you are detached from your own emotions too. Your reason drives your actions. Logic is more reliable, therefore you prefer to listen to your brain rather than to your heart.
This doesn't mean that you are emotionless or callous. You love helping others, but you do so in a more detached, impersonal way, through your contribution to your community or your professional contribution. Volunteering might be very attractive to you. People with an Aquarius Mercury in the natal chart are sensitive to social injustice.
Generally speaking, Mercury in Aquarius prefers being in groups to intimate one-on-one interactions. When it comes to forming close friendships, you have high standards. You like to spend your time with people who are in some way original themselves too. You are drawn to inspiring people.
In the natal chart, Mercury signs describe what you find funny. Mercury in Aquarius people often enjoy sarcasm. Their sense of humor is might be too much for some people, but they see things from a unique perspective, what allows them to have witty, surprising remarks that are appreciated in a social setting.
Rules are repulsive and annoying to you. You prefer to do things your own way. Many people with this placement won't do something if it doesn't make sense to them. A natal Aquarius Mercury implies that you like to question what you are told.
For children with this placement, it is important that someone open-mindedly listens to them and comes up with logical arguments why something should be one in a certain way. Just because makes an Aquarius Mercury freak out and rebel.
In childhood, Mercury in Aquarius people might be shy and anxious. They are often quiet and like spending time on their own, reading, learning. It is important that adults around them answer their questions and appreciate their curiosity. In school, these kids might struggle if there are rigid rules. Mercury in Aquarius children usually like subjects that allow their creativity to roam free.
Mercury in Aquarius is a wonderful placement for science, mathematics, engineering, any profession that deals with electronics or the internet, social sciences, medicine. Technology is extremely attractive to people with this placement.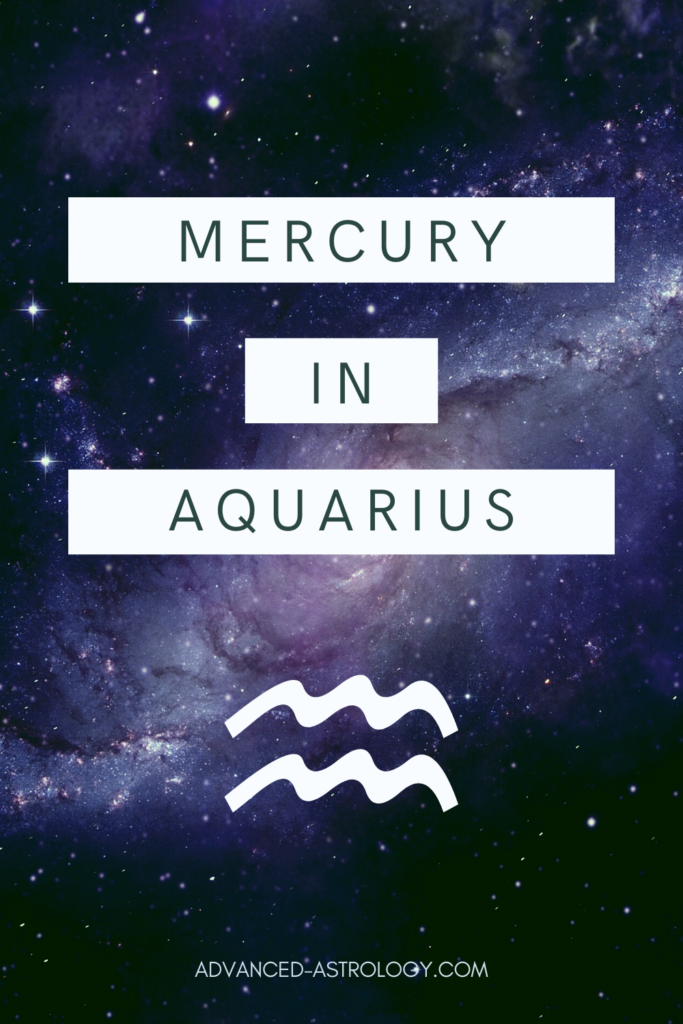 Mercury's house and aspects are just as influential as its sign. For example, a Mercury in twelfth house is way more reserved and self-reflective than an outgoing, life of the party Mercury in first house. If you want to read about the meaning of Mercury through the houses, find your placement here.
Aspects to Mercury are also super important. The rest of the horoscope can overshadow in a thousand ways your Mercury sign.
What Does Mercury Represent in the Horoscope?
Mercury is an essential planet in astrology. Its quick movement through the sky makes it a very personal feature of the horoscope. Where you find Mercury is where you can think the best and where you have a need for connecting with others.
Mercury rules two signs: Virgo and Gemini. It is accidental dignity (what means it becomes stronger) when placed in the natural houses of these two signs, in the third house and in the sixth house.
In astrology, Mercury has a variety of meanings. Its key associations are thinking and communication, but there is more to it. Mercury also governs youth, siblings, the media, the internet, trade, transportation and travel (short trips in particular, the ones you do almost on a daily basis). The nervous system and hands are linked with this planet.
Aquarius in the Zodiac
Aquarius is the eleventh zodiac sign. It is the last fixed sign of the Zodiac, and it is an air sign by element. Aquarius belongs to the group of active or positive signs. Its ruling planet is the first transcendental planet, Uranus (in modern astrology, it is ruled by Saturn in traditional astrology).
Aquarius is intellectual, objective, rational (which are typical air traits). The ultimate Aquarius value is freedom. Independence and autonomy are essential for the Water Bearer. In many ways, this zodiac sign is different from others. Its original, unique point of view serves the advancement of humanity at a larger scale. Aquarius is creative, individualistic, tolerant, humane.
People with several planets in their chart are in interested in many topics, they usually like science and have a talent for it, and in some way, they are unusual. They are abstract and rely on their intellect more than on their emotions and intuition.
Under the tropical zodiac, the Sun is in Aquarius between January 20 and February 18.
Mercury in Aquarius Celebrities
Some examples of Mercury in Aquarius famous people:
Steve Jobs
Oprah Winfrey
Martin Luther King
Kate Moss
Haruki Murakami
Janis Joplin
Wolfgang Amadeus Mozart
Jack Kerouac
Bob Marley
Ed Sheeran
Michael Jordan
---
If you liked this article, maybe you want to save our site for later. Share it with others who enjoy astrology!