In this article, you can learn about Mercury in Gemini. This is a very good placement because Mercury is at home, in the zodiac sign it rules.
One thing is for sure-you are definitely not a boring person if you have this natal placement.
As an air sign Mercury, the Gemini Mercury is quick in its movements and its thinking. This placement indicates a very active mind. Your mind is roaming with ideas. This placement suggests a person who wants to expand their knowledge in any way possible.
Mercury in Gemini indicates a versatile personality. People with this placement are usually very intelligent, they have a quick and agile mind, and they always have an interesting remark. They are excellent conversationalists.
It might be challenging for this Mercury sign to wait for others because they are much quicker than most people, both intellectually and physically.
You can have this placement if your Sun is in Taurus, Gemini, or Cancer. Mercury is always relatively close to the Sun (when observed from the Earth). In astrology, this planet has to do with your communication and learning style, and your thinking in general. Mercury is the rational, conscious mind.
Keep reading to learn more about the meaning of Mercury in Gemini in astrology!
Mercury in Gemini in the Natal Chart Meaning
Gemini is one of the best signs for Mercury. It can access all it's resources here, because it is in the sign of its rulership. Unless it is weakened by some really hard aspects from malefic planets, Mercury in Gemini is an excellent placement in the birth chart. Even hard aspects are not as daunting here. The more aspects Mercury receives, the more colorful the personality of the chart owner.  
Mercury in Gemini is like a curious child. It wants to explore its environment, paying attention to every detail and every interaction. It is playful and mischievous. It easily gets bored, so to keep its attention, it needs a stimulating environment. The same is true of people with a Gemini Mercury. These people are outgoing, open, approachable, social. Mercury in Gemini is a social butterfly.
Gemini is an air sign, and air is the element of relationships. Mercury in Gemini usually forms relationships very easily. This placement indicates that you were born for networking, and you might be quite popular. You are able to mirror the personality of whoever you are talking to. If Gemini is strong in your chart, this placement can also indicate the lack of a strong sense of self because of this adaptability, especially if the Sun is in Gemini too.
People with this placement genuinely enjoy talking to others, and they have a need for socialization. (In extreme cases, they might even fear solitude.) They enjoy hearing various opinions and discussing various topics. In a group, they talk to everyone. They are engaging speakers, although they might speak really fast. Mercury in Gemini people are often quite popular. Unless Mercury is heavily afflicted in the natal chart, these people self-confident in their verbal self-expression, they are eloquent and articulate. They are great storytellers. This placement indicates a great sense of humor.
Generally speaking, people with this placement are talented in various fields. Intellectual challenges fascinate them. Their brain processes information quickly and they learn easily. They love learning. Many of them excel at school. This placement implies a deep desire to understand as much of the world as possible. Mercury in Gemini is collecting information all the time. The downside of this can be scattered attention and impatience.
As children, Mercury in Gemini people are often bookworms. They are familiar with many topics and they are generally well-educated. They might be particularly drawn to literature, maths, coding, art. They often have great hand dexterity. Learning foreign languages is usually very easy for Mercury in Gemini individuals. They get along well with people from other cultures.
You are communicative but not verbose and don't blurt out things you don't want others to know. Don't forget that there is a different side to Gemini. If you live the lower octave of this zodiac sign, you might find yourself gossipping or withholding important information. Keeping secrets might not be one of your virtues. 
You might find great joy in the written word. Mercury in Gemini people tend to be avid readers, they love anything that has letters on it. They are usually talented writers themselves. Many writers had this Mercury sign, Franz Kafka (Mercury exactly conjunct Venus in Gemini conjunct the Moon), George Orwell, Herman Hesse, Ian Fleming, George Sand, Jean-Paul Sartre, to name a few. Gemini placements are excellent for writing.
Mercury in Gemini is an amazing placement for any job that requires communication, for trade and business, for art, foreign languages, media, computer science and programming. However, this placement indicates that you don't respond well to strict rules. Your ideal job should allow you to enjoy some autonomy and frequent changes in your daily routine.
Because of the ever-changing nature of Gemini, this can be a stressful placement. You might be overstimulated most of the time.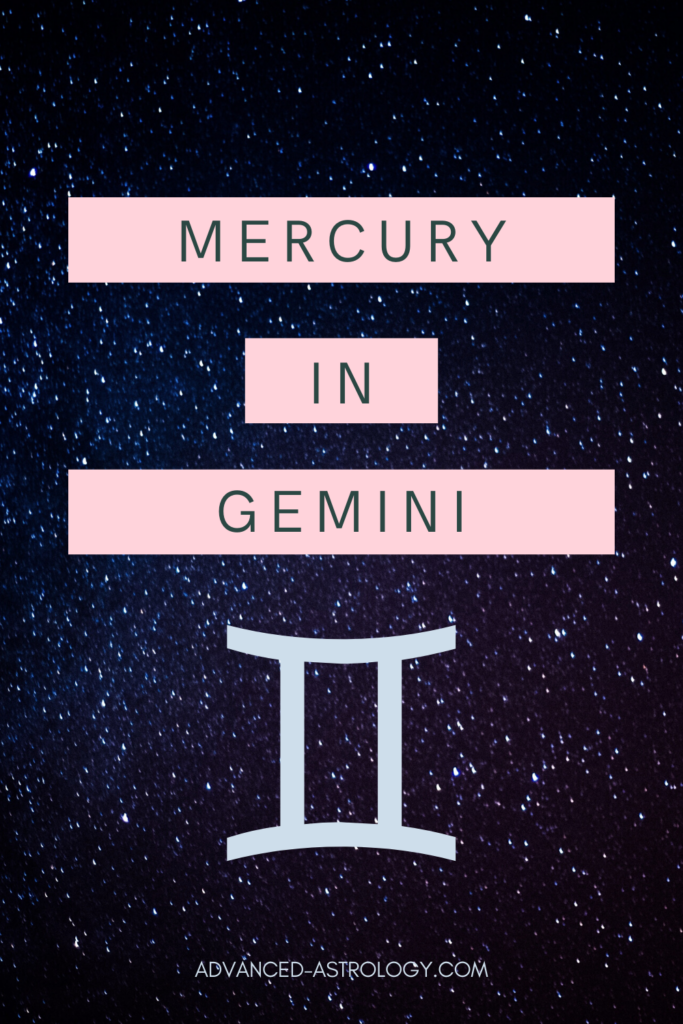 How your Mercury manifests depends on the rest of the natal chart. The house where it is located reveals more information. For example, a Gemini Mercury in the 8th house or in the 12th house is unlikely to be as extroverted as a Gemini Mercury in 1st house or in 11th house. Learn more about Mercury through the houses in these articles.
The Astrological Meaning of Mercury
What does Mercury represent in astrology?
Mercury is one of the planets you must pay attention to. Because of its short orbital period (only 88 days), it travels through the Zodiac very quickly, spending only 3-4 weeks in each sign. This makes it a highly personal planet. In addition to this, it is often retrograde. In the natal chart, its sign, house, aspects are all descriptive of your ability to connect with the world around you.
Mercury is the planet of communication, verbal self-expression, the intellect and the logical mind. Mercury governs reading, writing, means of communication, the media. This planet also rules trickery, thiefs, fallacy.
In the natal chart, the position of Mercury shows where and how you communicate the best. A strong Mercury implies that you easily connect with others and get your point across. An afflicted Mercury, on the other hand, usually indicates destructive inner monologue and weak communication skills.
Gemini in Astrology
Gemini is Latin for twins. This is the third sign of the Zodiac, the mutable air sign. It is one of the positive signs by polarity. Gemini is ruled by diurnal Mercury, and it is associated with the third house in the natural chart. The Sun transits this sign between May 21st and June 21st.
Air signs deal with relationships and other people. As a mutable sign, Gemini is all about versatility, flexibility, changes. It is able to mimic anyone it meets, and it needs constant stimulation or it gets bored quickly. Gemini is characterized by agility, quick wit, openness, good social skills.
The bad things about this sign is superficiality, short attention span, lack of persistence, restlessness.
Where you find Gemini in your natal chart is where you want to share your skills with others and where you communicate the best.
Mercury in Gemini Famous People
Some famous people who have this placement in their horoscope:
Audrey Hepburn
Marilyn Monroe
Nikola Tesla
Angelina Jolie
Meryl Streep
Tupac Shakur
Bob Dylan
Hugh Laurie
---
If you liked this article, maybe you want to save it for later. Share it with others who enjoy learning astrology!