Do you want to be adored for your intellectual abilities? Mercury in Leo does. This Mercury sign enjoys creative challenges and it prides itself on creative problem solving.
Mercury in Leo is in a fire sign, infusing your thoughts with optimism and enthusiasm. You possess a lot of creative energy. You want to be recognized and adored for your intellectual accomplishments, witty remarks, good sense of humor. You speak a lot.
This placement is an indicator of a flamboyant, charismatic, strong, dominant personality. People with this placement are energetic communicators, and they are able to influence others with their words.
Your Mercury sign describes how you communicate, how you think, how you learn. Learning about Mercury signs is super useful if you want to improve your communication skills.
This placement can occur in the horoscope if the Sun is in Virgo, Leo, or Cancer. Truth be told, Mercury in Leo's need for attention can be a bit conflicting if you are more reserved Cancer or Virgo Sun (but the rest of the chart is important too). If your Sun is in Virgo, they are in mutual reception with Mercury, which is a supportive bond between two planets.
What Does Mercury in Leo in the Birth Chart Reveal About Your Personality?
When in Leo, Mercury's dispositor is the Sun. The condition of the Sun in your chart influences Mercury as well. If it is in Leo along with Mercury, the need for shining becomes more expressed.
If Mercury was transiting Leo at the moment of your birth, you are dynamic, playful, entertaining in your verbal self-expression. You are talkative, sometimes preferring monologue to dialogues. Everybody loves being listened to, but you perhaps like it a bit more than the average person.
When talking about something, you do so with a lot of self-confidence. This placement often indicates a dramatic voice (especially Mercury in Leo men) and good posture. People with this placement are proud, confident in their abilities, lively speakers. They gesticulate a lot and they words are accompanied by vivid facial expressions. Theatrical is a word that often comes up when describing Mercury in Leo.
When you are enthusiastic about something, you spark interest in others too. This placement suggests that you are an inspiring personality. You have great persuasion skills.
Mercury in Leo is in an active fire sign. When you have an idea, it is quickly followed by an urge to act on it. Sometimes thinking things through can be helpful here, as you can do things hastily, what doesn't always turn out to be good. You tend to be subjective in your judgement.
Mercury in Leo uses mental energy to realize its ambitions (which tend to be quite high). A Leo Mercury puts a lot of effort into building its reputation, and it loves it when others recognise its achievements. As a fixed sign, it has tremendous willpower. People with this placement work towards their goals persistently, and they easily overcome blockages.
In the natal chart, Mercury in Leo implies great creativity. If you have this placement, you have original insights, often different than what people would generally expect. Mercury in Leo has a great sense of humor. It also excels at storytelling.
This Mercury sign is very artistic (don't forget that Leo is the sign of creative energy!). Mercury in Leo people are often good at acting, music, singing, but they might be drawn to visual arts as well. The spotlight that comes with performing nurtures their soul.
If there are indicators in the chart, this placement indicates that the native is well-liked. These people are charismatic, warm, good storytellers. When they are talking, all eyes turn to them (in addition to being funny, they tend to be loud too!). They are often influential in their community.
Let's face it, Mercury in Leo is not the best listener. These people can be self-centered sometimes, loosing their patience and interest quickly when they have to listen to someone else (especially if they don't really like this person).
When there is a conflict (or simply just a clash between opinions), they usually believe that they are right and they might push their ideas on others (this is especially true if it is paired with some difficulties regarding the ninth house). It can be hard to communicate with a Leo Mercury. If you live the lower octave of this placement, you can be egoistical and reject opinions different from yours without open-mindedly listening to it first.
As a fixed sign, Mercury in Leo rarely changes its opinion. When people with this placement form an opinion about something, they need really good arguments to change their mind, but most often, personal experiences are the only way they change. They usually don't respond well to being criticized. They don't like it when plans get changed either.
When threatened or stressed, you might act childish. Taking responsibility for your words might not be easy for you, especially if you hurt someone and you are supposed to apologize.
You get along with kids well, and there is something childlike about people with this placement. Mercury in Leo is a very good teacher. You are generous with sharing your knowledge, and you genuinely enjoy it when you can help someone solve a problem. Because of this, Leo Mercury people are often respected in their community. Generally speaking, they are talented leaders.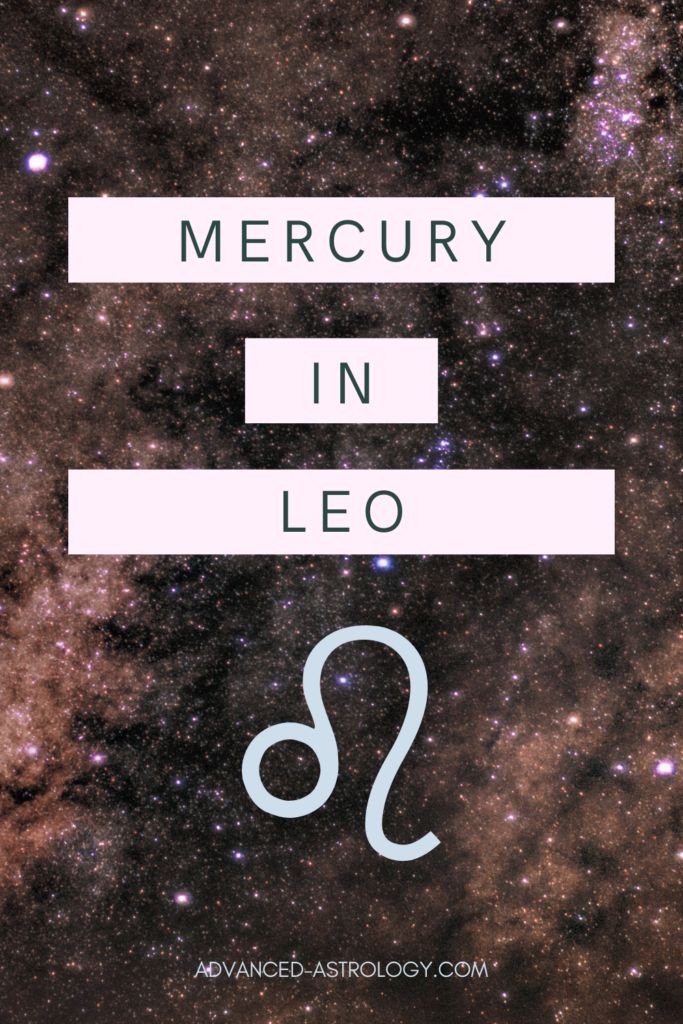 How Mercury manifests in a chart depends on many factors. Its house position and aspects as just as influential as its sign.
Read more: Mercury in houses
Meaning of Mercury
What does Mercury represent in astrology?
Mercurian energy is outgoing, curious, witty, hungry for new information. This planet is the ruler of two zodiac signs, Gemini and Virgo.
Mercury is the smallest planet, and it is the one the closest to the Sun. Because of this, it moves quickly through the Zodiac, finishing a full circle around the Sun in about 88 days. This makes it a very personal planet, one of the most important planets in the horoscope. The maximal distance between Mercury and the Sun is 28 degrees (when observed from the Earth).
Mercury represents the need to connect with others, to exchange information, to learn new things. It corresponds to the conscious, rational mind. Mercury governs communication, reading, writing, media, the internet, school, learning, young age, curiosity, the intellect and thinking ability. Trickery and lies are also associated with this planet.
Leo in Astrology
Leo is the fifth sign of the Zodiac, linked with the fifth house of joy in the natural chart. This zodiac sign is the sign of the Sun's rulership. Leo season aligns with the middle of summer, ranging from 22 July to 22 August,
As a fire sign, it is no surprise that Leo is energetic, enthusiastic, outgoing. This sign enjoys attention. The Lion can be described as warm-hearted, optimistic, generous, dramatic, royal, bold. It is associated with creativity, energy, life, children. Its negative traits are vanity, egoism, arrogance.
By modality, Leo is one of the fixed signs. It is loyal, stubborn, determined, has a strong will. Leo is an active or positive sign when grouped by polarity.
Leo Mercury Celebrities
Some Mercury in Leo celebrities:
Florence Welch
Barack Obama
Shawn Mendes
Cara Delevingne
Nelson Mandela
Meghan, Dutchess of Sussex
Benedict Cumberbatch
Ben Affleck
Jacqueline Kennedy Onassis
Frida Kahlo
---
If you found this article helpful, maybe you want to save it for later. Share it with others who enjoy learning astrology!