What does it mean to have your natal Mercury in Taurus? People with this placement think in a practical, efficient way. They are interested in solutions rather then in endless thought experiments. And they want to find the optimal solution.
Mercury in Taurus suggests a person who likes to think things through. They need some time to make a decision, but once they made it, they stick to it.
Mercury's position in the natal chart tells where you express yourself the best. Mercury's sign describes how you express yourself, how you communicate, and how you understand information at the best. Your Mercury sign might be the same as your Sun sign, or it might be preceding of the following zodiac sign.
Keep reading to learn more about the meaning of Mercury in Taurus in astrology!
Mercury in Taurus in the Natal Chart
When it is in the sign of the Bull, Mercury's dispositor is Venus. This means that the condition of Venus and its placement are also important when analyzing Mercury in the horoscope. A strong Venus (for example, if Venus is in its sign of rulership, Taurus along with Mercury) strengthens Mercury.
If you have this placement in your birth chart, your Sun sign is Aries, Taurus, or Gemini.
Mercury's energy is flexible, quick, agile. Taurus, on the other hand, is the fixed earth sign of the Zodiac. Mercury here has to adapt to this way of doing things, different than its own. It has to slow down. Its primary focus is solving real-world problems. The mental efforts are oriented on making life easier and more enjoyable.
Named after the messenger of gods in Roman mythology, Mercury is the planet of communication in astrology. Your Mercury style shows how you communicate. Mercury in Taurus likes to think first before thinking. It is rarely verbose. People with this placement like to exchange information in a calm, efficient way. They dislike double talk. Mercury here make the chart owner a very charismatic person.
In the birth chart, Mercury describes your learning style. A natal Mercury in Taurus suggests that you might be a visual learner. Using colors, pictures, diagrams might make it easier for you to process new information. Watching videos might also be your way of studying, especially if they display how things work in a visual way. When something piques your curiosity, you utilize your senses to gain more information about it. Earth Mercuries like to touch, see, hear.
Some people with this placement might need more time to absorb new information, but once they learn it, they might remember it for a very long time. They prefer to learn things that have a practical application. If the rest of the chart doesn't indicate otherwise, school learning might not appeal to you. If you have a kid with this placement, making the learning process more interactive and showing them that it can be enjoyable is likely to help them enjoy studying. Because this is a fixed Mercury sign, good attitudes established at an early age go a long way, as it is hard to change them later.
If you have this placement, you might have a beautiful handwriting. Many people with this placement like stationery. Art often appeals to them too. They might have impressive hand dexterity.
Mercury in Taurus people tend be really talented at story-telling and keeping the audience engaged. They also have a good sense of humor. They often have a beautiful voice too. Actually they are very musical, and they might be talented at playing instruments.
Mercury in Taurus in the natal chart also speaks about your way of solving problems. This Mercury sign implies that you want to look at the problem from all perspectives. You rely on your experience more than on possible alternatives.
Mercury in Taurus suggests a thinker who wants to have it all. People who have this Mercury sign strive to combine work with pleasure, and to have a good time in the first place. It is important to them that they are comfortable and that there is no need to hurry. Make sure that you have enough time for your hobbies and activities that energize you. Spending time in nature might be particularly beneficial. This placement suggests that your mind works the best when you are calm and peaceful. You might respond to mental stress poorly.
People with this placement usually rely on their senses more than on their intuition. They prefer thought processes that lead to tangible results instead of mere daydreaming. Abstract theories might not interest you as much as something that leads to tangible results.
When making decisions, you like to take your time. Once the decision is made, you are not likely to change your mind. Ideally, your goals should make you feel good and fill your heart with joy.
Mercury in Taurus implies that you rarely change your opinions. Your value system is usually formed early on in life. Your values are likely very important to you, you make your decisions aligned with them. You like to have a firm structure that guides you through life. Mercury in Taurus tends to be more on the conservative side when it comes to world views. This doesn't mean that people with this placement are not open to new ideas. Taurus is the sign of stability, a fixed sign, and Mercury here wants evidence first that the new way of doing things is functional too.
A natal Mercury in Taurus suggests that you like to be in a beautiful environment. Nice things inspire you. When choosing a profession, it is likely that you want to work in a lucrative field. You might be a bit even materialistic. A lot of mental energy is spent on acquiring resources here. A Taurus Mercury is often talented at handling finances. People with this placement are often very tactful (if Mercury is not very afflicted in the chart). They get along well with all kinds of people.
One of the negative things about Mercury in Taurus is that it can sluggish from time to time.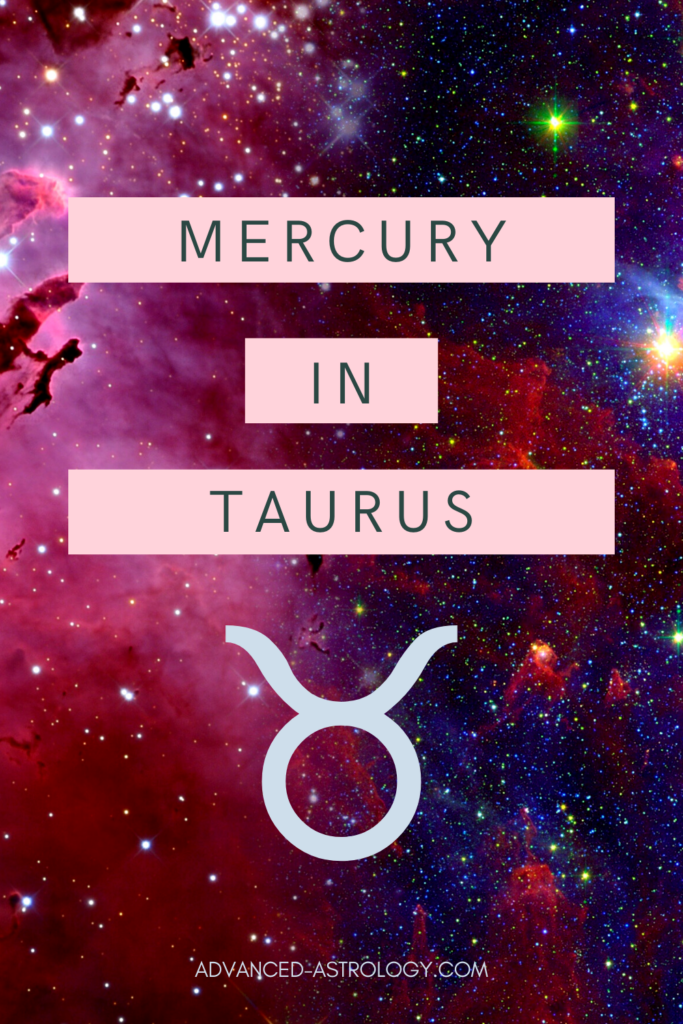 The house position of Mercury tells in which life area it is the most expressed.
If you want to learn about Mercury through the houses, find your placement here.
Aspects from other planets modify how you experience your Mercury. For example, someone with Mercury-Saturn hard aspects might have hardships in communication.
Mercury in Taurus Retrograde
What happens if your Mercury in Taurus is retrograde in your horoscope?
Because of the frequent periods of Mercury's apparent retrograde motion, it can happen that Mercury in Taurus is retrograde in your birth chart.
Retrograde planets indicate that the energy of the planet is expressed internally rather than externally. People with a natal Mercury in Taurus retrograde like to carefully think about things first. If you ask them a question, give them some time, because they don't like to be hurried. Maybe you will even need some patience to get an answer.
People with this placement often like to be alone. They need time to reflect on their circumstances, perhaps more time than most people.
A natal Mercury retrograde in Taurus also might imply difficulties with properly expressing yourself. You might struggle with finding the right words to interpret your thoughts, or you might find that it's already not your turn to speak when you are ready to speak up.
Why Is Your Mercury Sign Important in Astrology?
If you have dipped your toes into the waters in astrology, you know how important Mercury signs are. As one of the inner planets, Mercury governs fundamental parts of the human psyche in astrology.
This planet is linked with thinking ability, reasoning, analytical thinking. This planet describes your communication style, how you prefer to express your thoughts, and also how you make decisions. You exchange information with the world through the lens of your Mercury. In the Solar System, Mercury is the closest planet to the Sun. In the natal chart, the Sun is the core of the personality, and Mercury is the bridge that connects it to the rest of the world.
The orbital period of this planet is only 88 days. This means that it is a very quick-moving celestial object. Mercury changes signs every 3-4 weeks. The position of Mercury in the natal chart is extremely personal, thus extremely important.
In the horoscope, this planet is placed relatively close to the Sun, never more than 28 degrees away.
Mercury is the planetary ruler of Gemini and Virgo. It is exalted in Aquarius, in fall in Leo, and in detriment in Sagittarius and in Pisces. In the third and in the sixth house, this planet is in accidental dignity.
What Do You Have to Know About the Zodiac Sign Taurus?
Taurus is one of the earth signs. Earth signs are oriented on reality and the physical world. It is a fixed sign. Following initiative and fiery Aries, Taurus turns ideas into reality. It is grounded, realistic, determined, stubborn. The Bull is also sensual, artistic, kind, when it lives its higher octave. It might be quite possessive and lazy on the other hand.
Several planets in Taurus imply a person who lives in the physical world. They might be talented at art, business, finance, fashion, and they also might be interested in agriculture.
The planetary ruler of Taurus is Venus (nocturnal Venus to be exact). This sign is connected with the second house in the natural chart. This is the house of values and resources, supporting the preceding first house of self.
Taurus Mercury Famous People
Some famous people who have this natal placement:
John Fitzgerald Kennedy
Johnny Depp
Salvador Dali
Clint Eastwood
Gigi Hadid
Kanye West
Jessica Alba
Emma Watson
David Beckham
William Lily (conjunct Uranus)
---
If you liked this article, maybe you want to save it for later. Make sure to share it with others who enjoy astrology!