If you use non-quadrant house systems, it is very common for the Midheaven not to fall in the 10th house. In quadrant house systems (e.g. Placidus), this is not an issue. Here, the Midheaven is always the cusp of the 10th house, so this is fairly simple. But what if you switch to, let's say, whole signs, and you have your Midheaven in 9th house?
In astrology, the Midheaven represents your public image, reputation, what you are known for in the world. It is also associated with your career and profession (not with the jobs you do for a living, though. They are connected to the sixth house). The MC shows what you grow towards in life. This is one of the most important points in the natal chart.
To get the exact degree and sign of your Midheaven, you should know your place and exact time of birth. House cusps are highly time-sensitive.
The Midheaven in 9th or in 11th house makes things more interesting (there are other possible combinations, too—it can fall in any house of the upper hemisphere). How to blend it with the rest of the chart? This question is often confusing to folks new to astrology, so here are some general guidelines about how to interpret it.
As always, read everything in context. If you want to do a full Midheaven analysis, you want to look to the zodiac sign, the ruler of the MC (it's sign, house, aspects) and aspects to the Midheaven. When it comes to career and your life path, you should synthesize it with the information your 10th house provides. The key here is to combinate the meanings.
It's worth checking out your chart in a few different house systems. They can show you your chart from a new perspective and perhaps shed light on some details you may not be sure about.
Midheaven in 9th House
What does it mean if your Midheaven falls in this house instead of the 10th?
The Midheaven in 9th house suggests that the matters of the ninth house are intertwined with your career and reputation. You are not so much reaching for community recognition as for knowledge and/or adventure.
The ninth house is the natural house of Sagittarius. The main life areas linked with this house are higher education, searching for knowledge, experiences that broaden your perspective, travel (especially long-distance), matters related to foreign cultures, and spirituality. Sometimes this placement can manifest literally as working abroad or in academia. Your career might be based on your degrees and education.
With the Midheaven in 9th house, these all might be connected to your reputation and career. People with this placement often think of themselves as teachers, researchers, and explorers. They are usually more motivated by acquiring knowledge than by building a community or climbing the ladder.
Midheaven in 10th House
The Midheaven in 10th house is relatively simple, as it stays the same way it is in non-quadrant house systems.
This placement suggests that you are ambitious and you put a lot of effort into developing your career. You are known for your professional achievements. You probably have good work ethics and you might have to work hard for your goals. The Midheaven in 10th house implies that you are the most known for 10th house matters.
Depending on the rest of the natal chart,you might be more interested in practical application than theory.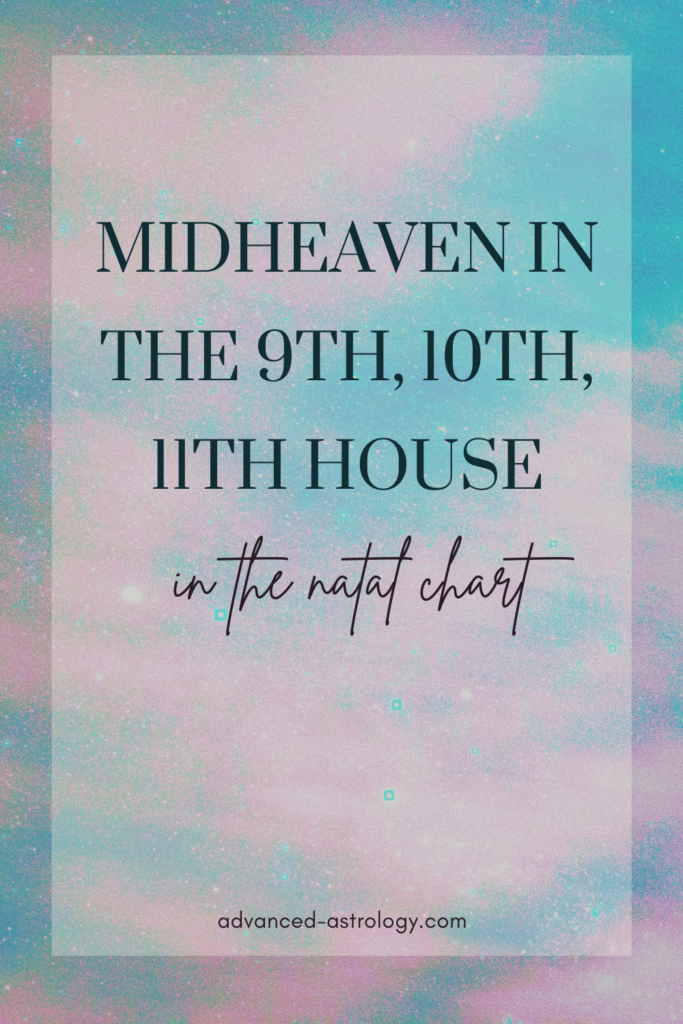 Midheaven in 11th House
This is another interesting case. The Midheaven in 11th house is an indicator that your life path is intertwined with the communities that you are surrounded by and a part of. This placement can be a popularity indicator, or at least it suggests that you are growing into a person who is well-known.
The Midheaven in 11th house can suggest that opportunities come to you through your friends, or in some way, they influence your career to a great extent. Your network plays an important role in your career.
With the Midheaven in 11th house in the birth chart, you also might be known for your volunteering efforts or activism. This placement suggest an interest in the general development in society. There are probably a few causes you are extremely passionate about.
---
If you found this article helpful, maybe you want to save our site for later. Share it with others who enjoy reading about astrology!