Moon conjunct Mars in the birth chart is an energy that has many positives but it can bring some negatives too (as is the case with every aspect). People with this conjunction are sanguine, enthusiastic, and energetic. They are born leaders. They attract a lot of attention and tend to be pretty popular. They are warm, inviting, charismatic.
With this conjunction in your birth chart, if you have a goal, you accomplish it no matter what. You are naturally optimistic and self-confident. The energy of Mars blended with the Moon enhances your willpower.
At the same time, this planetary blend can indicate an impulsive person with a special talent for getting into trouble. If you have your natal Moon conjunct Mars, you are hungry for adventure and when the adrenaline rush hits, you may not think clearly. You love the thrill.
The Moon is one of the most important planets in the birth chart. Since it moves through the Zodiac so quickly, its position in a chart is very personal. The aspects it forms to other planets describe your personality to a great extent. Other planets conjunct the Moon are particularly important, the more exact the conjunction, the more intense it feels. When you have two planets in conjunction, their energy mix and they express themselves together.
The sign where you have the Moon conjunct Mars natal aspect tells the flavor of this conjunction. You should also find out which of the two planets is stronger in this sign (see if they have an essential dignity). Aspects to the conjunction are important too. The house placement tells in which life area this energy is the most expressed.
Keep reading to learn more about the meaning of the Moon conjunct Mars natal aspect!
Moon Conjunct Mars Natal Meaning
Moon-Mars aspects are somewhat similar to having the Moon in Aries. The Moon and Mars represent two completely different worlds. When bound together, they definitely have to make an effort to adapt to each other because they have so little in common (I'm assuming you already know what these planetary energies are like, but if you don't, here are two posts about them: Moon, Mars).
This aspect suggests that you are excitable, upbeat, optimistic. No matter what happens, you always bounce back. People with this placement are strengthened by challenges and not defeated by the thought of a potential failure. You see opportunities where others see a hopeless situation.
You are naturally self-confident. This is one of the best things about Moon-Mars natal aspects: you know that no matter what, you'll be fine, and you always find a way out even when circumstances are pretty worrisome. People with their Moon in aspect to Mars in the birth chart are very resourceful.
This conjunction suggests that you are fearless. You need a lot of excitement in your life and you love adventures. Sometimes your need for adventure leads to situations others perhaps would avoid. Fear also has the role of stopping us from hazardous situations, and someone with their Moon conjunct Mars is less inhibited by this emotion. They are daredevils.
You are not afraid of taking risks. If your chart is spiced up with some other explosive aspects (for example, a nice Uranus square to the Moon-Mars conjunction!), you might find yourself in explicitly dangerous situations and you may be accident-prone. People with Moon-Mars aspects are often drawn to extreme sports or martial arts. Generally speaking, this conjunction indicates high energy levels. It's a good idea to find a healthy outlet for your excess energy.
When the Moon is blended with the fiery nature of Mars, your emotions are pretty strong and you immediately act on them. Your reactions are quick and fiery. People with a natal Moon-Mars conjunction are quick-tempered (but again, the sign of the conjunction matters too, for example, in Scorpio, the native is less hot-headed than someone with their natal Moon conjunct Mars in Aries). With hard aspects, you are explosive and irritable.
Moon-Mars aspects in the birth chart indicate charisma. You have a natural talent for charming the room. People see you as a warm, welcoming personality. You are pretty communicative. With the Moon conjunct Mars natal aspect, you have no problem talking to strangers and you make friends very easily. You come across as warm and sincere, what makes you very attractive to others. This is a good aspect for popularity.
Moon conjunct Mars in the birth chart is common among entrepreneurs. Actually, any connection between the Moon and Mars can point in this direction. Because of the need for interdependence, courage, risk-taking, you are likely to carve out a unique path in life rather than adapt to someone else's idea about what your life should look like.
Weaknesses
The Moon conjunct Mars natal aspect comes with its own set of strengths and weaknesses.
An emphasized Mars in the birth chart is a sure sign that the person is pretty impulsive. When something upsets or excites you, you don't think it through twice, you just act on it. This is more expressed with the square between the Moon and Mars, but it is typical for the conjunction too.
Although you are excited about getting started with new projects, follow through might not be your strongest suit. Because of the need for excitement, there's a strong temptation to skip the boring part and look for the next shiny object.
People with this natal conjunction tend to be rather selfish. Although it wouldn't be fair to say that you don't care for others, in the first place, you focus on your needs. If they are in conflict with the needs of others, you are more likely to go with your own desires. You are not the one to do something solely for the sake of others, especially if it requires considerable sacrifice. When something is imposed on you, you often reject it.
Moon conjunct Mars in the natal chart might be aggressive (it is not always, but the potential is stronger than usually). Depending on the rest of the chart, this might manifest as assertiveness, passive-aggressive behavior, or even straightforward aggression. When feeling threatened, you fight back. If this conjunction is accompanied by other hard aspects, you might be the one initiating the fight.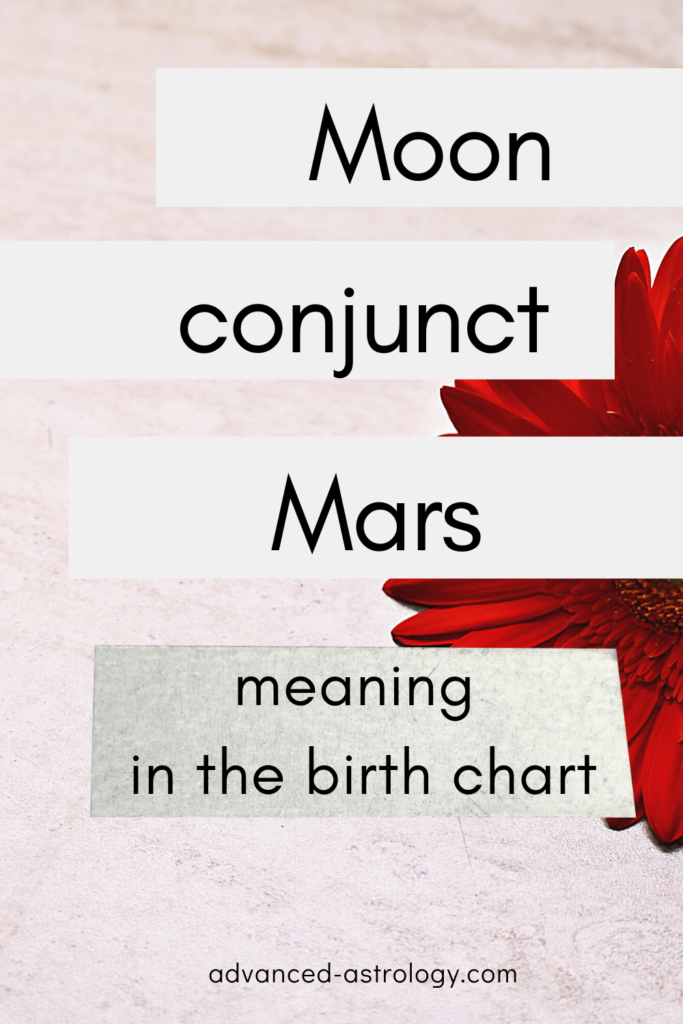 The Moon in Astrology
Why is the Moon so important?
If you don't know anything about someone but you know their Moon sign, you can still make some assumptions about them. Your Moon sign is one of the most important things in astrology.
Read more: the Moon in signs
Since this luminary is so close to us and it moves so quickly (it finishes a whole circle through the Zodiac in 28 days!), its position in a horoscope is paramount. Where you see the Moon in a chart is where the chart owner reacts emotionally the strongest and where they seek comfort.
The Moon is linked with emotions, intuition, needs, nurturing. The Moon is a less conscious but essential part of you, the one you don't show to everyone or you might not even be aware of fully, but it's perhaps even more important than the Sun, your conscious self.
The Moon is the ruling planet of Cancer and is exalted in Taurus. In Scorpio, it's in fall and in Capricorn in detriment. Its energy is strongly feminine.
---
If you liked this article, maybe you want to save our site for later. Share it with others who enjoy reading about astrology!