In this article, you can learn about the Moon in Aquarius. People with this placement are simply lovable. They are interesting and sociable, and they can easily get along with people from all walks of life. This placement suggests that you are friendly and easygoing.
However, the Moon in Aquarius doesn't know what to do with emotions. As an air sign, it is unemotional and detached. It observes feelings from a place of logic. People with this placement dislike being emotionally involved on a deep level a water moon would want it.
In the natal chart, the Moon can be summed up as your soul. This luminary governs your emotions, needs, nurturing style, instincts, intuition. Understanding your Moon (and the moon sign of people you care about) can help you gain a new level of insight.
Keep reading to learn more about the Aquarius moon in the natal chart!
Moon in Aquarius Traits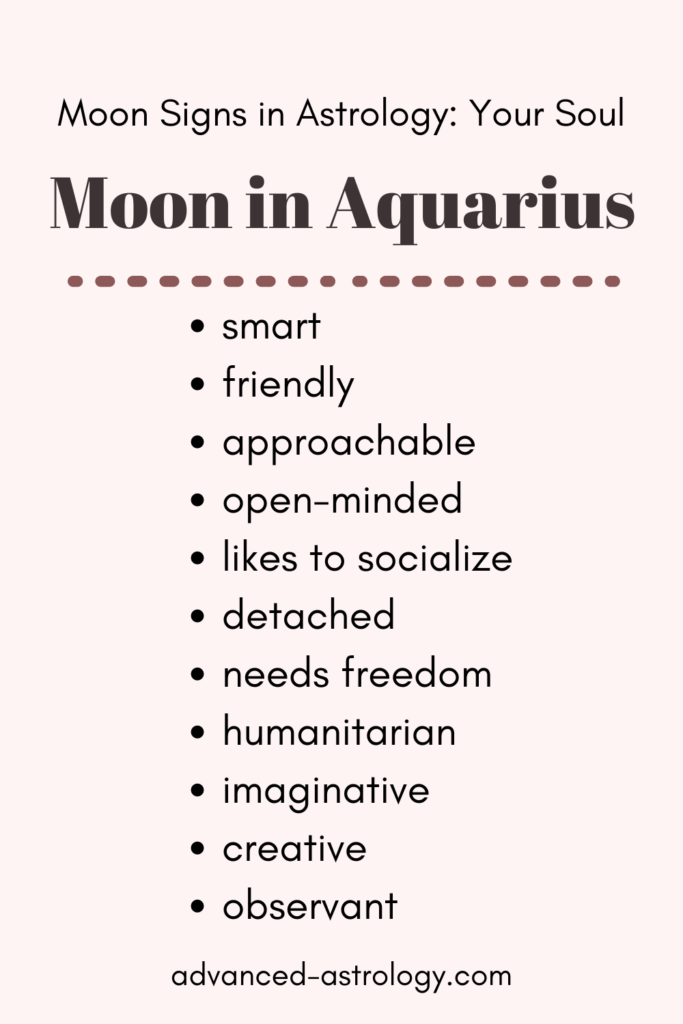 What does being a lunar Aquarius reveal about your personality?
A Moon in Aquarius is under the influence of Saturn and Uranus. These two planets are relatively foreign to the Moon's energy. The Moon here needs to adapt to the rules created by Aquarius, and it cannot flow as freely as in water signs. But in general, Aquarius is a good sign for the Moon to be in. You are curious, witty, likeable, and people are often drawn to you even though you are maybe socially awkward. In general, this placement suggests a friendly personality.
People with their natal Moon in Aquarius are very smart. Their inner world is often unique and unusual. This can make it hard for them to fit in. On the surface, they can easily connect with anyone, but they can be pretty lonely and have few close friends. The Moon in Aquarius can indicate a person who feels that they are different than most people. Deep down, you are a lone wolf and you love it. From time to time, you like to isolate yourself from others.
At the same time, this moon sign feels comfortable when in a group. You enjoy socializing as long as you are not required to get emotionally involved. Your are interested in many different ideas and you feel nurtured by the presence of similar people who share your views. Friends are important to you. You are great at networking, it nourishes your soul. In your groups of people, you often take up a central role and people see you as their mother.
As an air sign, Aquarius does not get emotionally involved. It has a need for emotional independence. This can be hard to deal with both for you and for others, because others can feel that you are cold and unavailable, and you can feel confused when it comes to deep emotions. Deep down you crave love and commitment but it can be hard for you to make a relationship work (not impossible though, but it usually requires some conscious effort. You can learn which moon signs are the best for an Aquarius moon later in this article).
The Moon in Aquarius is interested in emotions but from a scientific perspective. The vase in which the water bearer carries the water(=emotions) separates it from directly dealing with water. In a similar fashion, the Moon in Aquarius understands emotions on an intellectual level, it is familiar with them, but it prefers not to feel them. People with this placement can be wonderful counselors. You can tell them what bothers you and they will look at it with objectivity and impartiality. They are able to see clearly because they are not being consumed.
However, this placement can be challenging to deal with if water signs are emphasized in your natal chart. For example, someone with an Aquarius moon and personal planets in Cancer can feel like a walking contradiction. You are prone to living in your head and you can be an overthinker.
If a person lives the lower octave of this placement, they can be detached from their emotions and needs. They approach life from the perspective of the intellect and logic. Air signs tend to rationalize emotions, and not every emotion is pleasant or desirable. An Aquarius moon can fail to recognize and cope with negative emotions. The worst case scenario is that they project them onto others.
You are self-willed and individualistic with your Moon in Aquarius. You dislike being told what to do. If someone wants to control you, you will do the opposite of what you are told.
Freedom is essential for Moon in Aquarius people. They need it like they need to breathe. If you try to cage in a person with this lunar sign, they will leave in a heartbeat. In a relationship, unless this placement is balanced by water placements, an Aquarius moon doesn't really know what to do with deep emotions. Because of this, it often turns an emotional connection into an intellectual bond. This lunar sign is the most comfortable with friendships.
An Aquarius moon wants to retain its independence. These people keep a separate identity in every relationship. You like to be part of a group of people, but you don't like to dissolve your personality completely.
This placement indicates creativity and strong imagination. You are a visionary. You are receptive to the divine spark and you often have really good ideas. People with this placement are usually very intelligent. Their sense of humor is sarcastic and can be dark. Their mind is quick and sharp. Do you know those people who can always impress you with new knowledge? Air moons are just like that.
The Moon in Aquarius has many interests. People with this placement like learning and reading. If Aquarius is your moon sign, you are attracted to people who are intelligent and unique, just like you. You enjoy mentally stimulating conversation and you have a deep need to understand things on a deep level. Ton make you don't miss something, you can play the devil's advocate and you are a questioner. In general, you are an amazing person to talk to and your scope of knowledge is impressive. The Moon in Aquarius is an erudite.
This placement in the natal chart suggests a person who is in some way different than most people in their environment. Aquarius placements are labeled as weird and unusual. The positive side of this sign is being original, unique, innovative. You are open-minded and like to try new things. However, don't forget that Aquarius is a fixed sign after all. People with the Moon in Aquarius tend to hold to their decisions once they are made.
The Moon in Aquarius prioritizes social life. Air signs are people-oriented, and the same is true of the Moon in air signs. An Aquarius has a deep emotional need for friendship. You enjoy being a part of various groups. Often, you get the emotional nurturing you need from friends. Your superpower is bringing people together and making teams work well together.
People with this placement are often socially sensitive and believe in justice and equality. Many lunar Aquarians are part of humanitarian organizations or they volunteer. Aquarius is sometimes described as the sign which loves humanity but not humans. You have no prejudices and you don't care about differences between people, you care about ideas. Your compassion is oriented on groups of people. The Moon here feels the pain of the oppressed.
With hard aspects to your Moon, you can be reckless and nervous. You can rebel even when it is unnecessary and hurt yourself with your erratic behavior. An afflicted Moon in Aquarius can be receptive to extremist ideas and be shocking.
The sign of your Moon is only one piece of the puzzle. To see the full picture, you have to take into consideration the house of the Moon in your birth chart, aspects it forms to other planets and the position of its dispositor. These all modify how your Aquarius moon's energy manifests.
Read more: the Moon through the houses
Aquarius Moon in Love
It is important to say that no matter how detached it is, this lunar sign is capable of forming close relationships as well. What is important for an Aquarius Moon is that you must give them enough freedom. This lunar sign needs a lot of space. But if it feels safe and feels that its individuality is respected, the Moon in Aquarius is a loyal partner. The other thing the Moon here needs is respect. As long as you don't hurt their dignity, you are good to go.
In the birth chart, the Moon also refers to your mother and your relationship with her. An Aquarius moon indicates that you perceived her as smart, wise, but she was different than most people around you. Sometimes you felt that you were supposed to be independent from an earlier age than most people around you. The Moon here can also suggest an unusual family background.
The lunar sign is often more visible in young children than the Sun sign. Many kids with their natal Moon in Aquarius were shy and anxious. They often felt that they can't relate to their peers because they were intellectually more developed. This placement can indicate an early interest in science and these kids are curious about the world in general.
Your moon also describes you as a parent. People with the Moon in Aquarius usually don't prioritize starting a family. If you become a parent, you relate to your children on an intellectual level. You support your child expressing his or her individuality and creativity. This placement can also suggest a desire to adopt children or you end up taking care of other's kids for some other reason.
Moon in Aquarius Woman
What does the moon in Aquarius woman want in a relationship?
This placement suggests a witty, funny woman who won't give up her life for someone. She needs freedom and respect. Her friends are important to her as well and she also wants her partner to be her best friend. Intellectual connection is a must.
The Moon in Aquarius woman's appearance is neat and unique. She enjoys fashion and views it as a fascinating way to express her individuality. She is not romantic in a corny way, actually she finds this repulsive.
Moon in Aquarius Man
The Moon in Aquarius man is attracted to women who are smart and unique. Often, her wife is of a different social background than he himself. He wants a woman who can intellectually stimulate him. The Moon in Aquarius man prefers someone who is eccentric and unusual in some way, and who has modern views and who is open-minded.
In a relationship, he needs to maintain his independence and he needs a lot of space.
Moon in Aquarius Compatibility
Your lunar sign is one of the most determining factor when it comes to astrological compatibility. The Moon represents your soul, and it is important that two people's Moons work well together. (Of course you have to assess the potential of the chart as a whole, but the Moon stands out in importance).
Which are the best lunar signs for Moon in Aquarius compatibility?
The Moon here gets along the best with other air moons and fire moons. Air moons are logical rather than emotional and fire moons are receptive to their kind of emotional bonding.
Best signs for Moon in Aquarius compatibility:
moon in Gemini
moon in Libra
moon in Aries
moon in Leo
moon in Sagittarius
If you want to learn more about air moons in astrology, read this article.
Meaning of the Moon in the Natal Chart
The Moon is one of the essential building blocks of your personality. It represents your emotional nature and inner self. This luminary's importance cannot be overemphasized. As the celestial body closest to us, located 384,000 km away, the Moon influences us in many ways.
In astrology, the Moon is the planet of nurturing and emotions. It is one of the feminine planets, and it is the archetype of the mother. In the birth chart, the Moon tells where you seek nurturing and security. The Moon governs your emotions, intuition, instincts, urges, needs. This luminary is a sensitive part of your birth chart. Because of its quick movement through the Zodiac, the degree of the Moon depends on your exact birth time. It spends in each zodiac sign 2.5 days. This makes its aspects and position particularly significant.
The house of your Moon tells in which life area you want security, but also where you can expect fluctuations. The sign explains how.
There are some zodiac signs where the Moon is not indifferent. It is the planetary ruler of Cancer, exalted in Taurus, in fall in Scorpio and in detriment in Capricorn. In the first two signs, it is in a good dignity, while in Scorpio and Capricorn is has challenges to come overcome.
Aquarius in Astrology
Aquarius is a very interesting zodiac sign. This sign is described as original, unusual, independent, individualistic, freedom-loving. It is the sign of rebellion and revolution. Those who have this sign strong in their charts are in some way different than most people.
Aquarius is also associated with brilliance, sudden discoveries, the divine spark.It prefers an intellectual connection to emotional bonds. Aquarius is connected with like-minded people, social reforms, justice, equality, humanitarian causes as well.
The Water Bearer is the eleventh sign of the Zodiac. It belongs to the group of air signs (the other two air signs are Gemini and Libra). Air signs are intellectual, objective, unemotional. Buy polarity, Aquarius is a masculine or active sign.
Aquarius is a fixed sign by modality. Fixed signs (Taurus, Leo, Scorpio, and Aquarius) are oriented on stability and follow through. Once they made up their mind, these signs tend to stick to their decisions and habits.
In modern astrology, Aquarius is ruled by Uranus. In traditional astrology, however, its ruler is Saturn. It is connected with the eleventh house of hopes and dreams in the natural chart.
Moon in Aquarius Celebrities
Some famous Aquarius moons:
Marilyn Monroe
Albert Camus
Princess Diana
John Lennon
Eminem
Muhammad Ali
---
If you found this article helpful, maybe you want to save our site for later. Share it with others who enjoy learning astrology!