If you have your moon in Aries, or you want to understand someone better who has this placement, you have come to the right place. This article breaks down the characteristics of an Aries moon.
Moon signs are extremely important in astrology. The Moon represents your soul and your unconscious. Most people only know about their Sun sign, and they have no idea about what they are missing out on! Your moon sign describes your emotional nature, how you react to events around you, but it also speaks of your needs and basic urges. It comes to expression in your emotions and reactions, while the Sun is the planet of the conscious self and ego. Both luminaries are important, they are just different.
In this article, we will take a closer look at the Moon in Aries. This is a very fiery position. People with this placement need excitement and they want to make great things happen. They are restless and have strong urges. When they desire something, they do everything in their power to get it, preferably as soon as possible. An Aries moon is very dynamic. You are pretty explosive if you have this placement in your birth chart.
The Moon describes your instinctive reactions in astrology, the first reaction. An Aries moon in the natal chart suggests a bold, direct person. Here, the Moon is under the influence of Mars, the planet of war and aggression. This already gives you an idea what to expect―an Aries moon is not a shrinking violet. You are not the one to crush under pressure, rather, it fuels you and you become stronger. When attacked, you double down on fighting back.
Keep reading to learn more about the Moon in Aries in astrology!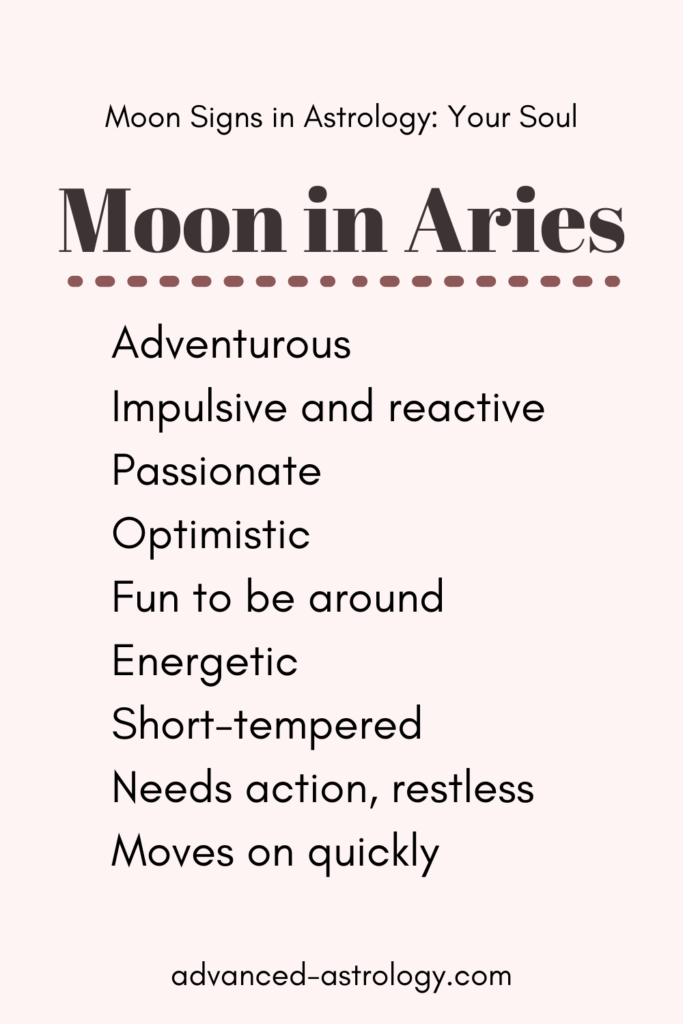 Moon in Aries Traits and Meaning
What does it mean to have a moon in Aries?
Your moon sign is one of the most important placements in the natal chart. The zodiac sign where your moon is located tells how you manage your emotions and it talks about your inner self. Aries is a strange sign for the Moon to be placed in. The Moon in this sign is not the most fitting position for this luminary―Mars and Moon are of very different nature. The Moon is a peregrine planet in Aries, which means that it is in a neutral state, not weakened and not strengthened.
The Moon in Aries takes up a lot of masculine energy. It is somewhat restricted from expressing its softness and nurturing, caring qualities. The instinctive expression of the Moon is amplified here, however, it can take up challenging undertones. It is not always easy to deal with this position of the Moon in the natal chart (both for you and for others around you).
This placement suggests that you want everything and you want it now. It indicates an explosive, fiery nature. Aries is the sign of the primal instincts, and the Moon, the planet of instincts in astrology works in a natural, primal way here. Your instincts are strong and your desires must be satisfied as soon as possible. Delayed gratification is not a familiar to concept to the Moon in Aries in the natal chart. People with this placement can behave like a child. They are very impatient and can be even selfish.
A natal Aries moon suggests that you hate suppressing your needs or emotions. You are willing to do what it takes to get what you want. One of your biggest needs is just having fun. An Aries moon is very entertaining to be around. Others often find you lovely and childlike. There is some innocence to this placement which makes you crazy charming. The Moon in Aries suggests that you hate being bored. You are often interested in many things, and you are quick to get started. On the flip side, unless other placements make up for this in the chart, you can lack follow through.
A person with an Aries moon is not afraid to let you know about what they are feeling. You always know what is going on with this person. What you see is what you get. They express their emotions in a direct, assertive way. This moon sign is not prone to mind games or emotional manipulation (unless the chart as a whole indicates otherwise, of course). This placement suggests a person who immediately sees red, but they calm down very quickly, and everything is right again.
An Aries moon will get what they need. With this placement, you have strong desires and you feel an urge to act on them immediately. You are like a child who throws a temper tantrum if they can't reach their goal otherwise. This lunar sign gets what it wants at any price. When under pressure, you become even stronger and fight back even harder. Your reactions are very quick.
Compared to a water sign moon, your emotions don't run so deep. This is not among the most sensitive placements in astrology. Fire signs are not so intense, and they are upbeat rather than overly emotional. You are optimistic and courageous by nature. The good side of this placement is that you move on quickly and you are not prone to depression.
These people need to be active and independent. This is not a person who will just sit quietly in the background and watch life pass by. It is not someone who daydreams all day either, relying on wishful thinking. With an Aries moon in the natal chart, you are a go-getter. Taking action makes you feel good.
Often, you comfort yourself by keeping yourself busy. You need to do something all the time, but especially when under stress. People with this placement enjoy physical activity. The Moon here can describe someone who hits the gym when under pressure, or who goes for a run when they need to calm down. They often have high energy levels, and movement is a great way to get rid of their excess energy. It is important to pay attention to your physical body.
An Aries moon is very impulsive. Rash acts are common with this placement. When you feel an emotion, you do not hesitate to act on it. Sometimes you act before you think, what can get you in trouble. People with this placement should be more careful and consider the consequences of their actions. They can hurt others with being hasty (themselves too), and this can lead to conflicts in their relationship.
If afflicted, this placement can indicate an aggressive person. Sometimes even physical reactions can't be excluded, but for this to be the case, you have to analyze Mars in the natal chart (Mars is the ruling planet of Aries). In this case, aggressiveness comes as a reaction, but otherwise, an Aries moon is innocent and childlike (often also childish) when they are feeling good. People with this moon sign often perform very well under pressure.
The Moon in Aries hates to be bossed around. With this position in birth chart, you are a leader, but you have to learn how to express these qualities in a way that benefits others. You hate to submit and you are very proud.
The Moon is one of the most important planets to look to when it comes to interpersonal relationships. It shows what you need in a relationship and what is your nurturing style. The love language of the Moon in Aries is often physical touch. In a romantic relationship, you are very passionate and need a lot of sex. You enjoy pursuing the other sex (or the sex of your preference). With this placement, nothing is sweeter to you than conquering your love interest. One night stands are often appealing to people with this placement.
You can learn about your Moon in Aries if you look to Mars in your natal chart. If there is an aspect between the Moon and Mars, it can influence it how the Moon plays out in your natal chart. It is also important to mention that the house and the aspects of the Moon are essential to consider as well. These reveal more information about how your Moon manifests and how it works together with the rest of the chart.
The house of your moon is also important. You can learn more about this here: the Moon in houses in the natal chart.
For example, an Aries moon in 12th house becomes more reserved and introverted, while the same placement in the 5th house is usually more playful and outgoing. An Aries moon in 2nd house can indicate a tendency to overspend and for impulsive shopping.
Moon in Aries Compatibility
The Moon is one of the most important factors for astrological compatibility. Actually, lunar signs are more determining than compatibility based on your Sun signs (which is not reliable at all―there are so many pieces of the puzzle you have to consider!) Who is an Aries moon the most compatible with?
Other fire signs are a great option for an Aries moon. They have a lot in common and they usually get along well. Leo and Sagittarius are great for Moon in Aries. These signs are very compatible. You are both active and enthusiastic. You resolve conflicts similarly, and similar things bring you comfort. It is important that you can make jokes when under pressure, and you can resolve conflicts with a good laugh.
Air signs are another wonderful option for Moon in Aries compatibility. Air and fire fuel each other. They get along well, and the same is true for fire and air moon signs in astrology. Someone with their natal moon in Gemini or in Aquarius can be highly compatible with an Aries moon. These signs don't get emotionally involved in a conflict, and their lighthearted approach appeals to an Aries moon.
The third air sign is Libra, but it is somewhat different from the other two when it comes to Moon in Aries compatibility. Libras react completely differently than the Ram, and they can be startled by the emotional and impatient outbursts of Aries, while Aries doesn't know how to deal with the indecisiveness of Libra. At the same time, these two Moon signs complete each other
The best moon signs for Moon in Aries compatibility:
Sagittarius
Leo
Gemini
Libra
Aquarius
When two people meet who both have their Moon in the sign of the Ram, they can react too similarly. For example, both of them get angry at the same time, which requires some conscious effort to work through in the long run.
Moon in Aries Woman
What is the moon in Aries woman like?
A moon in Aries woman is all about excitement. She is not afraid to express her emotions and go after what she wants. She needs to have fun in a relationship, and while she is passionate, she needs someone exciting to commit to. In a relationship, she doesn't like being told what to do. She maintains her independence no matter what. This doesn't mean that she doesn't want a long-term relationship, but she has strong boundaries and won't let anyone violate them. She wants to be with her equal in every aspect.
After a breakup, the moon in Aries woman moves on quickly. There are usually no desire for revenge, but once it is over, it is over.
The Moon also describes you as a mother in the natal chart. Moon in Aries women are usually optimistic, enthusiastic parents, but they can be a bit bossy. They raise their children to be self-sufficient and independent. If afflicted, this placement can indicate issues with pregnancy.
Moon in Aries Man
In the chart of a man, the Moon and Venus tell about the kind of women he is attracted to. Venus is the ideal woman he falls for and finds attractive, while the Moon describes the kind of woman he wants for his wife and the mother of his children.
A man who has his moon in Aries is temperamental, passionate, energetic. He needs a lot of activity. A moon in Aries man is busy all the time.
In a conflict, he expresses his emotions in a fiery, bald way. He is not afraid of conflicts.
A moon in Aries man needs excitement in a relationship. He is a rather spontaneous person who expects the same from their partner. He wants a partner who is active and passionate. In the marriage of a moon in Aries man, sex is very important. If the fire goes out, the relationship is in danger.
Moon in Aries men can be very childish. They feel a strong need to immediately act on their impulses.
As parents, they want to see their children grow up to be a self-sufficient, strong, capable person.
The Moon in Astrology
The Moon has mesmerized humanity with its beauty since the earliest days. This mystical celestial body is of great importance in astrology. Nowadays it is often neglected in commercial horoscopes, but your Moon sign has enormous influence over who you are. As the only natural satellite of our planet and the celestial body the closest to us, the Moon affects us on the Earth in many ways, just think about ebb and flow.
The Moon is particularly important in synastry. The Moon and Venus are the most significant planets for romantic compatibility, but the Moon is important in any kind of relationship, since it represents your emotions and needs.
This luminary is the opposite of the Sun. The Sun is the active principle, the divine masculine energy, and the Moon is the divine feminine. The Moon reflects the light of the Sun, and in astrology, the Moon is the reactive and the Sun is the active energy. These two are very important in the natal chart, but also in other fields in astrology.
The Moon governs your emotions, intuition, instincts, deep needs and urges. It shows your nurturing style and the Moon hints what makes you feel safe and loved. The Moon is has feminine energy. It is connected with nourishing and caring. A strong Moon suggests an emotional, intuitive, soft person.
In the Zodiac, the Moon is the ruling planet of Cancer. It is exalted in Taurus, in fall in Scorpio, and in detriment in Capricorn. If you have your Moon in the fourth house, it is in accidental dignity in your natal chart.
This celestial body is the quickest. It makes a full circle through the Zodiac every 28 days. This means that it spends two an a half days in each sign, and its position is highly personal. In the natal chart, the Moon is one of the most important planets. However, you rarely express the traits of your Moon sign openly in the world, only the people who are really close to you meet this side of you.
Aries in Astrology
Aries is the cardinal fire sign of the Zodiac. As the first sign, it has a pioneering and impulsive energy, and it is all about taking action. Aries doesn't hesitate to get things started. This sign is active or masculine by polarity.
The ruling planet of Arie is Mars, the planet of action, animalistic urges, war. It is the most masculine planet in astrology.
Aries is all about being the first. It is pioneering, brave, open to new solutions, risk-taking. Aries is extremely competitive and it loves to conquer and to win. Aries is the first sign of the Zodiac. It always goes first, and people with Aries placements in their natal chart want to be the first, too, in everything they do.
Moon in Aries Celebrities
Here is a list of Moon in Aries celebrities:
Rihanna
Angelina Jolie
Whitney Houston
Steve Jobs
Tupac Shakur
Jacqueline Kennedy Onassis
---
If you found this article helpful, maybe you want to save it for later. Make sure to share it with your friends who enjoy learning astrology!